TeamRedMiner v0.7.18 (AMD GPU mining Kawpow/Ethash/Etchash/Cryptonight)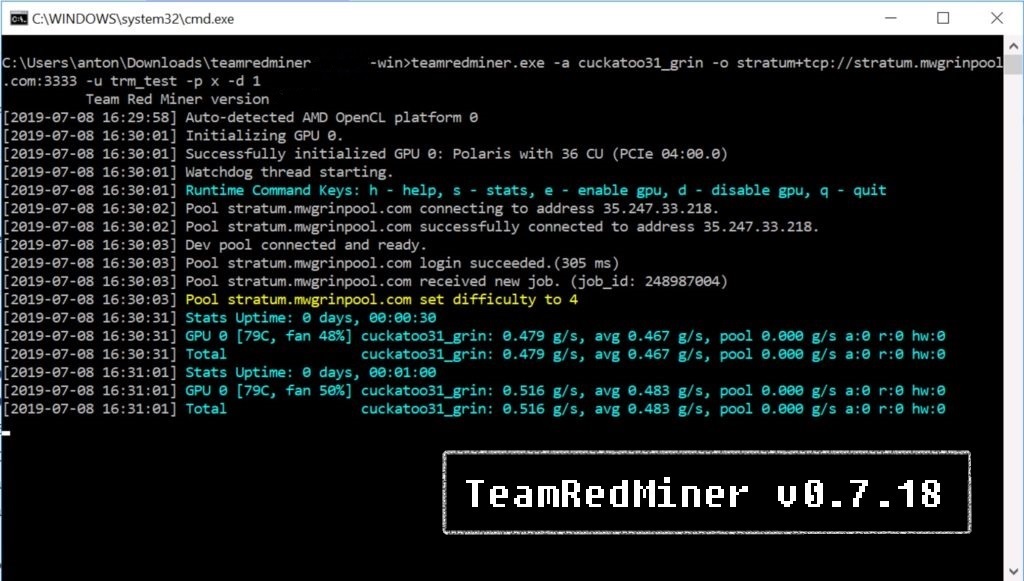 GitHub: DOWNLOAD TeamRedMiner v0.7.18
This release supports a number of algorithms optimized for AMD GCN GPUs (ethash, kawpow, nimiq, lyra2z, phi2, lyra2rev3, x16r, x16rv2, x16s, x16rt, MTP, cuckarood29, cuckatoo31, chukwa-512, cryptonight R8, many a cryptonight R8 other cryptography options). This is an optimized miner for AMD graphics cards only. The miner is configured only through a batch file (file with the .bat extension). You do not need to configure the configuration (there is auto-tuning).
Dev-Fee: 2.5-3%.
OS support: Windows / Linux.
Changes in v0.7.18
Added support for ETC fork. Run with "-a etchash" for ease of support, see "–Eth_variant_mode" in the help for more information.
ETH + ZIL miners: add "–eth_dag_cache = 0" to use the second Dag cache and pre-create epoch 0 immediately upon starting the miner.
Ethash miners rely on fetch and stagger for stability: the default mode for these settings has been disabled. Now they need to be enabled with –eth_ramp_up and –eth_stagger. While helping a number of rigs, these settings caused increased instability in others, making it difficult to choose a good default mode.
GPUs supported and tested:
Navi – RX 5700(XT)/5600(XT)/5500(XT) for supported algos in the table below.
Vega – RX Vega 64/56, Vega FE, Radeon VII (Vega 2)
Polaris – RX 580/480/570/470/560/460/550
Поддерживает алгоритмы:
KAWPOW
MTP
Cuckatoo31
Cuckarood29
Cryptonight R
CryptoNightTurtle
Cryptonight StelliteV8
Cryptonight v8 double
CryptoNight Reverse Waltz
Cryptonight v8 Upx2
Cryptonight V8
Cryptonight Heavy
Cryptonight Haven
CryptoNightSaber
Ethash
X16R
x16rv2
X16S
X16RT
Lyra2REv3
Lyra2Z
PHI2
Setting up and running TeamRedMiner
Let's consider setting up a .bat file of a program for Ravencoin mining.

teamredminer.exe – indicates which application will be launched. This file must be in the same folder as the .bat file
-a kawpow – specify the mining algorithm. For Ravencoin, we indicated cnr, and for example, for Zcoin, we would indicate mtp
us.rvn.minermore.com after the long construction -o stratum + tcp: // we specify the pool address
: 4501 – after specifying the pool address, put a colon and write the pool port. The address and port can be found on the pool itself. Usually under Get Started or Help
-u RKAeArXkWLNERjWo5YF3R1xFnYCwKf11sX – specify the wallet that will be used for mining. In our case, this is Ravencoin.
-p x – the p command means a password. The minermore pool (as well as 90% of all pools) does not require a password, so we write x
pause is an optional command. It is only needed so that the program does not immediately close in case of an error, but displays it.
A ready-made example (don't forget to change the wallet to yours!)
teamredminer.exe -a kawpow -o stratum+tcp://us.rvn.minermore.com:4501 -u RKAeArXkWLNERjWo5YF3R1xFnYCwKf11sX.trmtest -p x
pause
This post is also available in:

Русский