[NoDevFee] How to disable DevFee in the miner (Claymore, Phoenix, T-Rex, CCminer and other)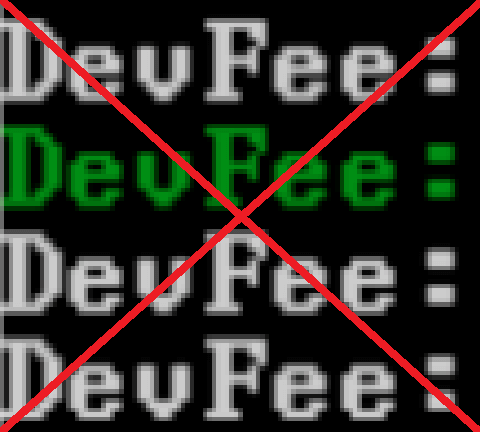 ---
How to disable DevFee in the miner.
Attention! The commission is absolutely on all miners, even where NoFee is written, 0% Fee and so on! Do not be fooled, just take our word for it)
To get started, here is a link to the statistics of the Claymore miner developer wallet, where your hard-earned 1-2% is dripped:
https://ethermine.org/miners/3509F7bd9557F8a9b793759b3E3bfA2Cd505ae31
This is thousands of $ per day. Not surprising, since almost the whole world uses its miner.
Of course, we can reduce the commission in the settings of the miner with commands like "-nofee", but this will entail a drop in the hashrate. So the miner developers themselves declare in their instructions:
The idea is simple: we decrypt the source code of the miner, insert your wallet instead of the developer's wallet, encrypt it back and now the entire commission that should go to the developer goes to our wallet.
Developers with GitHub brought this idea to life and presented us with a quick solution to this issue by writing a simple softink that sews developers' wallets and easily searches for them in the miner and changes them to yours (which you specify in the config file).
The program is suitable for most popular miners, regardless of their version:
Claymore's Dual Ethereum+Decred_Siacoin_Lbry_Pascal AMD+NVIDIA GPU Miner
Claymore's CryptoNote AMD GPU Miner
Zec miner
ccminer
XMRrig
GMiner
T-Rex
ewbf
Cast XMR
SRBMiner
dstm's ZCash / Equihash Nvidia Miner
Excavator
JerryMiner
Claymore's BTG AMD GPU Miner

Claymore's ZCash/BTG GPU Miner

BTG nVidia miner
MOD lbry
Bminer
Kawpow (RAVECOIN)
PhoenixMiner
Instruction manual
1. Download the latest version of NoDevFee:
2. Unpack it into the folder with the miner. Turn off mining.
3. Open config.cfg using notepad ++ (https://notepad-plus-plus.org/) and change the wallet of the desired algorithm to your own:
Save config.cfg
4. Run Nofee.exe, if we did everything, the window will appear correctly:
DevFee Wallet
5. We start mining.
Now DevFee (commission) is mining on you, that is, 100% of your capacities work for you!
Recommended Related Articles:
This post is also available in:

Русский