NoDevFee v15.0: How to disable DevFee in the Claymore, Phoenix, T-Rex and other miners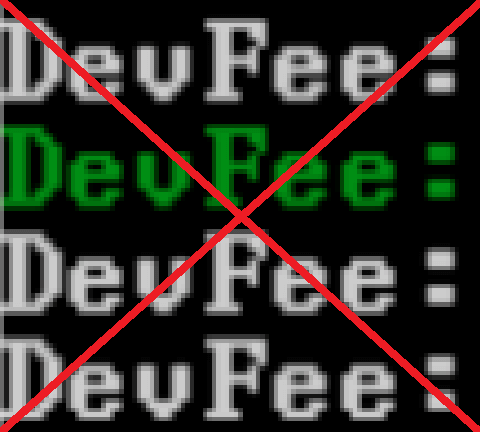 ---
NoDevFee – How to disable DevFee commission in the miner
NoDevFee is a universal solution to disable mining fees. The utility is able to return the cryptocurrency – in the DevFee parameter, which is about 0.5 ~ 2% of the total number of miner solutions. The app can be used for both GPU/CPU and FPGA, ASIC, etc. mining rigs. Supported cryptocurrencies: The app works for cryptocurrencies such as BTC, ETH, ETC, XMR, ZCash, RVN, RTM, VTC, etc. d
Attention! There is a commission on absolutely all miners, even where it says NoDevFee, NoFee, 0% Fee and so on! Don't be fooled, just take our word for it.
To begin with, we will give you a link to the statistics of the wallet of the Claymore miner developer, where your hard-earned 1-2% are dripping. https://www. etherchain.org/account/3509F7bd9557F8a9b793759b3E3bfA2Cd505ae31. That's thousands of dollars a day. Not surprising since almost the whole world uses his miner. Of course, we can reduce the commission in the miner settings with commands like "-nofee", but this will lead to a drop in the hash rate. This is what the miner developers themselves say in their instructions:
The idea is simple: we decrypt the source code of the miner, insert your wallet instead of the developer's wallet, encrypt it back and now the entire commission that should go to the developer goes to our wallet.
Developers with GitHub brought this idea to life and presented us with a quick solution to this issue by writing a simple softink that sews developers' wallets and easily searches for them in the miner and changes them to yours (which you specify in the config file).
NoDevFee is suitable for most popular miners, regardless of their versions:
Claymore's Dual Ethereum+Decred_Siacoin_Lbry_Pascal AMD+NVIDIA GPU Miner
Claymore's CryptoNote AMD GPU Miner
CPUMiner-gr
Zec miner
T-Rex miner
SRBMiner-Multi
GMiner
ccminer
XMRig
ewbf
EthashMiner
Ethminer
Cast XMR
SRBMiner-CN
dstm's ZCash / Equihash Nvidia Miner
Excavator
NiceHashMiner
JerryMiner
Claymore's BTG AMD GPU Miner

Claymore's Z

Cash/BTG GPU Miner

BTG nVidia miner
MOD lbry
WuldRig Multi
Bminer
Kawpowminer (RAVECOIN)
PhoenixMiner
and many others.
Manual for NoDevFee
1. Download the latest version of NoDevFee.
2. Unpack it into the folder with the miner. Turn off mining.
3. Open config.cfg using notepad ++ (https://notepad-plus-plus.org/) and change the wallet of the desired algorithm to your own:
Save config.cfg
4. Run Nofee.exe, if we did everything right, a window will appear: DevFee Wallet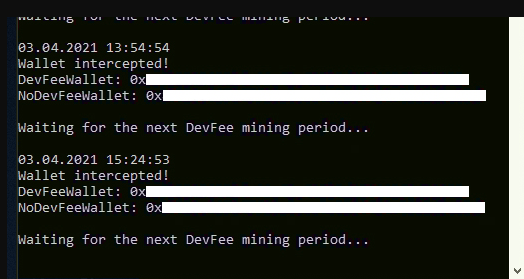 5. We start mining.
Now DevFee (commission) is mined for you, that is, 100% of your capacities are working for you!
Read more articles about cryptocurrencies and mining at: https://crazy-mining.org

Do you like to read similar articles about cryptocurrencies and mining, do you want to support the author or ask questions? Be the first to know the news, subscribe to my telegram channel: t.me/cryptomineg
Those who have been mining cryptocurrency for some time will remember that Claymore's Dual Ethereum AMD + NVIDIA GPU Miner was the perfect solution for mining Ethereum (ETH). It had a solid foundation among Ethash GPUs from both AMD and Nvidia.

---

AntProxy – This software is designed for a large number of ASICs. This software solves the problem of low communication efficiency between the mining farm and AntPool, saves bandwidth and stabilizes the connection.

---

Wallet-key-tool is an incredibly useful application with a graphical interface for those who deal with bitcoin wallets. It allows you to conveniently and securely edit the contents of various wallet file extensions, such as .dat/.key/.aes.json/.txt/.wallet. With this app, users can easily modify the data in their wallets without any hassle or risk of damage. It also provides additional features such as password protection and encryption to ensure maximum security of users' funds and information.

---
Recommended Related Articles: