The Cryptoproject Raptoreum: Download RTM Wallet and CPU miner GhostRider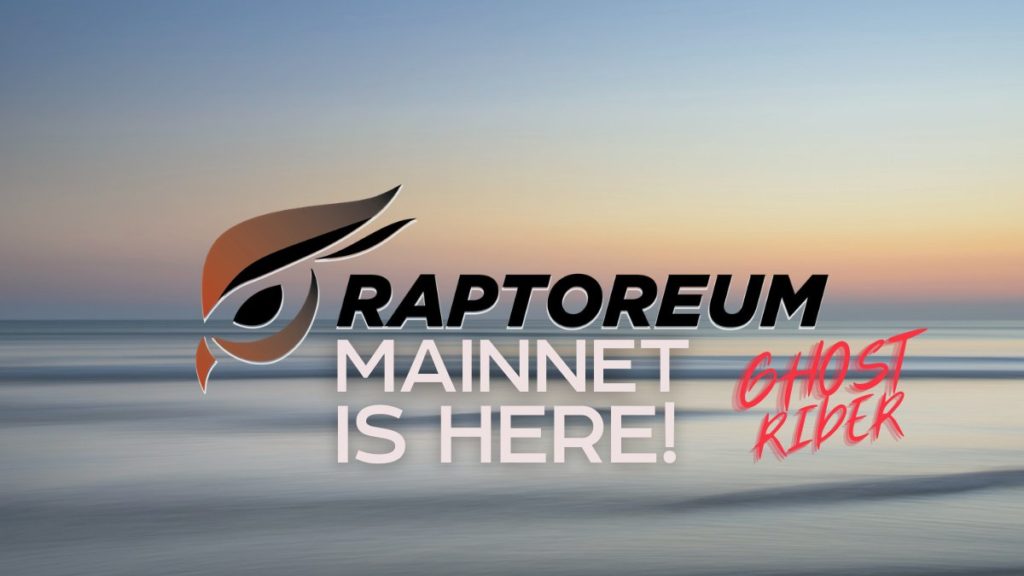 ---
The Cryptoproject Raptoreum RTM
Raptoreum crypto project (RTM) has been in development for quite some time and just recently officially launched its mainnet. The goal of Raptoreum is to create a fast and secure cryptocurrency that anyone can easily use, but even more important is to create an easy-to-use asset platform that allows anyone to tokenize anything (tokens that are not fungible) in just a few clicks. RTM supports POW mining using a custom algorithm called Ghostrider, currently only on processors as well as smartnodes. The Ghostrider algorithm is a combination of algorithms from the X16R and CryptoNight families, cycling in random and not-so-random patterns used to achieve consensus on the coin generation and transaction chain. Although the Ghostride algorithm currently runs only on CPUs, a transition to GPU mining is very likely in the not-too-distant future.
If you have free CPU power for mining and want to try something new, you should pay attention to Raptoreum (RTM) project and its GhostRider algorithm. There are several mining pools that support RTM mining: RPlant is the largest in terms of hash rate, followed by Suprnova and specialized RTM pool R-pool. A CPU miner that supports the Ghostrider Take2 algorithm can be found in cpuminer-ghostrider-take2-support, available for both Windows and Linux as binaries for the most popular CPU architectures, as well as in source code. RTM is already being traded on SoouthXchange, SafeTrade and AutradeX.
What is Raptoreum?
The name Raptoreum comes from the term Victoria, referring to a bird of prey, and ium/eum, referring to a place related to birds of prey. The name comes from the team's extensive security experience with top-notch skills covering all aspects of it. It is a unique strength in the crypto community that will be put to good use in a successful project.
Introduction Raptoreum started as a fairly simple idea introducing smart contracts that would allow for chained, trustless transfers (goodbye centralized trading floors) based on the Ravencoin code base, but with asset automation and RTM (Raptoreum). The project grew rapidly, adding innovative features that not only further expanded the asset layer, but also introduced features that could help other Blockchain projects. Unfortunately, Ravencoin suffered a few serious breaches in its asset layer, so this codebase was abandoned by us. We are currently working with the Dash code and developing it, greatly expanding its capabilities.
Raptoreum is now a fork of the Dash code and inherits current and, optionally, future features such as chain locks, oracles, etc. We continue to expand the capabilities by adding the following features:
A) Deployment of a unique asset layer.
B) Ability to lock X number of coins or assets in a specific transaction. The coins are unlocked in the selected block number or timestamp.
C) Seamless chain transfer of assets and coins via smart contracts.
D) Integration, development and deployment of a VM protocol that will allow smart contracts to be created in 4 major programming languages, as opposed to Ethereum's situation being limited to Solidity.
These additional capabilities open up the possibilities and ease of use of Raptoreum's features for a greater variety of industries under the distributed application umbrella. DAPPs are a critical part for widespread adoption, as has recently happened with DEFI, and Raptoreum hopes to help provide further alternatives and opportunities for DAPP developers, especially in the area of discovering new programming languages for DAPP development and contracts. One of our goals is not only to innovate ideas for Raptoreum, but also to contribute to the general open source cryptocommunity that everyone can use for the success of their blockchain projects.
Creating a Raptoreum RTM wallet and address
Step 1: Download and install Raptoreum Core Wallet
For windows installer, raptoreum-1.2.15.2-win CLICK HERE (direct download); or see the Github page for more HERE and choose the appropriate one for your operating system.
Step 2: Synchronizing the Raptoreum blockchain
Once you've installed the wallet, it will be out of sync with the network at first – it will take a little while to sync – you can see the progress in the bottom left corner of the wallet window.  Just go watch an episode of the anime you like so much and you'll be all set.
Step 3: Create an address for accepting coins
When your wallet is synchronized with the network, click "File" in the upper-left corner of the wallet window, and then click "Get Addresses" as shown in the image below. Click "Create," give your wallet a name, and then click "Ok." You now have a Raptoreum wallet address!  You should now see your address in the Get Addresses window, which if you right-click, you can copy it to paste into another location.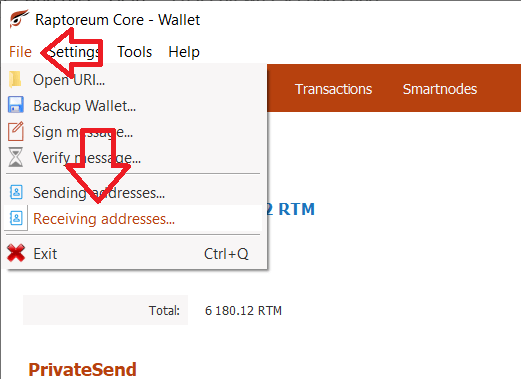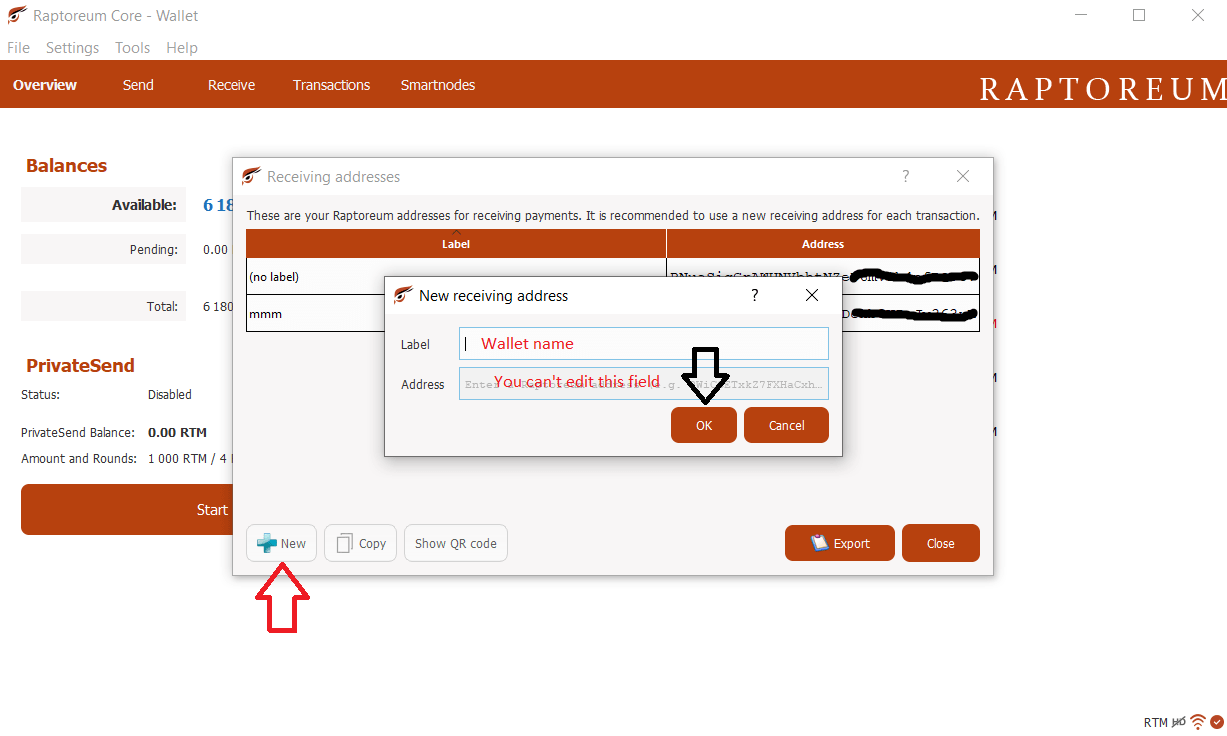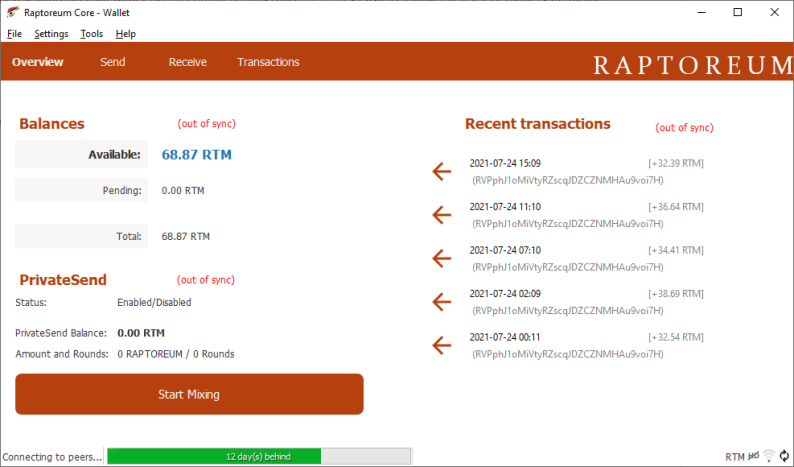 This post is also available in:

Русский