NiceHash QuickMiner (CPU/GPU NoDevFee Miner for Windows)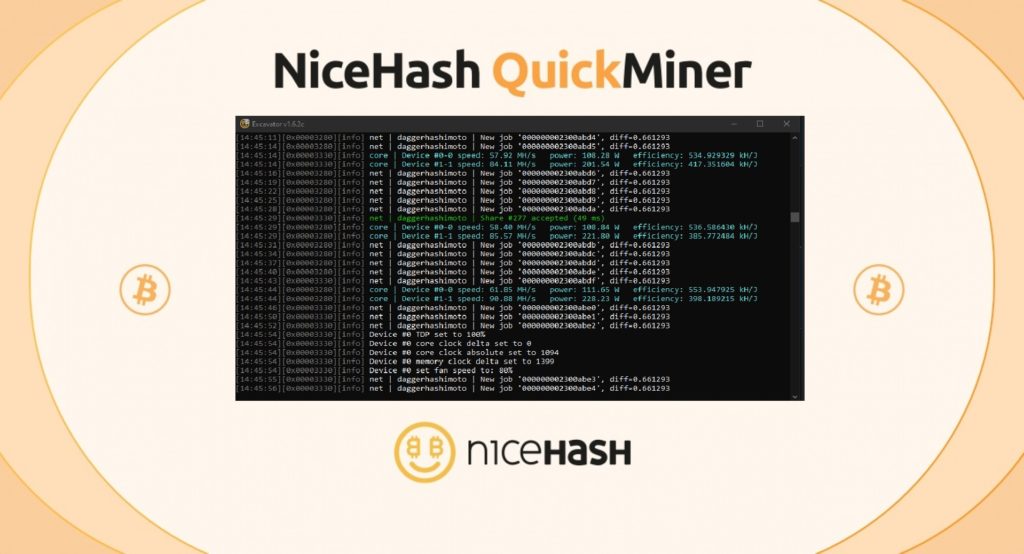 ---
NiceHash QuickMiner — is a new generation miner developed by NiceHash. It is currently in experimental phase! NiceHash QuickMiner only uses Excavator for GPU mining and is digitally signed. Excavator is a proprietary miner, and the code that runs like NiceHash QuickMiner is either developed by NiceHash or used from public repositories, which means it's 100% secure! There is absolutely no risk when using NiceHash QuickMiner. NiceHash guarantees the security of NiceHash QuickMiner.
Features of the NiceHash QuickMiner:
NiceHash QuickMiner uses Excavator for GPU mining and XMRig for CPU mining.
No development fees.
No benchmarks. You start mining immediately!
No third-party GPU overclocking tools required. NiceHash QuickMiner has its own powerful tool for adjusting overclocking and fan speed!
Determine the best overclocking quickly and easily like never before with OCTune!
Watchdog will take care of restarting the mining process in case crash.
Ways to autorun Windows. Automatic updates.
NiceHash QuickMiner Works only on Windows 10 x64 (any edition) with NVIDIA graphics cards of at least GeForce 1000 series with at least 6 GB of video memory.
How do I start?
⦿ To download and install NiceHash QuickMiner.
⦿ Explains how to launch NiceHash QuickMiner for the first time.
⦿ Tips and tricks for optimizing and increasing your income.
⦿ Information on how to use OCTune is located.
⦿ Are you having trouble with NiceHash QuickMiner? You will find an explanation and a possible solution
⦿ Answers to frequently asked questions
Why is NiceHash QuickMiner better than NiceHash Miner?
NiceHash Miner relies on third-party plugins and miners to work properly. In most cases, these are programs of unverified and unknown origin. The real names of the authors of these programs are unknown, or there is no company behind the software. We do not know why the developers of these programs keep their identity a secret. The reasons could be different. Most likely, the reasons are not to hurt the miners, because they all charge the developer for using their miner. But we cannot be completely sure that they are not going to ever put anything harmful into their programs. It would be a big mistake to blindly trust them. This is why, if you want to use NiceHash Miner, you have to agree with it, acknowledge it and admit it, and if these unknown developers do something stupid one day, NiceHash cannot be held responsible.
This means that if you use your computer for serious business, have important information or even coins or money on it, it is better NOT to use third-party miners of unknown origin. Fortunately, NiceHash has created its own miner in the past called Excavator. The code execution is entirely in-house and NiceHash can ensure that there is nothing harmful inside. Another fortunate factor is that the speeds that Excavator achieves in daggerhashimoto (Ethereum mining) are completely comparable to other miners with devfee, and when you also count in devfee, Excavator can be even more profitable in most cases than third party miners.
But using Excavator on your own is not so easy – you need to set up batch files and prepare everything for your machine to work properly. That's why we've created another end-user product called NiceHash QuickMiner that does all the tricky and complex customization automatically, so you just push buttons and don't worry about too deep technical stuff. Since all the Excavator plus wrapper (QuickMiner) code is created by NiceHash, there is no risk of adding anything harmful. NiceHash is a public service run by the well-known EU-Slovenian company H-BIT doo, which means that real people are behind the software. It is much easier to trust software of known origin because you know that if something malicious has been added to it, there are people who could be held accountable for it.
Now you know the difference between NiceHash Miner and NiceHash QuickMiner. In the end, the choice is yours. You have to ask yourself: Do I want my computer to be completely protected when installing a cryptocurrency miner? If the answer is YES, you should install NiceHash QuickMiner. If you do not have sensitive information on your computer, if you really do not care about any information on your computer being disclosed one day, or if you do not care that your computer can be used as a zombie client in a botnet of the day, or offended for any illegal activity, you can use NiceHash Miner, which installs all these risky third party miners of unknown origin. Generally, if you have a fully dedicated mining rig that is only used to mine cryptocurrency and nothing else, and you properly isolate it on your network, you should be fine with NiceHash Miner and third party miners. Otherwise, we suggest you use NiceHash QuickMiner. If you have AMD cards and want to keep your PC completely secure, we recommend using the open source ethminer or lolMiner, which is the only devfee miner that is not completely anonymous.
Current expected income when used NiceHash QuickMiner:
Supported Hardware:
NVIDIA GeForce GTX 1000 series with min. 6 GB of GDDRAM,
NVIDIA GeForce RTX 2000 series with min. 6 GB of GDDRAM,
NVIDIA GeForce RTX 3000 series with min. 6 GB of GDDRAM,
Intel CPUs with AVX2,
AMD CPUs with AVX2.
Additional libraries and modules used
we have compiled version 6.7.0 with some changes. The miner is stored in the Excavator, extracted and launched as needed to mine the CPU. The XMRig miner uses the signed driver WinRing0x64.sys. This rider was signed on Saturday, July 26, 2008 by Noriyuki Miyazaki. We do not have a source for it, however, we believe that this driver does not pose a security threat at all, since it has a good reputation at Microsoft and has been used by various software for almost 13 years.
This post is also available in:

Русский