NVCleanstall v1.6.0: Download Nvidia driver removal software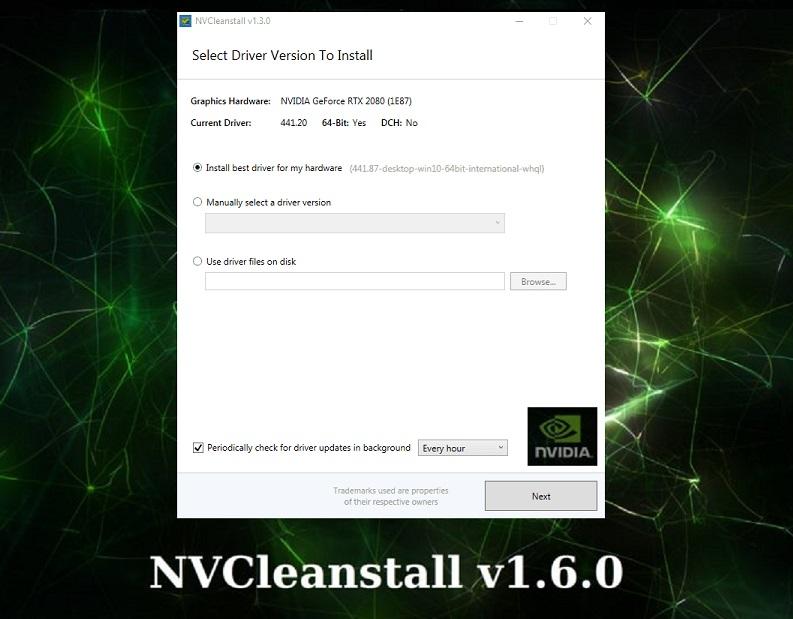 ---
NVCleanstall v1.6.0 – this convenient and simple program allows you to configure the NVIDIA GeForce driver package by removing components that you do not need (or need). This not only maintains order, but also reduces disk usage and memory. Unlike a custom NVIDIA installation, you can deselect packages such as Stereo 3D Glasses, USB-C, Notebook Optimization, or Telemetry in NVIDIA drivers.
Download Link: https://www.techpowerup.com/download/techpowerup-nvcleanstall/
What's new in 1.6.0?
Significantly improved download speed during the first 30% of the installation
Fixed a crash on startup when the Microsoft Task Scheduler service is not running
NVCleanstall – what it is for?
Our free software lets you customize the NVIDIA GeForce Driver package by removing components that you don't need (or want). This not only keeps things tidy, but also lowers disk usage and memory footprint.

Much of the GeForce Software package consists of components NVIDIA feels are essential to the hardware and form an extension of the product itself. Thus, even the "custom install" option won't let you unselect these packages — NVCleanstall will. For example, you might want to skip support for Stereo 3D Glasses, USB-C, Telemetry, or Notebook Optimizations.

NVCleanstall has two main modes of operation: either you let it fetch the driver files from the Internet, downloading only those components you want, or you feed it an existing driver package on disk, to customize the components inside. This mode works without Internet connectivity.

Once the repackaged NVIDIA installation files are ready, you can either continue with installation on your local machine, or save the driver package for later, possibly on portable storage, to install another system, that might not have network connectivity.
Features
Remove all those features you don't need, bring down disk and memory usage
Skip download of unselected driver components, less data needed
Works offline with manually downloaded installer packages, too
Customized installer is portable and can be saved for later use, or launched immediately
Detailed help texts describe what every component does
Automatic dependency checking
Portable software, no installation required
Runs on Windows 7, Windows 8, Windows 10. Both 32-bit & 64-bit operating systems are supported
Screenshots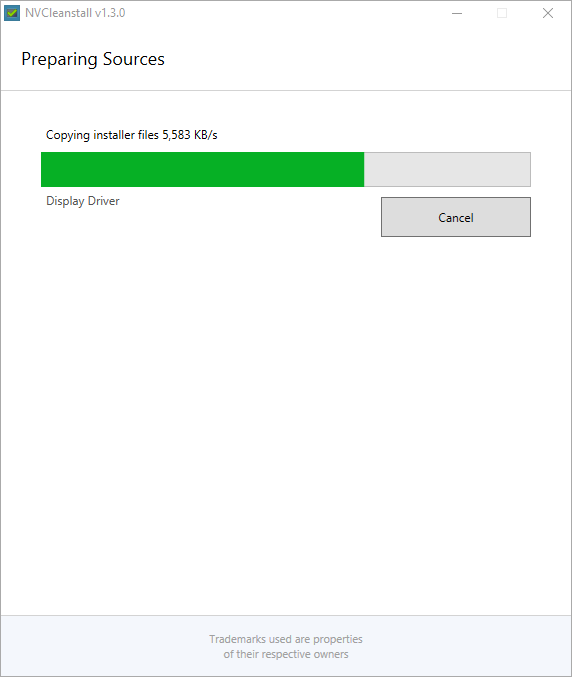 Downloads
The latest version is available in the downloads section.
Version History
v1.6.0 (May 8th, 2020)
Massively improved download speeds during first 30% of installation
Fixed crash on startup when Microsoft Task Scheduler service is not running
v1.5.0 (April 3rd, 2020)
Added a fourth option on first screen, to install NVCleanstall on the local machine
Improved device matching algorithm
If the window doesn't fit on screen (due to too low resolution), add vertical scrollbar, so that "Next" button can be reached
Background update check is now on a fixed 4 hour interval
v1.4.0 (February 4th, 2020)
Fixed "Enable Message Signaled Interrupts" to work correctly in all cases
Fixed "New version available" always showing version "1.1.0" as latest
Removed empty space in "Tweaks" panel on non-DCH drivers
v1.3.0 (February 3rd, 2020)
Added tweak to install NVIDIA Control Panel app from Microsoft Store (without Microsoft account), DCH drivers only
Added tweak to enable Message Signaled Interrupts
Tweaks section moved onto its own page
Fixed background driver update check not getting disabled when its checkbox is unchecked
Downloaded files can now be dropped onto the NVCleanstall window to automatically use them as driver source
Be the first to know the news, read more about cryptocurrencies and mining on CRAZY-MINING.ORG. You enjoy reading articles like this and want to support me as an author, then subscribe to our Telegram channel https://t.me/cryptomineg
Recommended New Articles: