GPU-Z (Standard Version & ASUS ROG): Download for Windows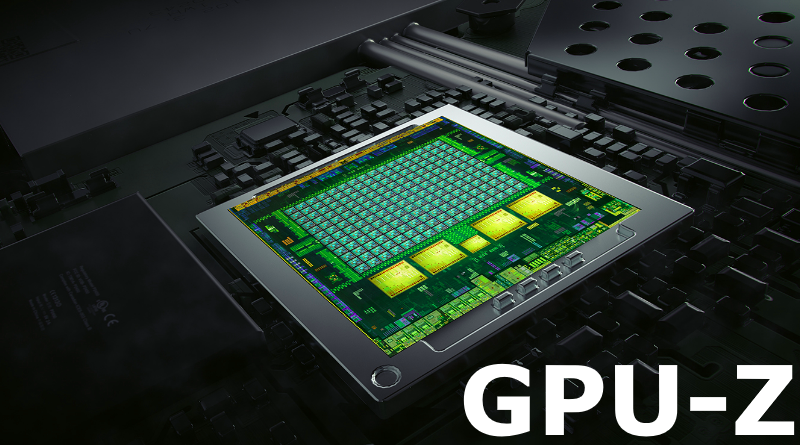 ---
GPU-Z is a lightweight utility designed to provide you with all the information about your video card and GPU. GPU-Z is a free application for displaying technical information about a video adapter (video controller / video card / video module) running under Microsoft Windows. The program displays the technical characteristics of the graphics processor and its video memory, that is, it determines the manufacturer and name of the video adapter, the type of video processor and its characteristics, the size and type of video memory, the date and version of the video BIOS, the date and version of the video driver, and also displays the graphics technologies and standards supported by the video processor. The GPU-Z program can at the same time additionally determine the temperature and frequency of the core, the frequency of video memory and the speed of rotation of the cooler and conduct an online comparison of the device with other similar products.
About the graphics card:

The name of the video card in the operating system
GPU internal code name
GPU revision number
GPU process technology
GPU core area
Video adapter submission date (internal BIOS date)
Number of transistors
Adapter BIOS Version
UEFI adapter support data
Identifier of the manufacturer of the video adapter according to PCI SIG
Adapter id
The number of raster output units (ROP) and texture mapping (TMU)
Adapter system bus interface
The number of shader processors and their type
Supported version of DirectX
Pixel Processing Speed
Texel processing speed
Type of video memory and its manufacturer
The width of the bus between the GPU and the video memory
Video memory capacity
Video memory bandwidth
Driver version
GPU frequency (standard / actual)
Video Memory Frequency (Standard / Actual)
The presence of a bunch of adapters in the system (SLI / CrossFire)
Supported Technologies (CUDA, PhysX, OpenCL, DirectCompute, DirectML, Vulcan, Ray Tracing, OpenGL)
Real-time data sensors (depending on adapter):

GPU core frequency
Video frequency
GPU temperature
Adapter cooling fan speed
GPU Download
Loading the video controller
Download video processing unit
Bus adapter interface bus
GPU stability sensor survey
Power consumption
Video Memory Consumption
Adapter supply voltage
GPU core voltage
GPU core current consumption
Voltage regulator phase temperature
CPU temperature
System memory usage

Advanced:

Driver Release Date
The presence of a universal adapter driver for UWP
"GPU quality" in percent – conditional value of the analysis of electrical leaks (ASIC quality)
Energy limit relative to adapter standard value
The range of energy consumption relative to the standard adapter value
The adapter supports ultra low power mode
Adapter BIOS Details
Data on memory timings supported at various operating frequencies
WDDM Version
Support for hardware decoding of various video formats
Details of the adapter supporting various technologies and extensions in the DirectX, OpenCL, Vulkan APIs.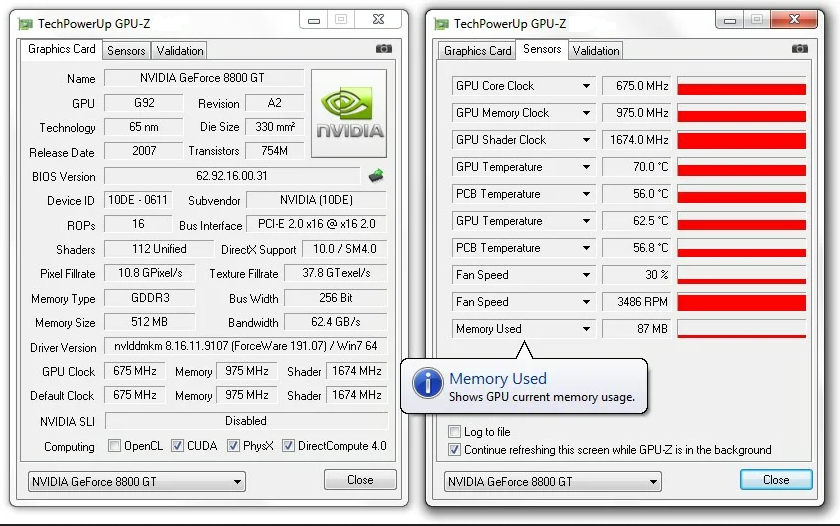 Version History
v2.32.0 (May 29th, 2020)
Added NVIDIA per-rail voltage and power monitoring
Fixed WDDM 2.7 Hardware Accelerated GPU Scheduling readout in Advanced Tab to report "Disabled, not supported" instead of "Unknown (8)" on Windows 10 2004 with AMD graphics card
Added support for Intel Comet Lake 10th Generation CPUs
Added support for AMD Radeon Pro W5700X, WX 4170
Added support for GTX 1650 Ti Mobile (TU116-A), NVIDIA Tesla V100S-PCIE-32GB
v2.31.0 (May 6th, 2020)
Fixed DirectML detection on newer Windows Insider Builds
Added GPU voltage monitoring for Intel integrated graphics
AMD Radeon Pro Drivers will now report their version number information
Added command-line arguments -install and -installSilent
Switched to InnoSetup based installer
Improved driver version detection on some systems with NVIDIA GPU
On Advanced tab, if Vulkan or OpenCL detection fails, report "not supported" instead of "not found"
GPU-Z startup on slow systems now has longer timeouts to avoid errors
Added support for NVIDIA GeForce RTX 2070 Super Mobile, RTX 2080 Super Mobile, RTX 2060 Max-Q, RTX 2070 Super Max-Q, RTX 2080 Super Max-Q, RTX 2070 Mobile Refresh, RTX 2060 Mobile Refresh, GTX 1650 Mobile, GTX 1650 Ti Mobile, GeForce MX350, GRID RTX T10 (GeForce Now), Quadro RTX 8000, Tesla P40, Quadro 500M, GeForce GTX 1060 (Microsoft), GeForce GT 610 (GF108), GeForce GT 730M
Added support for AMD Radeon Pro 580, Radeon Pro V340, Apple 5300M & 5500M
v2.30.0 (March 13th, 2020)
Added Advanced tab reporting for Hardware Accelerated GPU Scheduling (Windows 10 20H1)
Advanced tab now shows WDDM 2.7, Shader Model 6.6, DirectX Mesh Shaders, DirectX Raytracing Tier 1.1
Worked around Microsoft bug to fix DirectML detection on Windows 10 19041 Insider Build
Driver registry path for the graphics device is now displayed in Advanced -> General
Renamed NVIDIA "VDDC" sensor to "GPU Voltage"
Renamed AMD "GPU only Power Draw" sensor to "GPU Chip Power Draw" to clarify that this is the graphics chip only power draw, not the whole graphics card
Windows Basic Display Driver will no longer show WHQL/Beta status
Updated Renoir to be 7 nm
Added support for AMD Radeon RX 590 GME, Radeon Pro W5500, Radeon Pro V7350x2, FirePro 2260, Radeon Instinct MI25 MxGPU, AMD MxGPU
Added support for Intel UHD Graphics (i5-10210Y)
Added support for NVIDIA GTS 450 Rev 2
Fixed crash during DirectX 12 detection
v2.29.0 (January 15th, 2020)
All AMD RX 5000 Series (Navi) cards now report game clock as "GPU Clock", instead of base clock
Fixed window position not getting saved when GPU-Z is running during OS shutdown/reboot
Fixed GPU-Z crash when the AMD driver gets stopped (during driver update etc)
Fixed PCIe speed reporting on Vega
Added support for Intel Iris Plus Graphics 645
Added support for AMD Radeon RX 5600 & 5600 XT, Renoir APU, Radeon Pro Vega II, Radeon HD 8280E
Recommended New Articles:
This post is also available in:

Русский