SmartMinerPRO (SMP+) – CPU/GPU/ASIC miner [With GUI mining panel]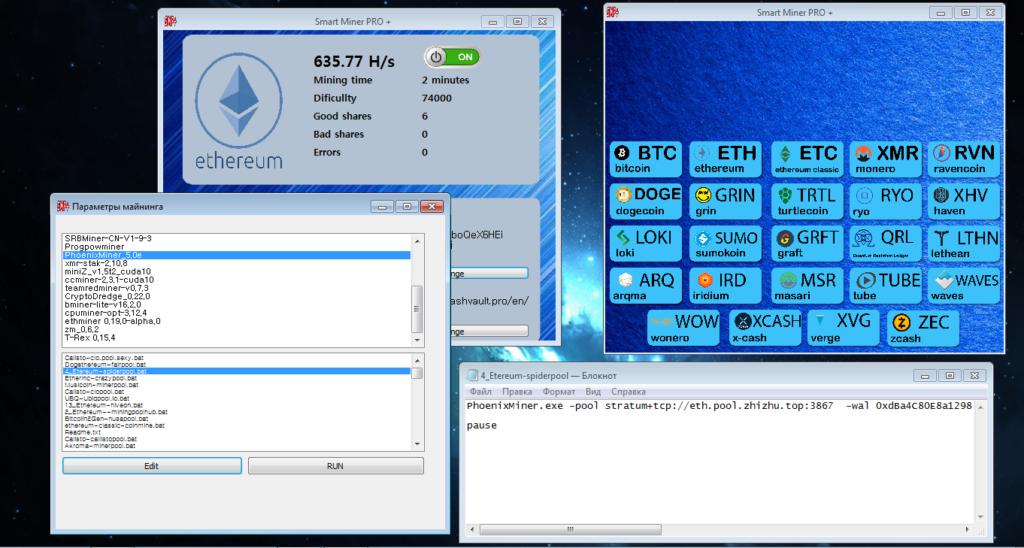 ---
SmartMinerPRO (SMP/SMP+)
SMP + is an intelligent multi-currency cryptocurrency miner for CPU / GPU / ASIC / FPGA. Which itself finds the available equipment and selects the optimal settings. SMP + allows you to connect / disconnect / stop / start one or several farms in one click. You can choose a separate algorithm for each farm.
Features SmartMinerPRO+:
Built-in miners: XMR-STAK & XMRIG, GMINER. T-REX, TeamRedMiner, CGMiner, T-Rex, NBMiner, Nanominer, PhoenixMiner, CCMiner, miniZ, cpu miner, cpuminer-opt, Kadena Miner, Kawpowminer and many others.
Works on all versions of Windows
Over 50 of the best mining pools
CPU & GPU Mining
Easy to use
Easy installation of miners and configuration files (.bat).
To start mining using SMP +, just enter your wallet in the .bat file of the selected miner.
SMP + has demonstrated high performance when working with Bitcoin, Ethereum, Ethereum Classic, Monero, Raven and other currencies, is highly stable and easy to configure.
Simple one-click resource extraction for processors that support at least SSE2 (only works on Windows x64).
Simple mining on one GPU for NVIDIA GPUs using microarchitecture (computational ability) SM 3.0+.
Simple one-click GPU mining for AMD GPUs using any AMD GPUs supporting OpenCL.
Integrated support for a simple multi-algorithm. Always my most profitable algorithm.
Integrated benchmarking tool. Run it only once before mining and after each hardware / driver / software update.
Watch-function – automatically restarts the miner in case of failure or freezing.
No DevFee
SmartMinerPRO (SMP / SMP +) is completely free software.
But this does not apply to built-in mining programs (miners).
Miner support :
bminer-lite-v16.2.0
ccminer-2.3.1-cuda10
Nanominer-1.9.5
Claymore_v15.0
cpuminer-opt-3.12.4
CryptoDredge_0.22.0
ethminer 0.19.0-alpha.0
EWB_v0.6
Gminer_2.09
kawpowminer-1.2.3
lolMiner_v0.9.8
miniZ_v1.5t2_cuda10
NBMiner_30.2
PhoenixMiner_5.0e
Progpowminer
SRBMiner-CN-V1-9-3
SRBMiner-Multi-0-4-3
TeamRedMiner-v0.7.3
T-Rex 0.15.4
TT-Miner-5.0.1
xmrig-5.5.1
xmr-stak-2.10.8
z-enemy 2.5
zm_0.6.2
SMP (SmartMinerPRO) – version without pre-installed miners and .bat files
SMP + (SmartMinerPRO) – version with a full package of pre-installed miners and .bat files + instructions
Miners Package – This is the complete package of all miners that support SMP +
System Requirements
WINDOWS XP, 7,8,10 or later (x64)
CPU (x64 / x86 / ARM) For mining a CPU a modern CPU with SSE2 support
OpenCL for AMD GPUs. For AMD mining any AMD GPU with OpenCL support
CUDA for NVIDIA GPUs. For mining NVIDIA any NVIDIA GPU with Computing Capability (SM) 3.0 or later
Latest OS patches
modern drivers for all GPUs
Reliable internet connection
Note: Requires .NET Framework 4.8 or later and Microsoft Visual C ++ Redistributable 2015. No additional installations are required if you are using Windows 7 or later. However, if you have any problems starting the application (the application does not start or errors / warnings about missing DLL files are displayed), you should download and install Microsoft .NET Framework 4.8 and Microsoft Visual C ++ Redistributable 2015 (vcredist_x64.exe ) (after installation, a reboot may be required).
Recommended New Articles:
This post is also available in:

Русский