T-Rex 0.15.8: Nvidia CUDA GPU Miner (DevFee is 1%)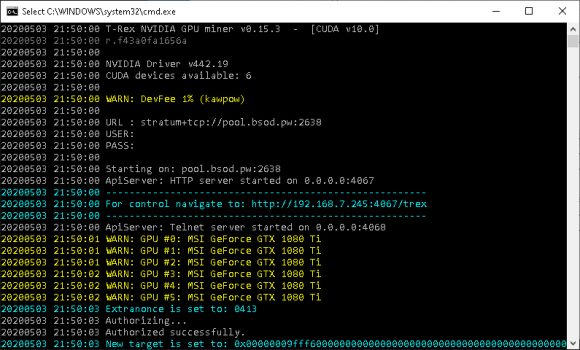 Download links for T-Rex miner v0.15.8:
Changes V0.15.8:
Extranonce Support for Nicehash
Bug fix:
(Windows) Miner does not start when using v450 + video drivers
T-Rex is a universal cryptocurrency mining software that supports many algorithms. DevFee: Development fee is 1% (3% for Tensority).
T-Rex supports the following mining algorithms:
alterhash
astralhash
balloon
bcd
bitcore
c11
dedal
geek
hmq1725
honeycomb
jeonghash
kawpow
lyra2z
mtp
mtp-tcr
padihash
pawelhash
phi
polytimos
progpow
sha256q
sha256t
skunk
sonoa
tensority
timetravel
tribus
x11r
x16r
x16rt
x16rv2
x16s
x17
x21s
x22i
x25x
JSON configuration file
To start T-Rex with the config.txt configuration file, enter in the console: t-rex -c config.txt. Use the config_example file as a starting point for creating your own configuration. You can also use environment variables: just put % YOUR_ENV_VAR% anywhere in your configuration file and it will automatically replace the value of the YOUR_ENV_VAR variable at run time.
Watchdog
The watchdog timer is designed to monitor the state of the miner and restarts the T-Rex in the event of a failure or freezing for any reason. In addition, the watchdog timer can optionally perform automatic updates if a newer version is available. We recommend that you use a watchdog timer to avoid mining downtime and make sure your GPUs are busy 24/7. If you need to disable the watchdog, you can do this with the --no-watchdog parameter.
HTTP API
By default, the HTTP API server communicates with 0.0.0.0:4067 . This means that you can access your miner through external and internal network interfaces.
Recommended New Articles: