Awesome Miner Firmware for ASIC (Download Antminer Firmware)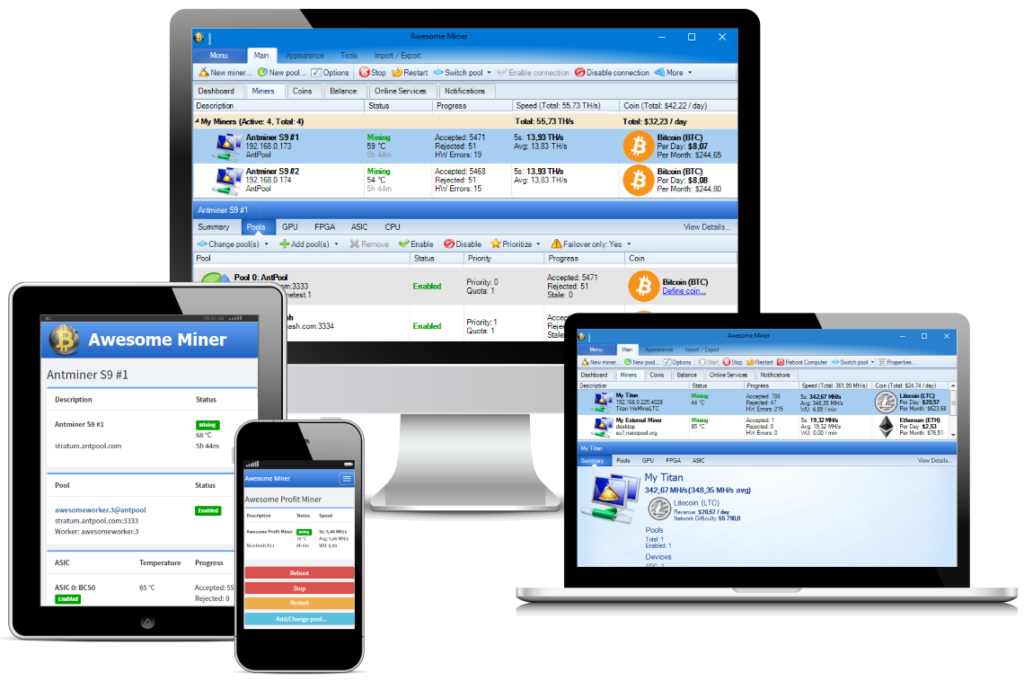 ---
Awesome Miner Antminer Firmware – Custom firmware improves hash performance, improves energy efficiency and provides more features.
Supported miners ASIC
Antminer S9, S9i, S9j
Antminer T9 +
Antminer L3 +, L3 ++
Antminer S17, S17 Pro
Antminer S17 +
Antminer T17
Antminer T17 +
Antminer S9 dual mode (two connected miners, 20-23TH / s, 1500 W)
Antminer S17e / T17e will be supported soon
Key Features of Awesome Miner
Improved hashrate performance – on average, you can expect an increase of 10% for Antminer S9 and 40% for Antminer S17
Improving energy efficiency by customizing each individual ASIC chip
Both overclocking and overclocking are supported.
Easy to use – select the target hashrate, and the firmware will take care of all the details
Flexibility, allowing manual configuration and many configuration settings
Antivirus to prevent and recover from virus attacks
Very low power consumption (25 W) in case of loss of Internet connection – compared to the Bitmain firmware, which consumes maximum power
Cooling immersion support
Stunning Miner Integration
Install and update firmware through Awesome Miner
Display current power consumption
Display ASIC chip performance and details
Find a physical miner by launching an LED flash
Put Antminer to sleep mode, where it will consume very little power
Antivirus scan
Change your mining profile to allow overclocking and overclocking with Awesome Miner
Enable AsicBoost through mining profile configuration in Awesome Miner
Backing up and restoring firmware configuration settings
All Antminer Features in Awesome Miner Available for Use with Awesome Miner Antminer Firmware
All operations can be performed immediately on a large number of miners.
Awesome Miner licenses are not required for miners using firmware versions with 3% mining commission
Mining Fee [DEV FEE]
Mining fee [DEV FEE] The firmware has a mining fee of 2% or 3% (on average, slightly lower, about 1.8% and 2.8%)
The mining fee is based on the concept of parallel mining in order to avoid any interruptions in normal mining. A firmware with a 3% mining fee includes an Awesome Miner license and does not use any of the licenses available in Awesome Miner. This allows you to run Awesome Miner and cloud services without paying a license if you use firmware with a 3% mining fee.
Download and install Awesome Miner firmware
It is recommended to install the firmware through Awesome Miner. Awesome Miner can install Awesome Miner firmware on compatible Antminers, including Antminers with SSH access disabled and firmware signature verification enabled. The only exceptions are:
Antminer S9 running Bitmain firmware since July 2019 – SD card required for installation
Antminer L3 + running Bitmain firmware since July 2019 – SD card required for installation
Antminer S17 / T17 has been running Bitmain firmware since December 2019 – an SD card is required for installation
Antminer S17 + / T17 + – requires an SD card to install
To install the firmware through Awesome Miner, go to the toolbar:
Tools -> ASIC Tools -> Update Firmware.
The firmware can be selected from the list, and Awesome Miner will automatically download and install the firmware on all selected miners.
Version: 7.6.0, Released: May 06, 2020
Awesome Miner is a Windows application for managing and monitoring mining of Bitcoin and many other crypto currencies.
IMPORTANT! This software is provided by the author "as is" and any express or implied warranties, including, but not limited to, the implied warranties of merchantability and fitness for a particular purpose are disclaimed. In no event shall the author be liable for any direct, indirect, incidental, special, exemplary, or consequential damages (including, but not limited to, procurement of substitute goods or services; loss of use, data, or profits; or business interruption) however caused and on any theory of liability, whether in contract, strict liability, or tort (including negligence or otherwise) arising in any way out of the use of this software, even if advised of the possibility of such damage.
Requirements
Supports 32-bit and 64-bit editions of Windows 7, Windows 8 and Windows 10
Requires Microsoft .NET Framework 4.5 or later (already included in Windows 8 and Windows 10).
GPU mining software typically requires a 64-bit edition of Windows and the following packages to be installed on all GPU mining computers:
Linux downloads
Version: 7.6.0, Released: May 06, 2020
Awesome Miner Remote Agent is only required when using the Managed Miner feature on remote computers.
Remote Agent for Linux getting started
Requirements
Linux 64-bit (e.g. Ubuntu)
GPU drivers installed
Changelog:
Version 7.6
 ASIC mining
  - Fan speed display for BraiinsOS BOSminer
 GPU mining
  - Configuration of time span for mining process restart on frequent crashes. Configurable in the Options dialog, Mining Settings.
  - RVN coin prepared for Kawpow algorithm. Fork and algorithm change on May 6th, 18:00 GMT. Coin statistics may not be correct for some period of time after the fork.
 Features
  - Support for improved concurrency when using large scale mining operations. The concurrency level can now be increased to 200 in the Options dialog, Advanced section.
 User interface
  - Sorting of the Progress column can sort on the value displayed as part of a custom expression
 Integration
  - Updated Ethereum, Verge and Bitcoin Cash block explorers for wallet balance 
 Mining software
  - NanoMiner 1.9.1
  - T-Rex miner 1.15.4
  - NbMiner 30.2
  - WildRig Miner 0.20.6
  - Z-enemy Miner 2.5
  - Bminer 16.2
 Corrections
  - Correction to the PROTO parameter for Phoenix Miner when mining UBQ
Getting started
An easy way to get started and achieve better hashing performance is to use one of the predefined mining profiles. You can configure your mining profile through Awesome Miner or the Antminer web interface.
Awesome Miner: Go to the toolbar: Tools -> ASIC Tools -> Firmware mining profile
Antminer web interface: Go to Miner Configuration -> Mining profiles
Documentation:
FAQ
Why does the Antminer web interface not work properly after updating the firmware?
Please hold down the Ctrl key and click the Reload button in the web browser or use the key combination Ctrl + F5. This will clear any cache of the old firmware user interface and solve the problem. For more information, see the Wikipedia Guide for a complete reload of a web page.
Why does the miner reboot itself?
If the mining profile is configured for a full reboot, the miner can reboot it on its own in order to better configure or fix ineffective mining chips. It is expected that the miner will reboot several times the first time you use the firmware. If the state of the chip is really bad, it is recommended to limit the frequency that the firmware will use for the chip. In the miner's web interface go to "Miner Configuration" -> "Chip Auto Tune" and set "Minimum Freq" to 400.
What is the mining fee?
The firmware has a built-in mining board to support firmware development. The purpose of the firmware is to provide significantly better hash performance, more features, and improved integration with Awesome Miner, which makes mining fees very affordable.
The mining fee is 2% or 3%, depending on the firmware. Example: with a common hash bit of 15TH / s and 2% mining fee, not more than 0.3TH / s will be used for mining fee.
The mining fee consists of two pools called DevFee, which work in parallel. These two pools work with a very low level of complexity, which leads to a large number of accepted shares. A large number of stocks does not mean that DevFee pools accept the entire hashrate – this is the result of a low level of complexity for each stock.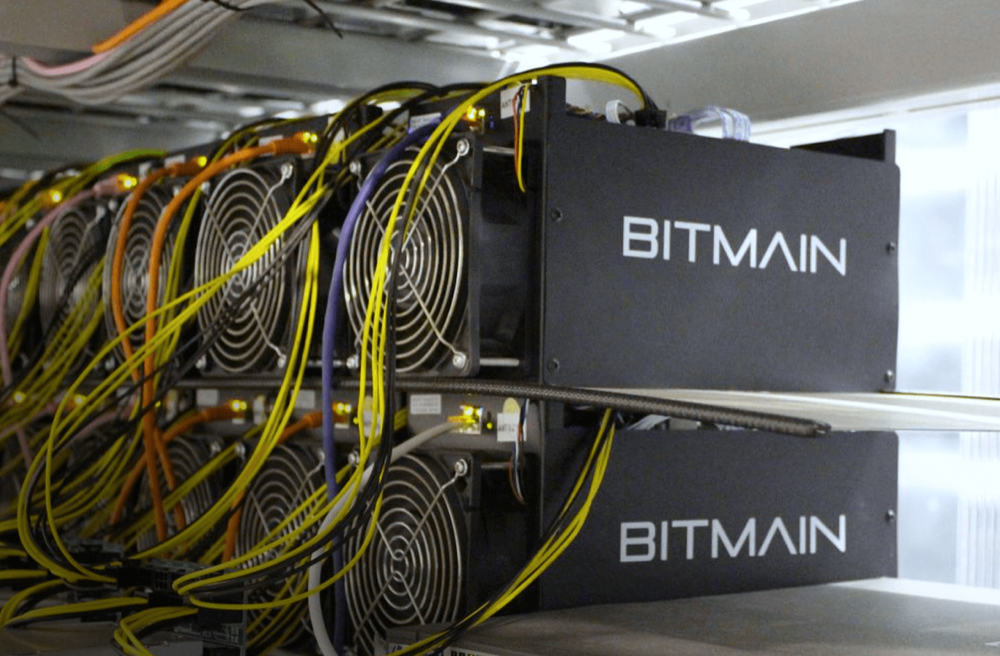 Read more articles about cryptocurrencies and mining at crazy-mining.org

Do you enjoy reading articles like this one about cryptocurrencies and mining, want to support the author or ask questions? Be the first to know the news, subscribe to my telegram channel: t.me/cryptomineg
XMRig – CPU/GPU Miner with support for RandomX, KawPow, CryptoNight, AstroBWT and Argon2 algorithms. Works on processors and video cards of both types (Nvidia and AMD). Supports all operating systems including Windows, Linux, macOS and FreeBSD. XMRig is popular in Monero (XMR) mining.

---

Using the Aergo ICO platform, companies and developers will be able to easily build and deploy their applications on the blockchain and cloud. They will have a choice of both public and private chains.

---

Claymore Dual Miner is a software for simultaneous mining of two cryptocurrencies on one video card. Before Claymore, video cards could only mine one coin. This state of affairs depressed the miners and everyone involved. There was an underground development of miners capable of mining two currencies on one video card.

---
Recommended New Articles: