MultiBit Classic 0.5.9 – Download BTC wallet for Windows/Linux/MacOS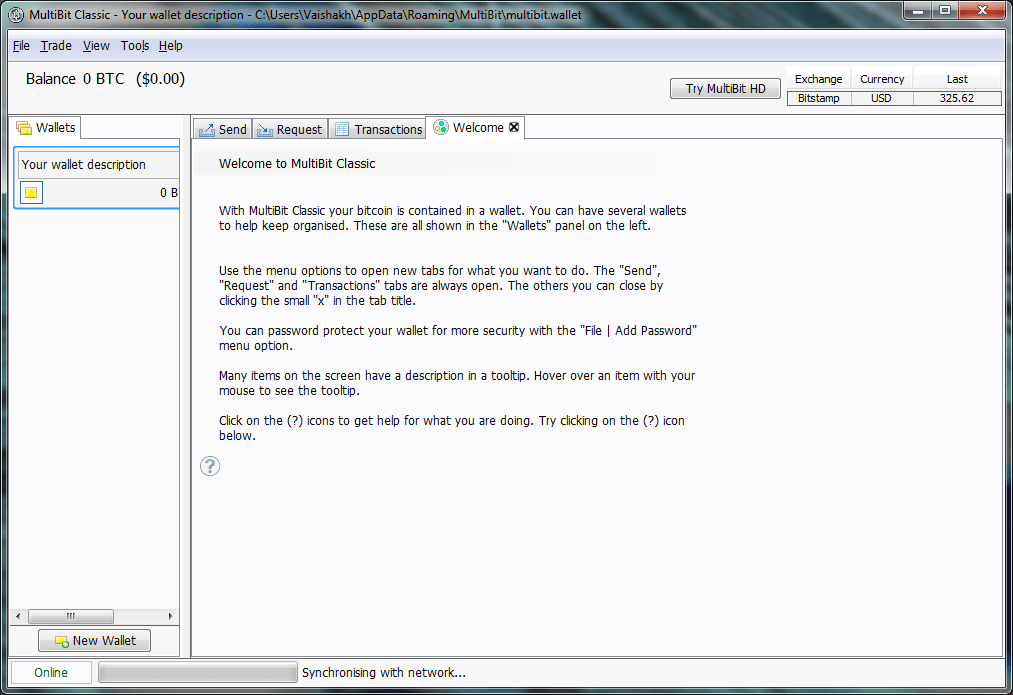 ---
Review MultiBit Classic
MultiBit Classic allows you to manage your bitcoin wallets. It has a simple interface that shows all your queries and transactions. It also allows you to password protect your wallets. The classic version is a legacy product and is in maintenance mode. The security model of MultiBit Classic is weaker than MultiBit HD; so this is only recommended if you have private keys that cannot be migrated.
MultiBit Classic 0.5.19 could be downloaded from the developer's site at the last check. We cannot guarantee a free download of this program. The program belongs to the Security category. This free program was created by Bitcoin Solutions Ltd. The most popular software version is 0.5.
MultiBit Classic allows you to manage your bitcoin wallets. It has a simple interface that shows all your queries and transactions. It also allows you to password protect your wallets. The classic version is a legacy product and is in maintenance mode. The security model of MultiBit Classic is weaker than MultiBit HD; so this is only recommended if you have private keys that cannot be migrated.
You can run this free software on Windows XP/7/8/10/11 32 and 64-bit.
MultiBit was one of the first wallets launched in 2011 besides the Bitcoin Core reference software. However, in 2017, MultiBit's maintenance and development was discontinued. This always challenges users to recover their bitcoins. Another problem is that there were two versions of MultiBit with different wallets, namely MultiBit Classic and MultiBit HD .
This causes confusion for some users because the recovery process for the corresponding wallet also looks very different. The options that MultiBit could offer at the time are in many ways no different from the classic wallets that are still very popular today. However, the software was struggling with various bugs at the time, and when SegWit was introduced in 2017, the KeepKey developers who took over the project saw no further room for further development of MultiBit.
Anyone who had a MultiBit wallet back then, which they have not touched to this day, also fully owns their stake in the two forks of Bitcoin Cash (BCH) and Bitcoin SV (BSV) . Another reason to restore the wallet.
How to install MultiBit Classic
Quick Installation Guide
Once the download is complete, double click on the installer icon
We recommend using the default settings
Safe to overwrite an earlier version if prompted
Any existing files and wallet configuration will not be affected.
Please note that for security reasons we do not support Windows XP or earlier.
Running Windows 7 and above?
This is the standard "64-bit" installer and is suitable for Windows 7 (and some editions of Vista) and later.
Double-click the installer – it's signed by one of the MultiBit HD developers named "James Burton". Work with the installer – it's usually easiest to accept the defaults.
If you have a firewall configured when you first start MultiBit HD, Windows will ask you if you want MultiBit HD to communicate over your internet connection. MultiBit HD needs to communicate with the Bitcoin network and the multibit.org server, so allow this access.
Запуск Windows Vista?
In some early versions of Windows Vista, you may see a "64-bit compatible" message. We provide a 64-86-bit Windows Installer for backwards compatibility.
You should consider upgrading to take advantage of the latest security patches.
The installation process is the same as for the 64-bit version.
On Windows XP?
We do not support Windows XP. It has too many security issues to be viable for Bitcoin software outside of a tightly controlled environment.
Fix problems
Sometimes people face problems while setting up MultiBit HD on their Windows computer. The following are some common solutions to known issues.
I'm low on system memory
MultiBit HD uses the Java Virtual Machine (JVM) to manage its memory. This means that over time you will see an increase in memory usage as you perform various activities. Blockchain sync is a memory intensive process and during the initial sync or wallet restore operation you will notice an increase. By default, MultiBit HD will not consume more than one quarter of your system memory or 1 GB, whichever is less. For example, on a 2 GB system (2009 mid-range machine) the MultiBit HD will start to have memory limits of around 500 MB.
This default value is sufficient to ensure smooth and fast operation on most systems. However, MultiBit HD can continue to work even with 256 MB allocated to it, although performance tends to decrease.
If you want to change the memory allocated for MultiBit HD, you need to do the following:
After installation, find the shortcut to MultiBit HD
Right click and select "Properties".
Edit the Target line by adding -J-Xmx1024mspace after the end " to set the limit to 1 GB (for example, Target: "C:\Program Files\MultiBit HD\multibit-hd.exe" -J-Xmx1024m
Save your changes and use the shortcut as usual to launch MultiBit HD.
---
How to Restore MultiBit Classic
Sending and receiving with the MultiBit software is no longer possible for various reasons. In fact, the wallet in both versions is not a full-fledged node. Thus, MultiBit does not download its own copy of the Bitcoin blockchain, but relies on synchronizing it with a service that has been discontinued for years and therefore no longer available. If you still manage to run the program, which is possible in principle, you will encounter the following difficulties:
The wallet does not support dynamic transaction fees. This can cause the transaction to fail or sometimes get stuck in the mempool for a long time if the fee is too low.
Multibit does not support SegWit addresses, so bitcoins cannot be converted to the appropriate address format.
Wallets that have made a particularly large number of transactions have difficulty synchronizing with the network. There is also a risk that the transaction size will be too large if you try to send all the coins at once.
Multibit has various bugs that have not been fixed so far, and for this reason, transactions often fail.
However, in classic version you can use wallet file , password and special software to get private keys and export them to another bitcoin wallet to avoid the problems and risks described above. Depending on the operating system, you will find the wallet file in the following folder:
MacOS
~/Library/Application Support/MultiBit/<wallet-name>
Windows
C:\Users\<username>\AppData\Roaming\MultiBit\<wallet-name>
You must first decrypt this file to get the keys. A classic wallet can be a ".key" file or a ".wallet" file. Both are encrypted with AES and contain private keys.
To decrypt a wallet, you need to install tools such as OpenSSL and then enter the appropriate command line through the shell using the password. If you don't remember your password, please contact us. As a rule, decryption can be difficult, and then this is a matter for a professional.
As always, each case is unique and depends on the details. We cannot and do not want to give you a general promise of success, but in general we have had a consistently positive experience with recovering MultiBit wallets for our clients.
---
How to Repair MultiBit HD
Wallet HD is a standard that allows you to restore a wallet using the so-called seed . While most modern wallets use a 12 or 24 word seed , the MultiBit HD wallet uses an 18 word seed .
If you bother to write down and save the seed then you can import it into another wallet. The Electrum wallet, for example, is a popular alternative as it is also a lightweight client. However, when entering the seed, be aware that the standard output path is not supported. Otherwise, recovery with seed is the same as with any other wallet.
If you don't have the seed handy, you need to access the actual wallet file and decrypt it – similar to the MultiBit Classic Wallet. To do this, you can use the method described above. Upon successful decryption, you will receive the corresponding seed instead of private keys, which you can import into other wallet software.
---
FAQ – What else to consider?
Can you just keep using your wallet after recovery?
Yes, in principle it is possible after a successful import. However, you must ensure that you import all private keys or there is a risk of losing when sending partial amounts. Alternatively, you can avoid this by transferring all bitcoins to the new wallet in one transaction, because then there will be no remaining amount or amount to change.
How do I get Bitcoin Cash and Bitcoin SV if I didn't get my stake after the fork?
If you have recovered the seed or private keys, you can import them into the appropriate wallet software that supports either Bitcoin Cash or Bitcoin SV. This gives you access to coins from the corresponding fork.
Can I just use the MultiBit wallet file with another wallet?
No, unfortunately this is not possible as the standards are incompatible with each other. Recovery only works with the seed or by decrypting the private keys and then importing them.
Is it also possible to decrypt wallet files using the Multibit software?
Yes it is possible. However, you will have to deal with the issues described above if you want the software to work. For security reasons, it is recommended that you disconnect your computer from the Internet before decrypting this sensitive data.
Read more articles about cryptocurrencies and mining at CRAZY-MINING.ORG

Do you like to read similar articles about cryptocurrencies and mining, do you want to support me as an author or ask questions? Be the first to know the news, subscribe to my telegram channel CRYPTO WIKIES