How to start mining FLUX Coin on ZelHash (NVIDIA/AMD)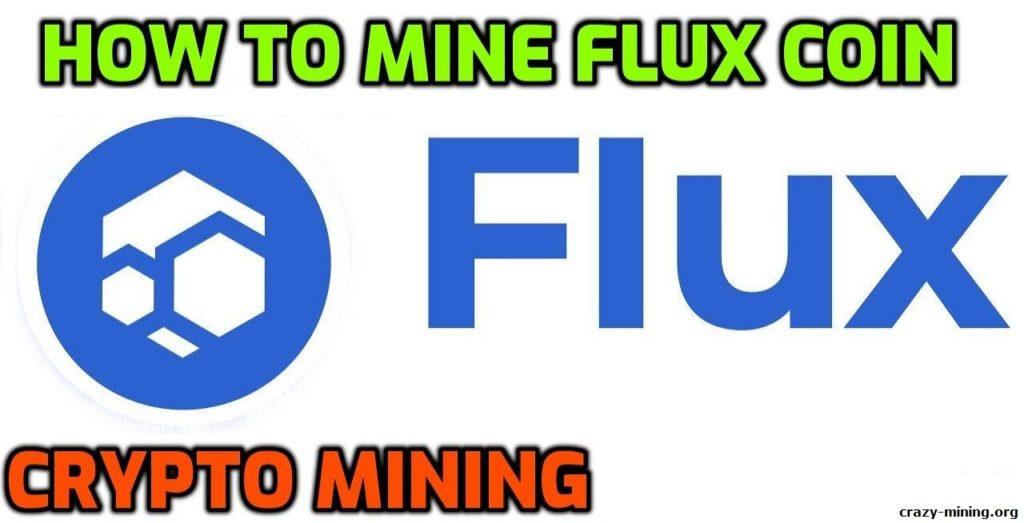 Flux is the next generation of scalable, decentralized cloud infrastructure. Simply develop, manage and run your applications on multiple servers simultaneously. Ready for Web 3.0, Dapps and more. The Flux ecosystem is a fully ready-to-go set of decentralized computing services and blockchain-as-a-service solutions that offer a compatible, decentralized, AWS-like development environment.
Flux is an independent, community-driven, open-source project with no outside investors. Thus, #Flux is fairly distributed without any pre-mined coins or distributions to others other than holders, miners and node operators. The project aims to build a true decentralized future by remaining independent and constantly pushing innovation and change in blockchain technology. Flux's economic model heavily incentivizes holders, GPU miners and node operators through ethereum, mining and node rewards. Node operators can also earn additional cryptocurrencies through paid partnerships and paid application hosting
Flux – a proprietary GPU-mined POW (Proof of Work) coin that provides incentives for hardware hosts, on-chain XDAO management, and bad-agent protection through rate requirements for running hardware. A decentralized next-generation Web3 computing network with over 2300+ Flux nodes located around the world providing about 10,900+ vCores of CPU power, 35+ terabytes of RAM, and 850+ terabytes of storage. Anyone can create a Flux Node as long as they provide the necessary Flux software and hardware for one of the three Flux Node tiers.
Flux nodes can be run on Raspberry Pi/home PCs/servers/VPS hardware from anywhere in the world. Flux node operators earn Flux rewards through blockchain rewards, but can also earn other cryptocurrencies by hosting certain dapps on their nodes.
FluxOS The Linux-based operating system is designed to manage the network by checking and comparing processing power, deploying, running and load balancing decentralized applications, managing XDAO, and more. FluxOS can be used to deploy any application with a docker, and currently hosts more than 30 dapps, including blockchain infrastructure, social networks, data oracles, websites, games, and file stores.
Flux Fusion is a DeFi bridge that provides access to major decentralized exchanges such as Uniswap and Pancakeswap.
Zelcore – the official Flux wallet, which is a first-class multi-asset, self-copying wallet for PC and mobile devices with wallet integration of major centralized and decentralized exchanges.
Instruction on how to mine Flux (ZelHash)
In this tutorial we will show you how to mine Flux coin. Flux uses an ASIC-resistant algorithm known as ZelHash, which can be mined using NVIDIA and AMD GPUs. FLUX is the official currency/coin that supports the entire Flux ecosystem. It is mainly used to support transactions on FluxOS and to reward miners for checking transactions on the Flux blockchain. In addition to miners, it also rewards FluxNode operators for providing computing resources. With Flux, you can also purchase resources and provide nodes.
Flux specifications:
Hashing algorithm: ZELHASH (Equihash 125_4)
Block Award: 75 FLUX
Award distribution: 50% PoW – 50% NODE operators
Block time: 2 min.
Maximum number of coins: 440 000 000
Halving: 2.5 YEARS
P2P PORT: 16125
PORT RPC: 16124
To learn more about Flux, visit their official website: https://runonflux.io/
How do I start mining Flux?
Here's the short answer on how to mine Flux. Follow these steps:
Step 1: Get a wallet. Official, or exchange wallet (as well as multi-currency wallets)
Step 2: Choose a convenient pool for mining
Step 3: Choose a mining program
Step 4: Set up the Bat file
Step 5: Run the Bat file and mine the Flux cryptocurrency
We'll cover all of these steps in more detail later in this article!
Which video cards can I mine Flux?
A huge number of video cards are suitable for Flux mining, because Flux coins can even be mined on GPUs with 3 GB of video memory!
Nvidia 1060 GB and above:
1060 (3/6) / 1050 TI and up
20th generation
30th generation
AMD:
470 / 570 / 480 / 580 / 590
5500 and up
6600 and up
Of course, as long as Ethereum cryptocurrency can be mined, Flux for powerful, new video cards is not profitable. However, for older models such as 1060 3GB, 1050Ti and so on, Flux is very often ranked 1-5 in profitability! For example, at the time of writing, 1 video card Nvidia 1060 3 Gb brings a day – $0.55 dirty (without deduction for light):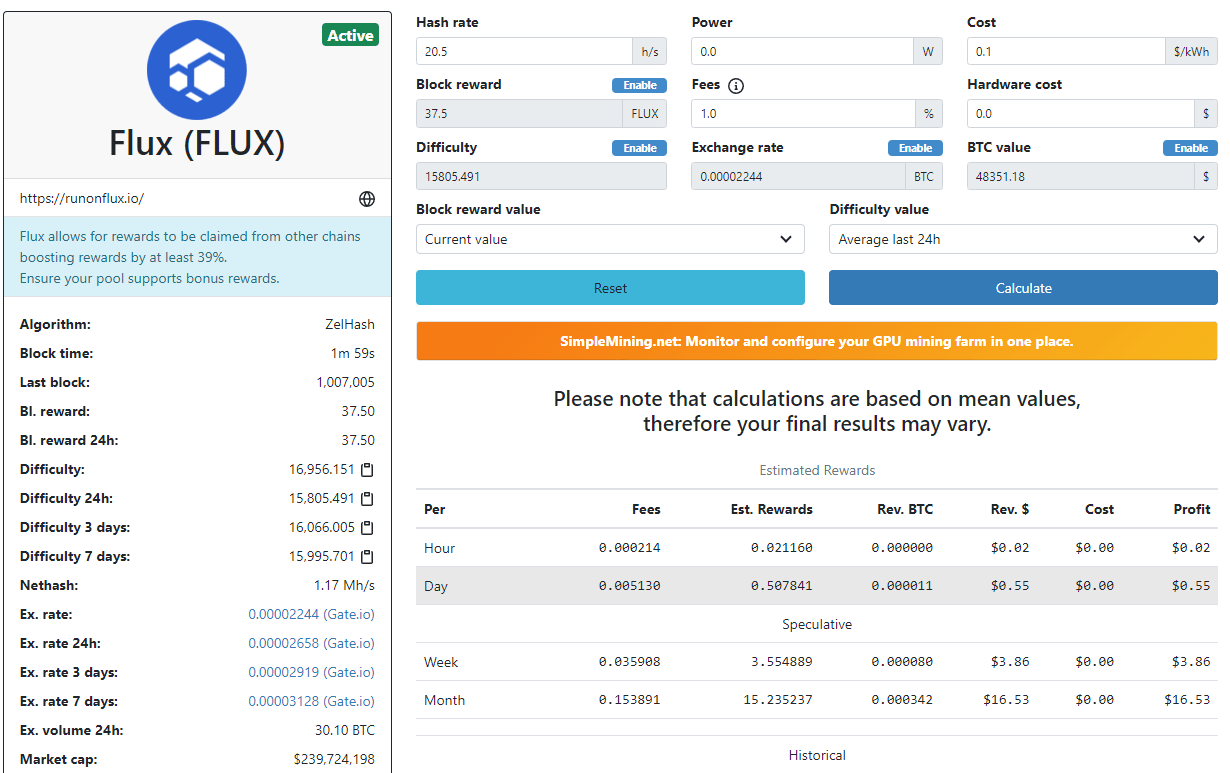 Step-by-step guide to mining FLUX
In order to start mining FLUX on Nvidia or AMD video cards, the following steps are required.
Step 1: Create Your FLUX Coin Wallet
You can create a digital wallet on the following platforms:
Zelcore – The official wallet for Flux
Exchange: KuCoin, Gate.io
Other Multicurrency Wallet
Zelcore Wallet is available for Android, IOS, Windows, MAC, and Linux operating systems.
Zelcore Wallet is the official Flux wallet. In addition to Flux, it also supports various other coins and tokens. Flux is a multi-currency wallet. Security Tip! Always keep your wallet separate from your mining farm – do not install wallets on your PC with miners! If you are mining from your PC, use the Zelcore mobile app.
Step 2: Choosing a Mining Pool
FLUX does not have many pools for mining. Here is an example of large and easy to configure pools:
fluxpools.net (supports solo mining) herominers.com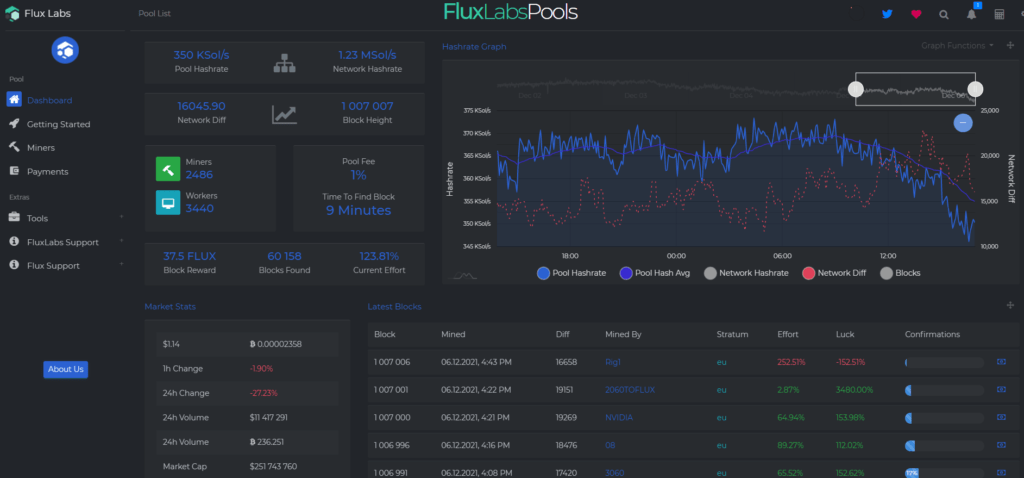 Can I mine Flux by myself (solo)? Of course you can mine solo, but first make sure you have enough power to do so. You can set up mining directly or solo using pools like 2miners and https://fluxpools.net/pools ,which support Flux solo mining.

You can see the full list of Flux mining pools here: https://miningpoolstats.stream/flux. So, which pool to choose and which one to mine? It's up to you, but keep in mind that the bigger the pool, the more often the payouts will be made.
Among all the pools; minerpool.org has the highest hash rate. It has more than 51% of the total hashrate of the network, which is highly centralized. But still people choose Minerpool.org because only Minerpool.org supports mergers (parallel assets) and also has a loyalty program.
Step 2.5 Flux – Parallel Resources?
Flux takes advantage of multiple blockchains. It provides access to multiple blockchains through parallel resources. Essentially, it creates Flux assets in other smart contract blockchains, and it will be interchangeable with the main Flux chain. This, in turn, gives stream owners easy access to other blockchains and all the major decentralized funding platforms. Only Minerpool.org supports fusion (parallel resources). so what does this mean?
For miners, this means that you will get more "harvest" than usual. Currently, you get + 39% more mining rewards. With other mining pools, you only get regular block rewards. But with Minerpool.org you'll get regular block rewards + extra rewards.
In simple parallel assets you get a big payout at the end of the day. This is one of the reasons why Flux mining is very profitable, and a large number of miners use minerpool.org. You don't need to set anything up to get concurrent asset rewards. You will receive parallel asset rewards after each regular payout to your wallet. It will be automatically replaced 1:1 by Flux and will be paid according to the following schedule:
FLUX-KDA (KADENA) and FLUX-BSC (BINANCE SMART CHAIN): once a week. FLUX-ETH (ETHEREUM): once every 2 weeks at a fairly high commission.
SOLANA – FLUX-SOL
TRON – FLUX-TRX. And much more in the future.
All right! Now let's choose a mining program.
Step 3: ZelHash Miners
We know that FLUX runs on the ZelHash algorithm. This means that the following programs will work:
All three miners are available for both Windows and Linux. After downloading, unzip the file. Now it's time to configure the Bat file.
Step 4: Configure the Bat file.
Now you need to configure the Bat file of the program you downloaded. All the examples below are for the pool https://fluxpools.net/coins/flux/
Example of setting up a Bat file for the miniZ program:
miniz --url=Wallet-Address.WORKERNAME@flux-eu.minerpool.org:2033 --pass=YourPassword --par=125,4 --pers=ZelProof –extra
Example of setting up a Bat file for the LOLminer program:
lolMiner.exe --user Wallet-Address.WORKERNAME --port 2001 --pool us-flux.fluxpools.net --pass x --coin flux
Example of setting up a Bat file for the GMiner program:
miner.exe --user Wallet-Address.WORKERNAME --server eu-flux.fluxpools.net --port 7711 --pass x --algo 125_4 --pers ZelProof
miniZ.exe --url Wallet-Address.worker@zel.2miners.com:9090 --log --extra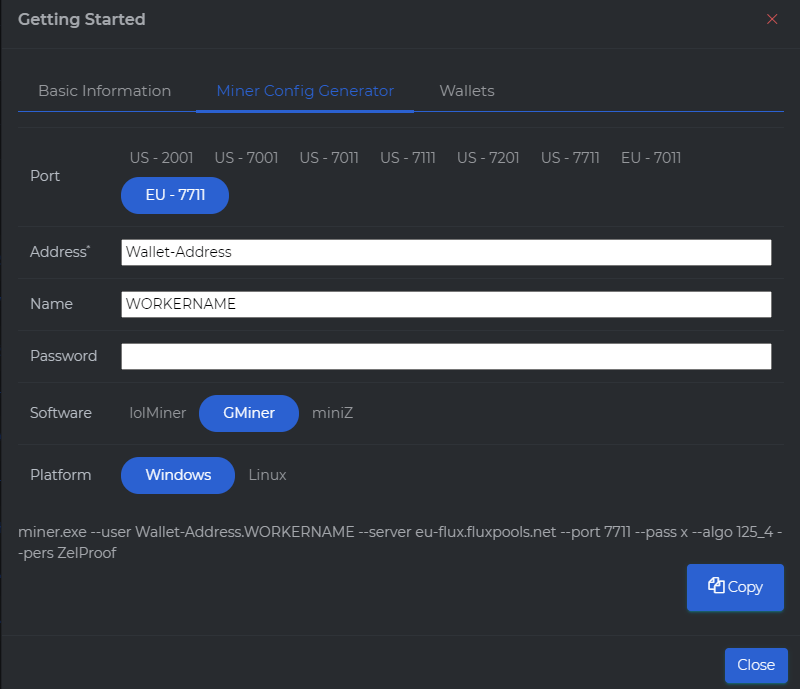 FLUX setup on Hive OS
To mine Flux on Hive OS, all you have to do is connect your wallet and set up a flight list. All flux (ZelHash) miners are available on Hive OS. How do I connect a wallet and set up a flight list? First go to the wallets section and add a wallet. Choose a Flux coin name, enter the address of your Flux wallet, give it a name and click "create".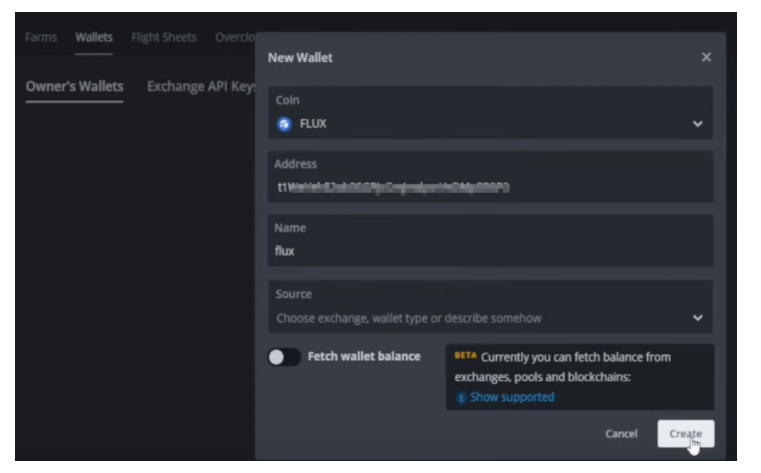 Then go to the flight sheets and add a new flight sheet. Select Flux coin, select the Flux wallet you just added. Then select the pool you want to mine on, choose a miner from the list, lolMiner and Gminer support NVIDIA / AMD. miniZ only supports NVIDIA. Give a name to the flight sheet and click "create flight sheet".

You don't need to configure the miner, because the settings you made in Hive OS will automatically import everything. Thus, you don't need to touch any of the configuration settings of the Miner (Bat file). Then go to select a flight sheet and apply the Flux flight sheet you just configured. Done. You are now mining the Flux.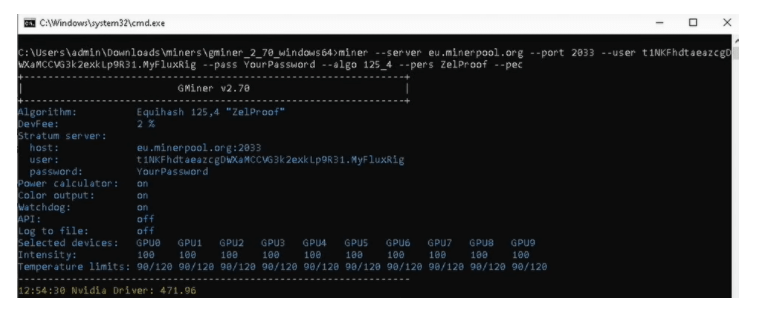 To check your stats, check the performance of your video cards, track your mining payments, and find out how many streams you've earned, visit a mining pool. Visit the pool and enter your wallet address. The pool dashboard displays all the statistics.
Video card overclocking settings
When you first mine a new algorithm, start with the default clock settings. Zelhash is quite similar to KawPoW; the core is heavy, so don't use the same overclocking as for ETH, which requires a lot of memory. The overclocking settings should be similar to RVN, where you overclock both core and memory. Also don't forget to set the fan speed and make sure that the temperature doesn't exceed the optimal GPU temperature.
Read more articles about cryptocurrencies and mining at CRAZY-MINING.ORG

Do you like to read similar articles about cryptocurrencies and mining, do you want to support me as an author or ask questions? Be the first to know the news, subscribe to my telegram channel CRYPTO WIKIES