miniZ v1.3 n5 – Fast Equihash Cuda Nvidia Miner [Download for Windows/Linux]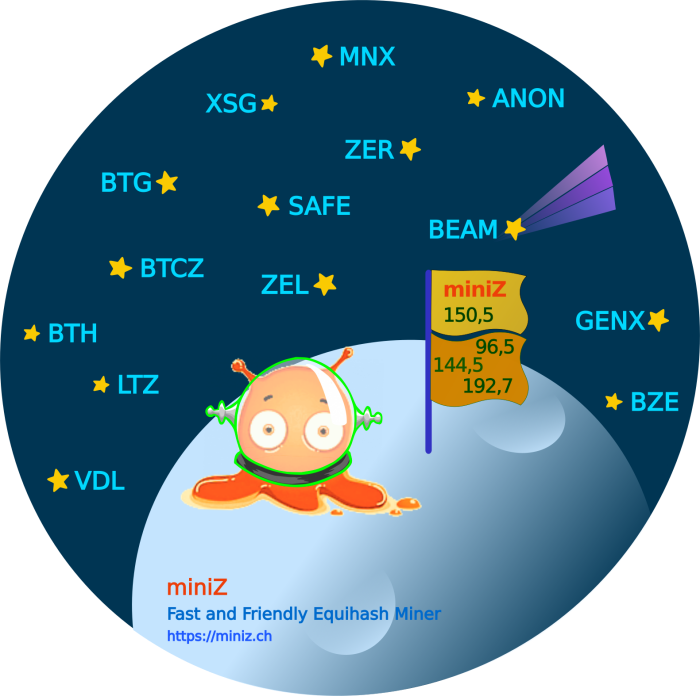 DOWNLOAD: miniZ v1.3 n5
miniZ v1.3 n5 is a quick and easy miner Equihash<144.5> <150.5> <125.4> <192.7> <210.9> <96.5> Cuda miner. The development fee is set at 2% (Dev-Fee 2%). miniZ supports Windows and Linux.
It supports mining of all Equihash (BTG, BTCZ, XSG, LTZ, BCRM, ANON …), (BEAM, GRIMM), (ZER, SAFE, GENX, VDL, ZERC ), cryptocurrencies (ZEL), (AION) and (MNX).
miniZ compiled for Linux and Windows.
A minimum of 2 GB of GPUs is required. Ex. GTX 1050 2GB.
Cool console output and telemetry monitoring.
Supports most mining pools.
Changelog miniZ v1.3 n5:
Fixed GTX 1060 settings without oc1 / 2. (144.5)
Improved detection mode for 3GB cards. (150.5)
Fixed restriction in the configuration file.
Fixed ssl connection error.
Improved processor load.
NA display for temperature when out of stock.
Improved 1080 hash rate with –oc
Fixed a problem with a standalone worker.
Sparkpool issues fixed
Changed –localtime, added the ability to display both local time and operating time. (E.g. local time 11)
Improved high processor load.
Better detection of invalid stocks.
Ignore your personal car for 150.5.
Fix problems with an employee going offline.
Support Equihash 150.5 (RAY).
Support for configuration file.
Console telemetry output.
Fixed bug in the API.
Fixed time in the API.
Deleted `in non-color.
Removed an additional miniZ instance from GPU0.
Improved command line parsing.
–localtime to show local time instead of runtime.
–all-shares to show all stocks by statistics (user and board).
–read-config to read the configuration file.
–write-config to create a configuration file.
–oc1, –oc2 and –intensity can now be set for each GPU.
Improved stability.
Improved (re) connection reliability.
Important! Use Cuda 10.0 with RTX GPUs. For other GPUs, you should check and see which ones work best.
Performance miniZ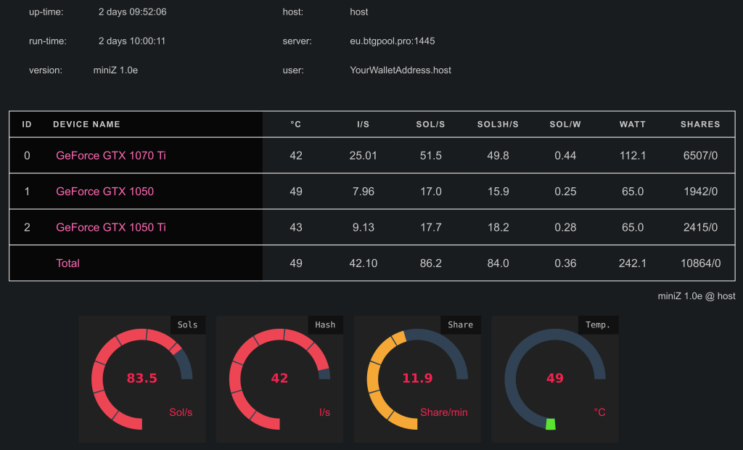 Equihash 125,4:
GTX 1050 Ti 4GB ~ 12 Sol/s
GTX 1060 3GB ~ 20.3 Sol/s
8 gb GTX 1070 ~ 39.3 Sol/s
GTX 1080 8GB ~ 40.0 Sol/s
GTX 1080 Ti 11GB ~ 54.2 Sol/s
RTX 2070 8GB ~ 44.8 Sol/s
Equihash 210,9:
GTX 1050 2GB ~ 72.2 Sol/s
GTX 1050 Ti 4GB ~ 79.7 Sol/s
1060 GTX 3GB ~ 134.1 Sol/s
GTX 1070 Ti 8GB ~ 210.7 Sol/s
GTX 1080 8GB ~ 229.5 Sol/s
RTX 2070 8GB ~ 254.8 Sol/s
Equihash 150,5:
GTX 1050 Ti 4GB ~7-8 Sol/s
GTX 1060 3GB ~13-15 Sol/s
1070 GTX Ti 8GB ~27-30 Sol/s
GTX 1080 8GB ~28-29 Sol/s
GTX 1080 Ti 11GB ~38-41 Sol/s
RTX 2070 8GB ~31-35 Sol/s
RTX 2080 Ti 11GB ~58-64 Sol/s
Equihash 144,5:
GTX 1050 2GB ~19-20 Sol/s
GTX 1050 Ti 4GB ~20-22 Sol/s
1060 GTX 3GB ~36-40 Sol/s
GTX 1070 Ti 8GB ~64-74 Sol/s
GTX 1080 8GB ~67-74 Sol/s
1080 GTX Ti 11GB ~90-100 Sol/s
RTX 2070 8GB ~68-77 Sol/s
RTX 2080 Ti 11GB ~122-131 Sol/s
Equihash 192,7:
GTX 1050 Ti 4GB ~11-12 Sol/s
GTX 1060 3GB ~20-23 Sol/s
1070 GTX Ti 8GB ~37-43 Sol/s
GTX 1080 8GB ~36-40 Sol/s
GTX 1080 Ti 11GB ~51-56 Sol/s
RTX 2070 8GB ~40-44 Sol/s
RTX 2080 Ti 11GB ~74-79 Sol/s
Equihash 96,5:
GTX 1050 2GB ~8.2-9.1 KSol/s
GTX 1050 Ti 4GB ~9.1-9.9 KSol/s
1060 GTX 3GB ~14.6-16.1 KSol/s
GTX 1070 Ti 8GB ~24.7-28.1 KSol/s
GTX 1080 8GB ~26.0-28.7 KSol/s
RTX 2070 8GB ~25.5-28.3 KSol/s
Other versions miner:
Full list of available versions:
Recommended Related Articles: