lolMiner 0.9.5.1: Equihash/Cuckatoo GPUs miner (Download for Windows/Linux)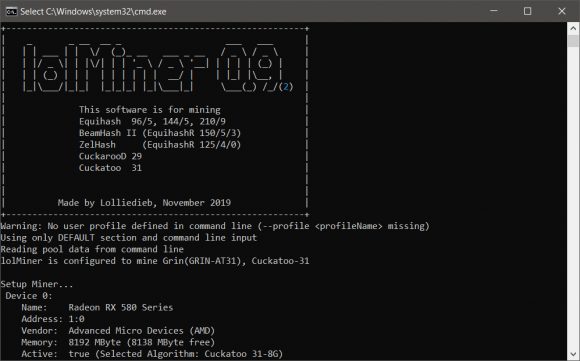 GitHub: DOWNLOAD lolMiner v0.9.5.1
lolMiner 0.9.5.1 is an Equihash / Cuckatoo miner with a focus on AMD GPUs (based on OpenCL). Please note that the program will work on most Nvidia cards, but speed and stability may vary.
Changes v0.9.5.1:
Fixed a possible crash issue in grin straum
Changes (0.9.3 (Win) / 0.9.4 (Linux))
Added support for Grin CuckarooM-29 (hard fork on Jan 16th) on 8G AMD GPUs, use –coin GRIN-C29M to mine with it.
Hint: The miner will pause until the fork height is reached not to waste energy. Use –coin FLOO-C29M to test the miner in floonet testnet before if you like.
Improved C31 performance on 8G cards by ~5% (Windows: relatively to 0.9.3, Linux: relatively to 0.9.4)
Navi on Windows now runs same kernels as in Linux
Slightly lowered energy use of C31 / C32 solver
Added aliases GRIN-C31 and GRIN-C32 for the Cuckatoo solvers (the old names still exist and continue to work)
Driver requirement for all GRIN codes: 18.50 for all pre-Navi cards, 19.30 for Navi (Linux); Adrenaline 18.12 for all pre-Navi, Adrenaline 19.10 for Navi
Expected Performance
GRIN-C29M (stock clocks, tested using amdgpu-pro 19.30)
Note: Windows speed may vary slightly (maximum 3-4%)
Radeon VII: 6.1 g/s
Vega 64: 4.4 g/s
Vega 56: 3.7 g/s
RX 5700: 4.0 g/s
RX 570: 2.2 g/s
GRIN-C31 (stock clocks, tested using amdgpu-pro 19.30)
Note: Windows speed on V56 / V64 / VII is ~ 7% lower due to a driver problem that does not allow all optimizations to be used. Note # 2: ROCm is often 5% faster than in this table, if available.
Radeon VII: 1.9 g/s
Vega 64: 1.3 g/s
Vega 56: 1.07 g/s
RX 5700: 1.07 g/s
RX 570: 0.63 g/s
GRIN-C32 (stock clocks, tested using amdgpu-pro 19.30)
Radeon VII: 0.5 g/s
Vega 64: 0.4 g/s
Vega 56: 0.32 g/s
RX 5700: 0.31 g/s
RX 570: 0.17 g/s
Other versions of lolMiner miner:
Recommended Related Articles: