miniZ v1.4o – Fast Equihash Cuda Miner (Download for Windows/Linux)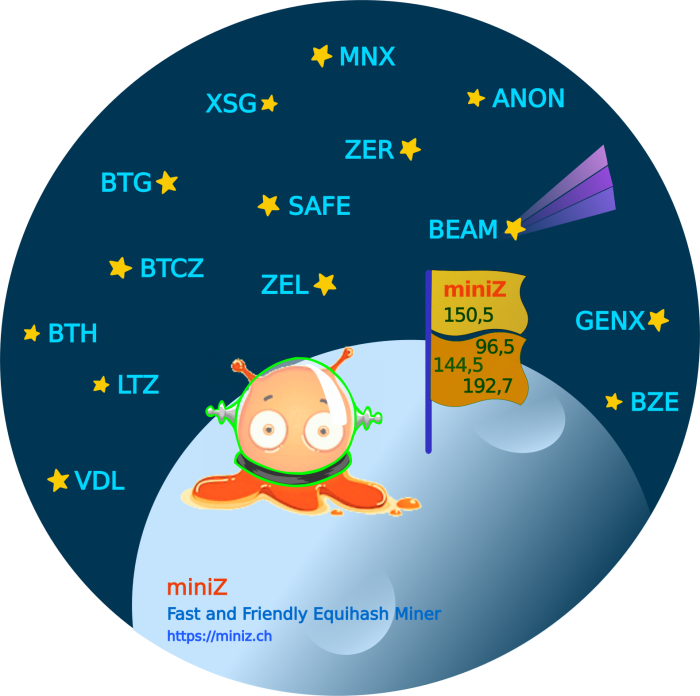 DOWNLOAD: miniZ v1.4o
miniZ v1.4o is a fast and easy miner Equihash <144.5> <150.5> <125.4> <192.7> <210.9> <96.5> Cuda miner. The development fee is set at 2% (Dev-Fee 2%). miniZ supports Windows and Linux.
It supports mining of all Equihash (BTG, BTCZ, XSG, LTZ, BCRM, ANON …), (BEAM, GRIMM), (ZER, SAFE, GENX, VDL, ZERC ), cryptocurrencies (ZEL), (AION) and (MNX).
miniZ compiled for Linux and Windows.
A minimum of 2 GB of GPUs is required. Ex. GTX 1050 2GB.
Cool console output and telemetry monitoring.
Supports most mining pools.
Changes in v1.4o:
Added support for 125.4 (ZelCash).
Added support 210.9 (Aion).
Fixed solution / iteration for 96.5
Minor fixes.
Important! Use Cuda 10.0 with RTX GPUs. For other GPUs, you should check and see which ones work best.
Performance miniZ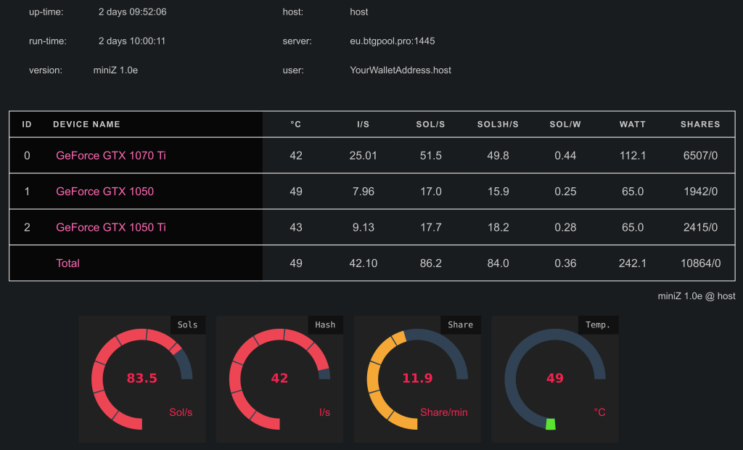 Equihash 125,4:
GTX 1050 Ti 4GB ~ 12 Sol/s
GTX 1060 3GB ~ 20.3 Sol/s
8 gb GTX 1070 ~ 39.3 Sol/s
GTX 1080 8GB ~ 40.0 Sol/s
GTX 1080 Ti 11GB ~ 54.2 Sol/s
RTX 2070 8GB ~ 44.8 Sol/s
Equihash 210,9:
GTX 1050 2GB ~ 72.2 Sol/s
GTX 1050 Ti 4GB ~ 79.7 Sol/s
1060 GTX 3GB ~ 134.1 Sol/s
GTX 1070 Ti 8GB ~ 210.7 Sol/s
GTX 1080 8GB ~ 229.5 Sol/s
RTX 2070 8GB ~ 254.8 Sol/s
Equihash 150,5:
GTX 1050 Ti 4GB ~7-8 Sol/s
GTX 1060 3GB ~13-15 Sol/s
1070 GTX Ti 8GB ~27-30 Sol/s
GTX 1080 8GB ~28-29 Sol/s
GTX 1080 Ti 11GB ~38-41 Sol/s
RTX 2070 8GB ~31-35 Sol/s
RTX 2080 Ti 11GB ~58-64 Sol/s
Equihash 144,5:
GTX 1050 2GB ~19-20 Sol/s
GTX 1050 Ti 4GB ~20-22 Sol/s
1060 GTX 3GB ~36-40 Sol/s
GTX 1070 Ti 8GB ~64-74 Sol/s
GTX 1080 8GB ~67-74 Sol/s
1080 GTX Ti 11GB ~90-100 Sol/s
RTX 2070 8GB ~68-77 Sol/s
RTX 2080 Ti 11GB ~122-131 Sol/s
Equihash 192,7:
GTX 1050 Ti 4GB ~11-12 Sol/s
GTX 1060 3GB ~20-23 Sol/s
1070 GTX Ti 8GB ~37-43 Sol/s
GTX 1080 8GB ~36-40 Sol/s
GTX 1080 Ti 11GB ~51-56 Sol/s
RTX 2070 8GB ~40-44 Sol/s
RTX 2080 Ti 11GB ~74-79 Sol/s
Equihash 96,5:
GTX 1050 2GB ~8.2-9.1 KSol/s
GTX 1050 Ti 4GB ~9.1-9.9 KSol/s
1060 GTX 3GB ~14.6-16.1 KSol/s
GTX 1070 Ti 8GB ~24.7-28.1 KSol/s
GTX 1080 8GB ~26.0-28.7 KSol/s
RTX 2070 8GB ~25.5-28.3 KSol/s
Full list of available versions:
Recommended Related Articles: