miniZ v1.5s — Download Equihash Nvidia CUDA Miner for Windows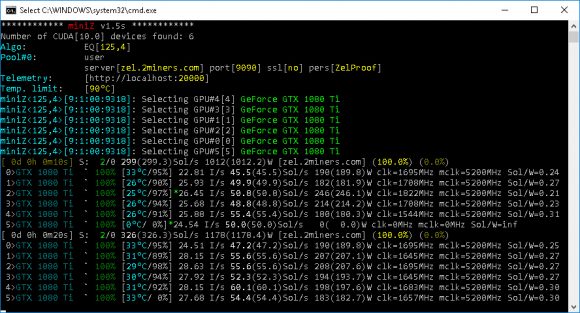 miniZ (Nvidia miner GPU) has been updated to v1.5s. The new version provides some performance improvements for ZelHash, BeamHash II and ZHash – from 0.3% to 3%.
Download miniZ v1.5s (Equihash Nvidia CUDA Miner)
Miner miniZ v1.5s is available for download at the links below:
GitHub: DOWNLOAD miniZ v1.5s
MEGA: DOWNLOAD miniZ v1.5s
miniZ supports Equihash 144.5, Equihash 150.5, Equihash 150.5.3, as well as Equihash 192.7, Equihash 125.4, Equihash 210.9 and Equihash96.5 and various cryptocurrencies that use these algorithms on compatible graphic Nvidia processors. CUDA 8.0 and CUDA 10.0 binaries are available, including support for Nvidia RTX GPUS with the release of CUDA 10 (check which version works better on older GPUs; CUDA 10 is required for RTX). Keep in mind that, since miniZ is a closed source miner, there is also a built-in development fee of 2% (DevFee).
Other versions of miniZ miner:
Recommended Related Articles: