SGMiner v5.5.5: AMD Miner for ETH, XMR, Zcash, NiceHas (Download for Windows & Linux)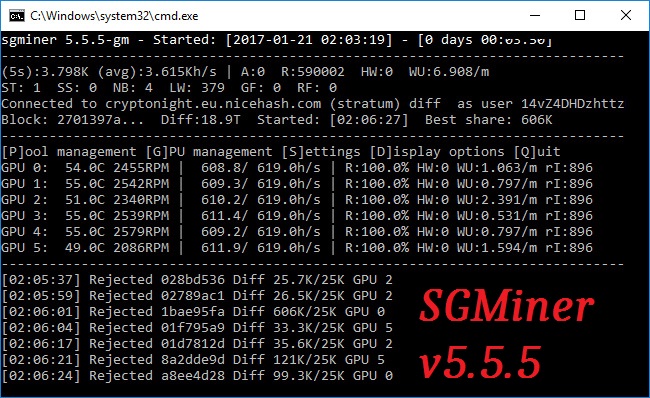 ---
SGMiner – This is a multi-threaded miner with several pools, with monitoring ATI \ AMD GPUs, clocking and rotation speed support for cryptocurrency based on scrypt. It is based on cgminer Kon Kolivas (ckolivas), which in turn is based on cpuminer Jeff Garzik (jgarzik).
One of the most stable and productive miners for the AMD video card family.
Mining: Ravencoin, Motion, Pigeoncoin and other coins
SGMiner-GM is a revitalization of the sgminer project (source) introduced to you by Genesis Mining and developed and supported by Philip Otterbane, OhGodAGirl and Wolf. The latest version of sgminer-gm-5.5.5 comes with support for ETH, XMR and Zcash, and NiceHash also just released a fork with support for its services to use the miner to sell your hashrate on their services for Ethereum and Monero. The recently added support for Zcash mining using sgminer-gm is based on the implementation of Gateway Gate in Zawawa, so it is not very competitive compared to other faster solutions at the moment.
Just as the Zcash implementation is not the fastest, there are other algorithms supported by the SGMiner-GM project, which may not be the best at the moment in terms of hashrate. However, you can try Monero mining (XMR) with this release of sgminer-gm, unlike other alternative miners, as it seems to perform a very competitive hash rate transfer, as well as in terms of power consumption. Below you can find the Windows binary file of the latest version xgminer-gm 5.5.5, which you can try if you want to check it. This is the official sgminer-gm, not a fork with NiceHash support, so if you want to use NiceHash services, use the link above to download their fork.
Hashrate (in overclocking):
On AMD RX 580 X16R – 7.5 MH / s
On AMD RX 570 X16R – 7.4 MH / s
Configure SGMiner (Step by step setup)
In order to start mining cryptocurrency, you need to select a pool, register on it, if the pool provides for the possibility of registration and configure the program.
Program setup and launch are standard:
Step 1. Download the program (archive)
Step 2. unzip the archive to any convenient place
Step 3. create .bat files or edit ready-made ones
You can download this library from the official Microsoft website: https://www.microsoft.com/en-us/download/details.aspx?id=40784. Version 2015 may sometimes be required.
After installing the necessary environment, you must create or edit the finished .bat file to run the program.
Decoding the contents of the .bat file of SGMiner
name of the executable file. No need to change
the algorithm on which cryptocurrency will be mined. For mining Ravencoin, specify x16r
address of the pool on which the currency will be mined
pool port. It is indicated after the colon
login and password from the pool. If registration is not provided for in the pool, then after the -u key we indicate the address of your digital wallet of the extracted coin
mined coin token. Be sure to indicate some pools without this key do not understand which coin you want to mine
mining intensity. The range is from 0 to 20. In our example, we set 19, because at this value, the farm is stable, does not freeze, and does not restart. This parameter is set experimentally. You must run the program and test for 20 minutes. If the miner works stably, then you can add intensity.
On this, the basic configuration of the batch file can be completed. For a Ravencoin coin, we should get the following:
sgminer.exe -k x16r -o stratum+tcp://rvn.suprnova.cc:6667 -u rgzrgz_leo.rgzrgz_leo -p c=RVN -I 19
 pause   
Run the created .bat file with a double click. The file should be in the folder with the unzipped program.
When you first run the miner on any algorithm, a configuration file will be created, which the program console will warn us about: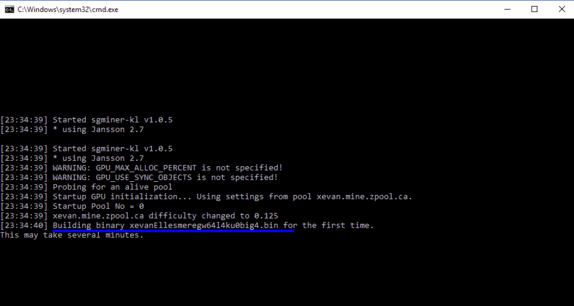 Creating a configuration may take several minutes
After successfully creating the configuration, you will see the miner console window: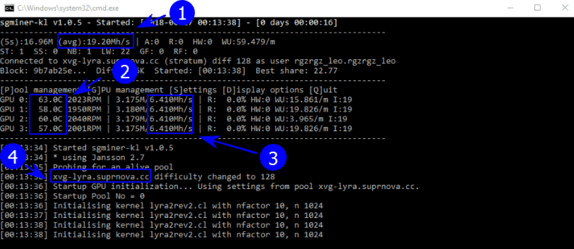 your farm's total hashrate
temperature of each video card
hashrate of each video card separately
cryptocurrency mining pool
Other settings and configuration files for other coins will be added by us later.
Examples of ready-made customized body shirts for SGMiner:
Recommended Related Articles:
This post is also available in:

Русский