XMRig v5.5.1: RandomX, CryptoNight and Argon2 CPU/GPU miner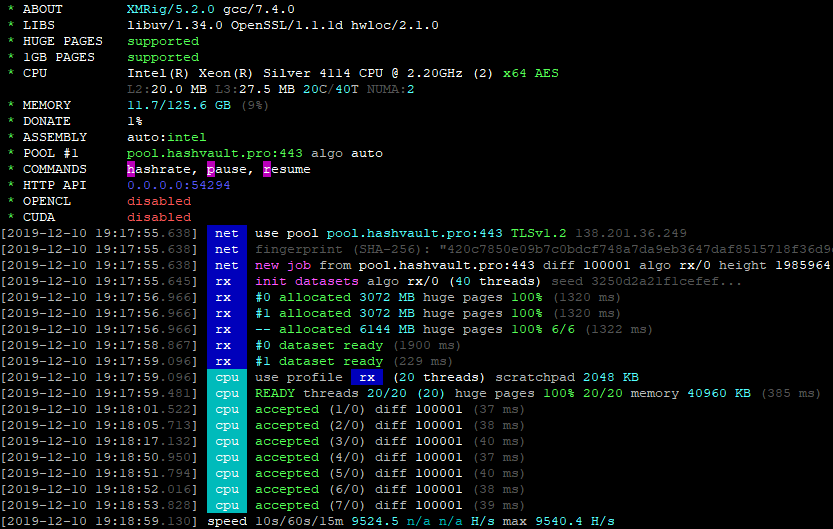 GitHub: DOWNLOAD XMRig v5.5.1
XMRig v5.5.1 – High-performance cross-platform miner RandomX, CryptoNight and Argon2 CPU / GPU open source, with official support for Windows.
Changes v5.5.1:
Fixed build with gcc 4.8.
Added RandomX auto-config for mobile Ryzen APUs.
Fixed build with Clang.
RandomX JIT compiler tweaks
Default value for Intel MSR preset changed to 15. Fixed unwanted resume after RandomX dataset change.
An example of a batch file for processors:
:start
xmrig -a randomx -o pool.supportxmr.com:5555 -u 44tLjmXrQNrWJ5NBsEj2R77ZBEgDa3fEe9GLpSf2FRmhexPvfYDUAB7EXX1Hdb3aMQ9FLqdJ56yaAhiXoRsceGJCRS3Jxkn.5d3c802ee0f8e12e4eb9792722b7816a42178aa29ef7477c138ddb940c55648d.rig1 -p x --donate-level=1
goto start
Example batch file for AMD:
:start
xmrig -a randomx -o pool.supportxmr.com:5555 -u 44tLjmXrQNrWJ5NBsEj2R77ZBEgDa3fEe9GLpSf2FRmhexPvfYDUAB7EXX1Hdb3aMQ9FLqdJ56yaAhiXoRsceGJCRS3Jxkn.5d3c802ee0f8e12e4eb9792722b7816a42178aa29ef7477c138ddb940c55648d.rig1 -p x --donate-level=1 --opencl
goto start
An example of a batch file for Nvidia:
:start
xmrig -a randomx -o pool.supportxmr.com:5555 -u 44tLjmXrQNrWJ5NBsEj2R77ZBEgDa3fEe9GLpSf2FRmhexPvfYDUAB7EXX1Hdb3aMQ9FLqdJ56yaAhiXoRsceGJCRS3Jxkn.5d3c802ee0f8e12e4eb9792722b7816a42178aa29ef7477c138ddb940c55648d.rig1 -p x --donate-level=1 --cuda
goto start

Recommended Related Articles: