XMRig v5.5.1: RandomX, CryptoNight and Argon2 CPU/GPU miner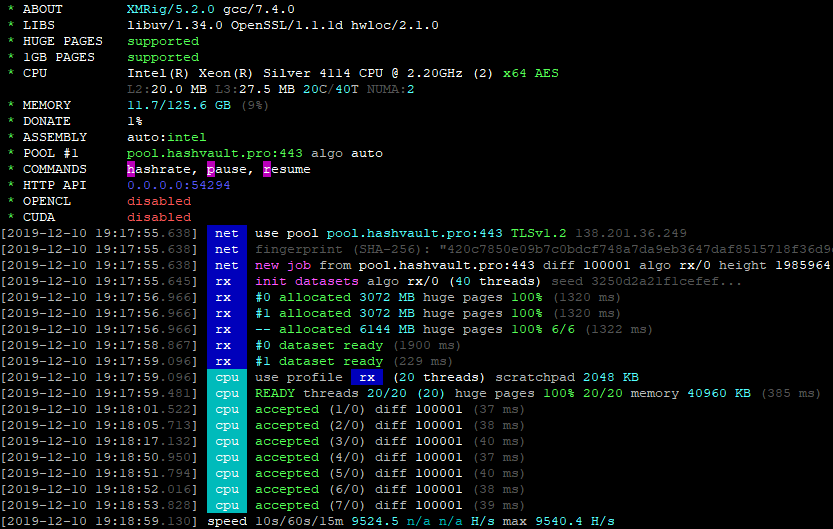 GitHub: DOWNLOAD XMRig v5.5.1
XMRig v5.5.1 — Высокопроизводительный кроссплатформенный майнер RandomX, CryptoNight и Argon2 CPU/GPU с открытым исходным кодом, с официальной поддержкой Windows.
Changes v5.5.1:
Fixed build with gcc 4.8.
Added RandomX auto-config for mobile Ryzen APUs.
Fixed build with Clang.
RandomX JIT compiler tweaks
Default value for Intel MSR preset changed to 15. Fixed unwanted resume after RandomX dataset change.
Пример батника для процессоров:
:start
xmrig -a randomx -o pool.supportxmr.com:5555 -u 44tLjmXrQNrWJ5NBsEj2R77ZBEgDa3fEe9GLpSf2FRmhexPvfYDUAB7EXX1Hdb3aMQ9FLqdJ56yaAhiXoRsceGJCRS3Jxkn.5d3c802ee0f8e12e4eb9792722b7816a42178aa29ef7477c138ddb940c55648d.rig1 -p x --donate-level=1
goto start
Пример батника для AMD:
:start
xmrig -a randomx -o pool.supportxmr.com:5555 -u 44tLjmXrQNrWJ5NBsEj2R77ZBEgDa3fEe9GLpSf2FRmhexPvfYDUAB7EXX1Hdb3aMQ9FLqdJ56yaAhiXoRsceGJCRS3Jxkn.5d3c802ee0f8e12e4eb9792722b7816a42178aa29ef7477c138ddb940c55648d.rig1 -p x --donate-level=1 --opencl
goto start
Пример батника для Nvidia:
:start
xmrig -a randomx -o pool.supportxmr.com:5555 -u 44tLjmXrQNrWJ5NBsEj2R77ZBEgDa3fEe9GLpSf2FRmhexPvfYDUAB7EXX1Hdb3aMQ9FLqdJ56yaAhiXoRsceGJCRS3Jxkn.5d3c802ee0f8e12e4eb9792722b7816a42178aa29ef7477c138ddb940c55648d.rig1 -p x --donate-level=1 --cuda
goto start

Рекомендуемые статьи по теме:
This post is also available in:

English