Atikmdag Patcher v1.4.9: Download AMD/ATI Pixel Clock Patcher for Windows.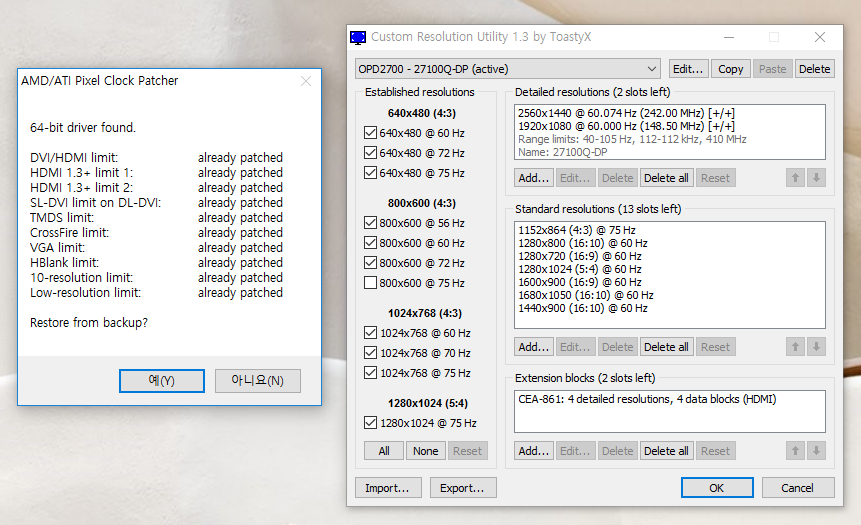 ---
Atikmdag patcher Version 1.4.9 is compatible with Catalyst 15.12 – Crimson 18.2.3. It can be used in future versions if it finds the constraints you need. AMD / ATI Pixel Clock Patcher modifies AMD / ATI driver to provide high resolutions and refresh rates, removing 165 MHz pixel clock limit for 1-channel DVI and HDMI, 330 MHz limit for 2-channel DVI and 400 MHz for VGA …
Instruction:
Run atikmdag-patcher.exe.
If all restrictions are found, click "Yes" to correct and sign. If the limit is not found or multiple matches are found, the patcher must be updated.
Reboot.
To restore an unpatched driver, run the patcher again and click "Yes" to restore from a backup.
Known Issues:
Outdated drivers may have problems with HDCP and video acceleration with the patch.
Workarounds for video playback problems with outdated drivers:
Disable hardware acceleration in the Flash Player settings (right-click any Flash video and select "Settings …").
Use the Codec Configuration Tool to disable DXVA hardware acceleration in the Miscellaneous Settings section (under the Miscellaneous section).
AMD / ATI cards have a design limitation unrelated to a patch that causes the video acceleration to scramble the screen if the vertical blanking / total value is lower than standard when overclocking the video card memory or when connecting multiple monitors. Skype is known to cause this issue. Either don't overclock the graphics card memory, or use the "LCD standard" vertical blanking / summing in CRU.
AMD / ATI cards require a "standard LCD" vertical blanking / full reduction of memory frequency in standby mode. The horizontal values can be decreased if necessary.
Atikmdag Patcher v1.4.9 (AMD/ATI Pixel Clock): https://www.monitortests.com/forum/Thread-AMD-ATI-Pixel-Clock-Patcher
Read more articles about cryptocurrencies and mining at CRAZY-MINING.ORG

Do you like to read similar articles about cryptocurrencies and mining, do you want to support me as an author or ask questions? Be the first to know the news, subscribe to my telegram channel CRYPTO WIKIES