AMD Memory Tweak Tool XL: Download the VRAM performance tool for Windows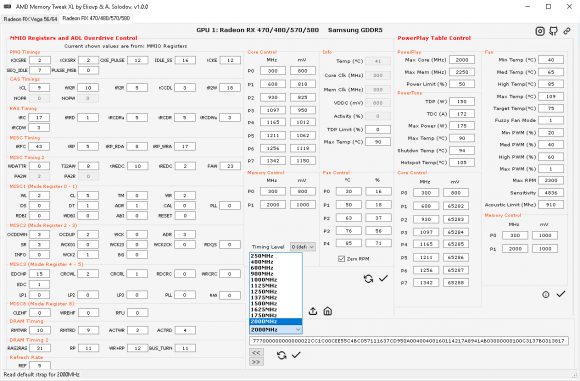 ---
The released AMD Memory Tweak Tool has turned into a pretty useful alternative to modding the BIOS. The latest AMD Memory Tweak XL technology allows you to easily change the temporary memory settings, memory straps or PowerPlay on-the-fly, as well as access ADL Overdrive and MMIO Register Control on newer AMD video cards based on GDDR5 / HBM memory. This means that you can change the settings and apply them directly, and also check how they will affect performance and stability, the changes are not permanent, and as soon as there is any problem, you can easily return to the default values.
Support
GDDR6 Based AMD GPU's (ADL)
GDDR5 Based AMD GPU's (ADL & MMIO)
HBM / HBM2 Based AMD GPU's (ADL & MMIO)
Vega10 (PowerPlay & Strap Control)
Polaris (Powerplay & Strap Control)
Navi10 (PowerPlay "Read from Vbios & Registry, Write to Registry", Strap Control)
Windows
Requirements
One or more AMD Radeon GPU's
Adrenaline (Verified working on 19.7.2)
Windows has to be in Test Mode (AMDMTXL will ask for it) due to custom driver
Common sense
Features
MMIO Register Control (Read/Write) GDDR5/HBM/HBM2
ADL Overdrive (Read/Write) Latest Overdrive Versions supported
PowerPlay Control (Read/Write) Polaris, Vega10, Navi10
Strap Control (Read/Write/Decode/Encode) Polaris, Vega10, Navi10
Import/Export all values
The AMD Memory Tweak XL tool requires that you have the .NET Framework 3.5 installed, that it works, if it is not available on your system, it will automatically detect it and offer to download it for you … although trying to install it may cause various problems on some mining rigs. In addition, for the tool to work properly, your Windows must be in test mode. She will offer you to switch to test mode if you are not currently working, and there is a button to easily return to normal work.
AMD Memory Tweak XL was originally designed for more advanced users, although you should be able to quickly learn what needs to be modified and how to improve performance. You can look at what other users have specified as settings that provide the best performance on their specific mining GPUs, and try them and experiment what your AMD GPUs are capable of. Even if you already have a modified BIOS video, you can still play with memory straps, for example, to slightly improve performance, to test even better settings, before applying them with the new BIOS modification.
Changelog:
Beta 1.5
PowerPlay Voltage in readable format & small issue fixed
Beta 1.4
Added more Powerplay options (Voltage fun)
Changed how you view memory frequency on Navi (Real frequency)
Bug fixes of course
Tested on latest drivers (Adrenalin 2019 Edition 19.9.1)
and then some..
Beta 1.3
Mainly bug fixes.
Extensively tested on Windows 10 with all latest drivers starting from 19.7.1
Don't go crazy on timings
If you still experience issues after having tried an older version.
Remove old driver, reboot and try again
c:\windows\system32\drivers\AmdGpuTweak.sys
Beta 1.2
Navi10 support
Direct Strap Injection
PowerPlay Control (Read from Vbios/Registry, Write to Registry)
ADL Overdrive
Beta 1.1
Turn OFF test mode button added.
Fixed NullReferenceException bug on start
Small bugfixes
Beta 1.0
First beta release of AMD Memory Tweak XL
Be the first to know the news, read more about cryptocurrencies and mining on CRAZY-MINING.ORG. You enjoy reading articles like this and want to support me as an author, then subscribe to our Telegram channel https://t.me/cryptomineg
Recommended Related Articles: