Ledger Live 2.46.0 – download and configure wallet for Windows 7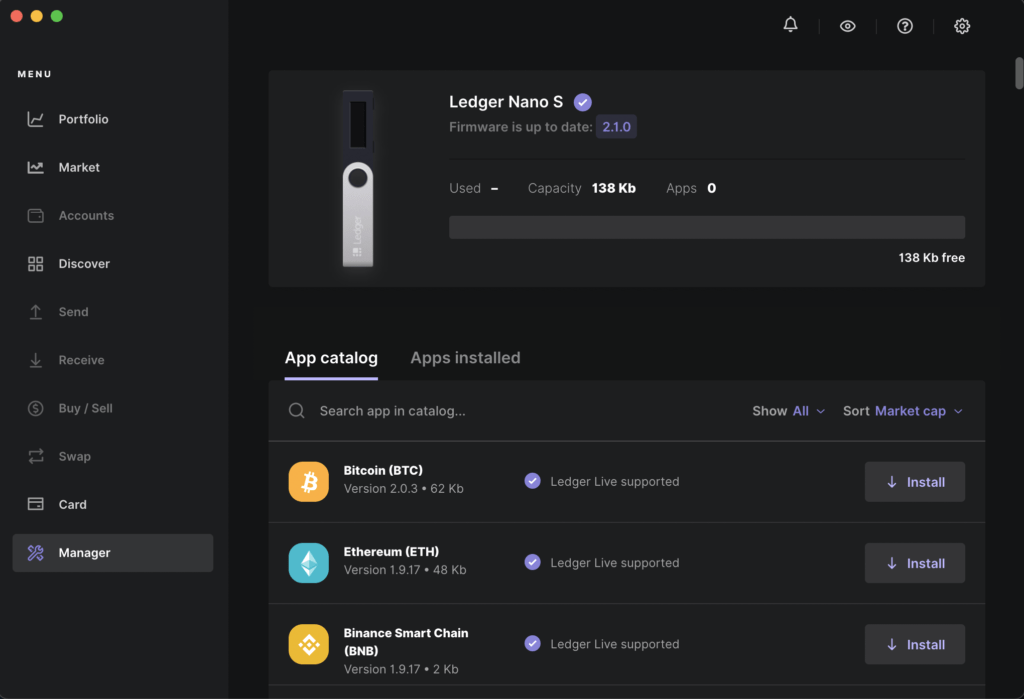 ---
Ledger Live is the official software for your Ledger hardware device (Ledger Nano S and Ledger Nano X). There are many other open source programs that you can connect to and use your ledger Nano with. However, you still need the Ledger Live software to install apps on your hardware device and to perform firmware updates.
How do I update the Ledger Live app? This guide describes how to set up Ledger live, as well as how to update the Ledger Live desktop wallet and mobile app. Downloading and installing the Ledger Live app and keeping it up to date is the same as installing and updating any other software on your PC.
This article is not only about downloading, installing and updating Ledger live, but also discussing how secure the updates are. We'll also look at the precautions you need to take before installing or updating Ledger live.
Ledger Live App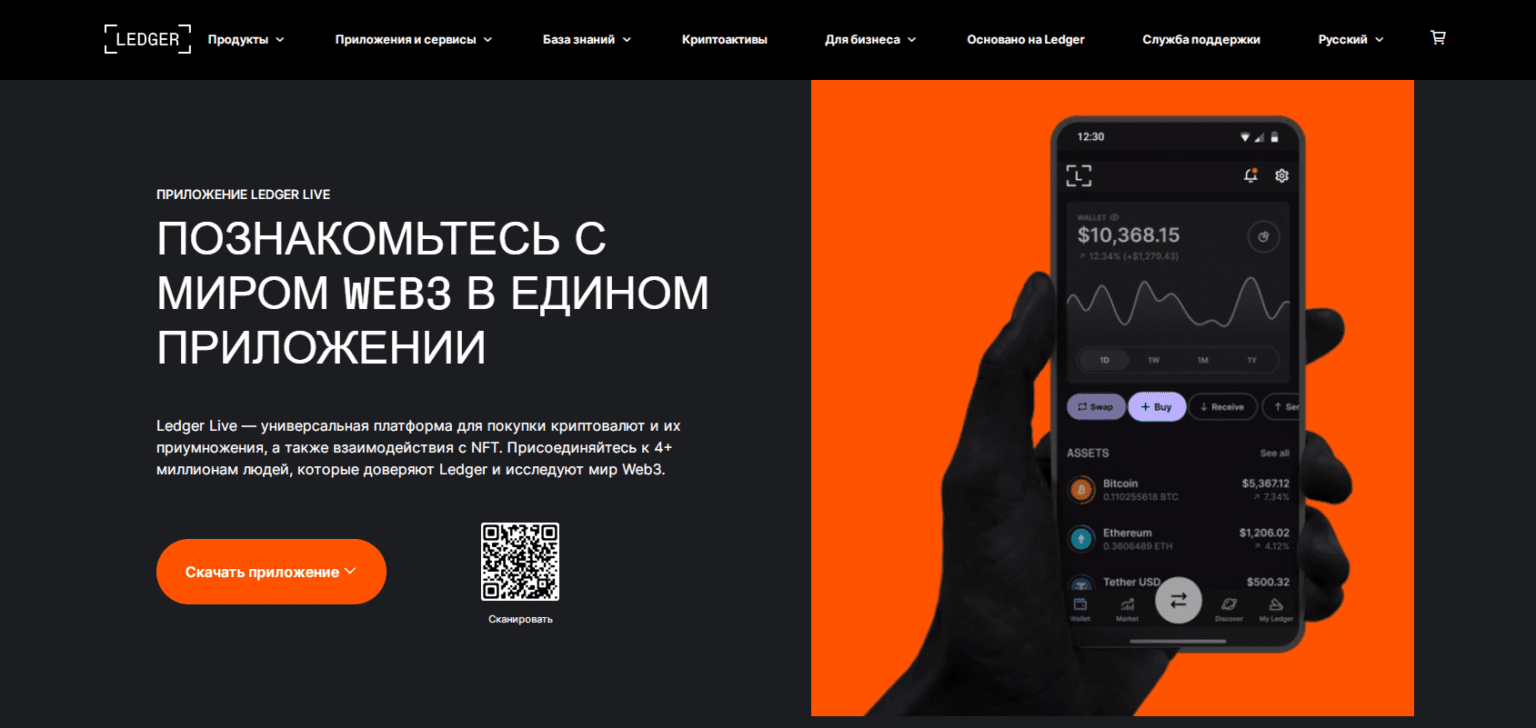 Ledger Live is the most trusted and secure crypto wallet interface for your Ledger Nano device. This allows you to securely manage your crypto assets with the security of your Ledger device.
Using this one and only secure app, you can track the latest cryptocurrency prices, buy/sell Bitcoin and other cryptocurrencies, track your cryptocurrency portfolio, grow your holdings, manage NFTs, and explore Web3.
To get the most out of Ledger, all you need to do is connect your Ledger hardware wallet to the Ledger live app.
After pairing your hardware wallet, you will be able to manage over 500 coins and tokens, exchange over 100 assets, monitor your NFT collection, earn staking rewards, use your favorite Dapps, and access major DeFi services with your Ledger device.
Ledger Live is available for both PC and mobile devices. However, the mobile app is only for Ledger Nano X users as it requires a Bluetooth connection. After connecting your hardware wallet to Ledger live, you can send/receive over 500 coins and tokens securely directly from your computer or smartphone.
Download and Install Ledger Live
Always download and install Ledger live on PC and mobile only from the official links:
Ledger Live: https://www.ledger.com/ledger-live
The desktop version is available for Windows, Mac and Linux.
To find all versions of the Ledger Live desktop app, go to https://github.com/ledgerhq/ledger-live-desktop/releases .
If you have a Ledger Nano X, you can manage your assets on the go. Simply add the Ledger Live app to your Android or IOS phone and connect your Ledger Nano X via Bluetooth.
The software is compatible with Android 8.1+ and iOS 13+. Select the appropriate platform and click "Install" to download and set up Ledger Live on your phone.
Once the setup is complete, you can get started with Ledger live: Instructions: https://support.ledger.com/hc/en-us/articles/4404389503889?docs=true .
Ledger Live Update
Update Ledger Live on your mobile device:
Google Play Store and App Store automatically check software integrity. In addition, your mobile phone (iOS/Android) automatically updates the program to the latest version whenever a new update is available. So on mobile devices you don't have to worry about updates. It is safe.
However, if you are using Ledger Live on PC, you need to take a few precautions before using the program.
Computer update:
To set up the desktop version of Ledger live, you need the following:
The necessary conditions:
Ledger hardware wallet
Computer: Ledger Live is compatible with Windows 8.1+, macOS 10.14+ and Linux (64-bit desktops)
USB-C port adapter and device cable.
After that, go to https://www.ledger.com/ledger-live/download , select your platform and download the Ledger live app.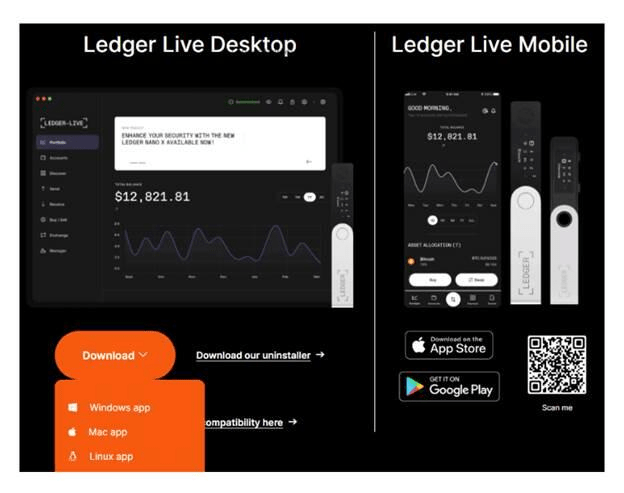 Or you can also go to https://github.com/ledgerhq/ledger-live-desktop/releases where you will find all the latest versions of the program. There you can regularly check for updates and check the version changelog.
Here are the file names:
Windows: ledger-live-desktop-2.44.0-win-x64.exe
Mac: ledger-live-desktop-2.44.0-mac.zip
Linux: ledger-live-desktop-2.44.0-linux-x86_64.AppImage
Version number 2.44.0 will change in the future.
Now, before you install software on your computer, you need to check its integrity. You can check your download in real time with sha512 hash. Only after you are convinced of this, you need to proceed with the installation.
Installing the program on a PC
Windows installation:
Once downloaded, double click the win.exe file. Click "Yes" to allow the installation and click "Finish" when the installation is complete.
Mac installation:
Download the mac.zip file, unzip it and open the downloaded .dmg file. Then drag the Ledger Live program to the Applications folder. After that launch Ledger Live from Launchpad or Spotlight and click "Open" to allow installation.
Linux installation:
On Linux, you can install Ledger in real time either using the command line interface or using the graphical user interface.
Download the Ledger Live app image. Navigate to your downloads folder, right-click on the app image, and select properties. Then go to the "Permissions" tab and in the "Execution" field, check the box "Allow executing file as a program".
That's all. Now that Ledger live is installed on your PC, you can connect your Ledger device and start using. Install apps on your device and start adding accounts.
Ledger Live Update
If you are using version 2.29 and above, then there will be a notification bar at the top of your Ledger live, indicating that a new update is available.

When you see this banner, click Download Update. The new version of Ledger live will download and then the Install Now button will appear. Click "Install Now" to complete the installation. Once this is done, click "Done" to open the new version of Ledger Live.
That's all. Your Ledger Live program has been updated to the latest version.
You can also manually update Ledger in real time. Go to: https://github.com/ledgerhq/ledger-live-desktop/releases , select your platform and download the latest release.
Before installation, it is important to check the hash. After successful verification, click "Install Now" to update your current Ledger to the latest version.
That's all.
Ledger Live Security
The Ledger hardware wallet is independently certified, validated and designed to protect against sophisticated cyber attacks. But what about their Ledger live software? What about firmware updates?
This question comes up after Ledger failed to protect its customers' data while being the company that creates one of the most secure and reliable hardware wallets. As a result of a hacker attack, the data of thousands of customers was leaked. This happened at the end of 2020 and has nothing to do with the security of your wallet, private keys or seed phrase. Only the customer database was made public. However, you must be careful not to fall victim to a phishing attack.
Even with hardware wallets, there are newbies who lose their coins. Not because the security of the hardware wallet device is compromised, but simply because they fall victim to a phishing attack. Losing your seed phrase or voluntarily giving it to hackers is one way to lose your coins.
Remember that you should only enter your seed phrase on a hardware wallet. Never enter your seed phrase or passphrase anywhere. Do not enter your seed phrase on websites.
Never click anything in any email. They are often associated with malware. Also, do not respond to emails, PMs, or SMS that say you need to reset your hardware wallet. There are keyloggers, there are backdoors. So writing a seed phrase on paper or physically engraving it on metal is the only safe way to keep it.
How secure are live Ledger updates?
If the Ledger database can be hacked, how do they protect their server that controls software and hardware updates?
After the Ledger data leak, one of the biggest concerns among users is the fear of firmware update and Ledger live update.
What if a hacker breaks into the registry servers and introduces a malicious version? All it takes is one rogue Ledger programmer to roll out a new update with a malicious version.
Because their software is closed source, there is currently no third-party security check for software and firmware updates. No one can see the code and verify that the Ledger firmware is not configured to hand over keys to a hacker.
Because of these uncertainties, many users put off updating their software or hardware.
Can you imagine the damage that could be done to the industry by a fraudulent software or firmware update? Also there is no PGP signature version on the Ledger download page.
All they provide is a sha512 hash for every new update, which doesn't improve security much.
Securely install/update Ledger live
To ensure security, you need to keep the software up to date. Which update option is considered more secure:
Update Ledger live directly through the Ledger Live app
Or download the new version manually from the website?
Both options are safe. Just check the hashes before installing, and when you manually download the new version from the link, make sure you don't make a typo.
If you are still in doubt about Ledger live and afraid to update Ledger live, remember that you do not need this software to use your Ledger.
There are dozens of open source programs that can be connected to your hardware wallet. They support Bitcoin, Ethereum and hundreds of other altcoins/tokens.
Read more articles about cryptocurrencies and mining at CRAZY-MINING.ORG

Do you like to read similar articles about cryptocurrencies and mining, do you want to support me as an author or ask questions? Be the first to know the news, subscribe to my telegram channel CRYPTO WIKIES