Awesome miner v7.1.6 (Nvidia & AMD) Download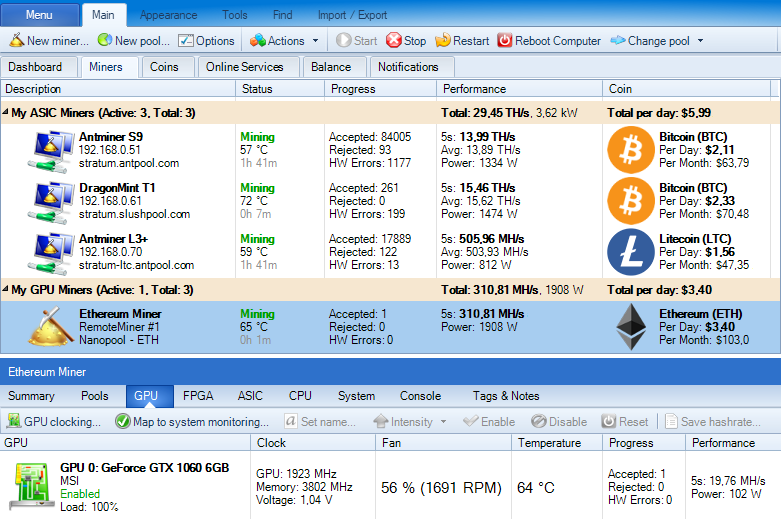 DOWNLOAD: Awesome miner v7.1.6
Awesome miner v7.1.6 (Nvidia & AMD) – One of the most multifunctional miners supporting video cards of both AMD and Nvidia. In addition, there is the possibility of mining on the CPU.
This software is provided by the author "as is", and in no case is the author liable for any direct, indirect, incidental, special or indirect losses that have been caused.
Benefits of the Awesome miner
Powerful for large-scale mining:
Scalability up to 200,000 ASIC miners and 25,000 GPU / CPU miners;
Versatility and flexibility to service demanding operations.
Maximize profits – minimize downtime:
Profit switching based on real-time revenue and energy consumption;
Detecting mining problems with automatic recovery.
Easy to get started:
Start mining in a minute – registration is not required;
Automatically configure all popular mining pools with one click.
Changelog:
Version 7.1.6
Awesome miner antminer firmware
– Preview versions of Awesome Miner firmware for Antminer S17 (incl. S17 Pro) and T17. The Mining Profiles are not yet available, but the firmware will be feature complete in the near future
ASIC mining
– The operation to reboot Antminers (via web) can also be launched with the progress dialog to see the result of the reboot operation
Features
– Recently triggered rules can be displayed via the toolbar Tools -> Rule History
– Bulk edit of update interval for External Miners
– Dynamic update of the coin property 'Value in USD' using web sources
Mining software
– gminer 1.75
– NbMiner 26.1
– Miniz Miner 1.5s
– SrbMiner Multi 0.1.7 beta
Changes
– Disable buttons for pool operations for the DevFee pools when using the Awesome Miner Antminer firmware, as these pools cannot be modified
– Always show password mask characters for the registration code in the Options dialog
Version 7.1.5
Integration
– Removed HashRefinery pool as it's no longer active
Mining software
– SrbMiner Multi 0.1.6 beta
Corrections
– Correction to profit switcher for External Miners for a scenario with all pools having negative profitability
– Correction to a profit switching scenario when Awesome Miner is launched for the very first time.
– Correction to Remote Proxy communication error
Version 7.1.4
Awesome miner antminer firmware
– Firmware for Antminer L3 + added
ASIC mining
– Improved matching of the pools reported by an ASIC miner with the pools defined in Awesome Miner
Mining software
– XmRig CPU miner 4.6.1
Version 7.1.3
ASIC mining
– Increased compatibility for the profit switcher to focus on the 10 most profitable pools when rearranging the pool priorities
Mining software
– Gminer 1.73, including support for Ethereum mining on Nicehash and Mining Pool Hub
– SrbMiner Multi 0.1.5 beta
– WildRig Miner 0.20.1 beta
– Nanominer 1.6.2
Corrections
– Correction to a scenario where user defined pools identical to predefined pools could be incorrectly removed
Version 7.1.2
ASIC mining
– Innosilicon A10 support improved
Features
– Display of average and maximum temperature per group in the Miners tab
– Improved compatibility for processing data responses from dynamic updates of coin properties
Integration
– ProHashing pool
– Stex exchange balance
– TradeOgre exchange balance
– Zergpool pool information to exclude solo mining pools
User interface
– Clocking Profile selection in the Profit Profile has been improved to make more room for the name of the profile
Mining software
– gminer 1.71
– Z-enemy miner 2.3
– XmRig CPU miner 4.5.0 beta
Correction
– Correction to exponential factor for ZClassic coin calculations
Version 7.1.1
Awesome miner antminer firmware
– Display of voltage per chain in the ASIC tab of Awesome Miner
GPU mining
– Benchmarking improved to allow using pools that are defined with a wallet in the Options dialog, Profit switching section, but disabled for the profit switcher
– Added additional algorithms
Integration
– Graviex exchange balance
Mining software
– CcMiner Zcoin Official 1.3.1
– WildRig Miner 0.20.0.3 beta
– SrbMiner Multi made available for the profit switcher
Correction
– User interface correction to the temperature display in the Summary tab when a miner has a large number of devices
Version 7.1
Awesome miner antminer firmware
– In addition to the firmware with a mining fee of 2%, another firmware version is made available with a mining fee of 3% where no Awesome Miner license is consumed. This makes it possible to use the 3% mining fee firmware without having to buy Awesome Miner licenses.
ASIC mining
– The feature to update custom cgminer configuration file properties via SSH will allow a custom path to be specified for the file
– Improved compatibility for configuring privileged API access on ASIC miners
– Antminer Z11 firmware from June 28th supported
GPU mining
– Added additional algorithms
Features
– Exchange balance feature to list your account balance for exchanges like Coinbase, Bittrex and Poloniex. Configurable in the Options dialog, Balance section. Displayed in the Balance tab in the main window.
Integration
– Mining Pool Hub pool list updated
– The new Nicehash platform will be displayed as 'Nicehash' instead of 'NicehashNew' as it's the only available platform.
User interface
– The balance tab in the main window uses sub tabs for Pool balance, Wallet balance and the new Exchange balance feature
– Show API identifier in the Properties dialog of Managed Templates
– Improved display of decimals for power efficiency in the Information column
Mining software
– Added mining software: SrbMiner Multi 0.1.4
– Bminer 15.8.7
– CcMiner Zcoin Official 1.3.0
– CpuMiner-Opt 3.9.9.1
– gminer 1.70
– Miniz Miner 1.5r
– Nanominer 1.6.1
– NbMiner 26.0, incl. dual mining support
– PhoenixMiner 4.7c, incl. dual mining support
– T-Rex Miner 0.14.6
– XmRig CPU miner 4.4.0 beta
Corrections
– Correction to profit switching for dual mining if the profit for Ethereum is negative and no dual mining pools are available
– Correction to benchmark of NbMiner
Download Awesome miner v7.1.6
GitHub: DOWNLOAD Awesome miner v7.1.6
MEGA: DOWNLOAD Awesome miner v7.1.6
Other versions of Awesome miner:
Full list of available versions:
Recommended Related Articles:
This post is also available in:

Русский