OhGodAnETHlargementPill: Download Tablet for mining on NVIDIA GTX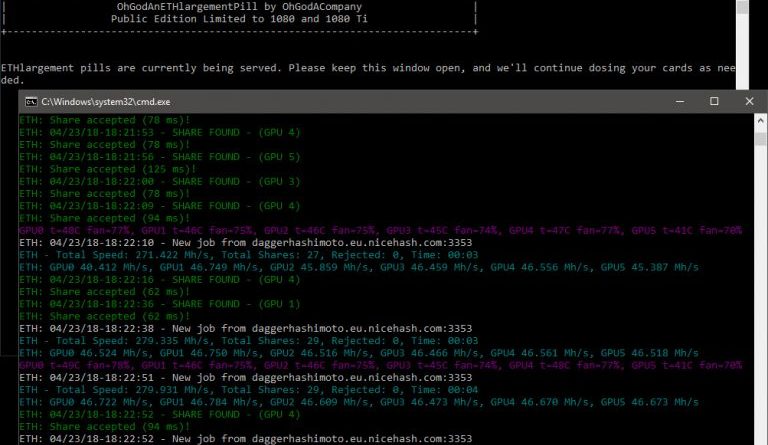 ---
OhGodAnETHlargementPill
OhGodAnETHlargementPill (Tablet for mining GTX 1080, GTX 1080 Ti) is released only for GDDR5X memory. This tablet is intended for users of Nvidia video cards based on GDDR5X video memory (GTX 1080 and GTX 1080 Ti) and significantly increases the hashrate when mining cryptocurrencies using the Ethash algorithm (Dagger Hashimoto). The software is available for both Linux and Windows, and all you need to do to increase the hashrate of Ethereum (ETH) or other Ethash-based cryptocurrencies up to 50 MHS on GTX 1080 Ti (up to 40 MHs on GTX 1080) is run it along with your miner.
Nvidia GeForce GTX 1080 - 40 Mh\s
Nvidia GeForce GTX 1080 Ti - 55 Mh\s
Step-by-step Tutorial
Unpack your pill (.zip on Windows, .gz on Linux);
Run OhGodAnETHlargementPill (requires administrative rights on Windows, and root as Linux);
Watch your hanging hashrate harden.
TROUBLESHOOTING
Does your ETHlargement not work as expected? You're likely running an older memory revision. Here at OhGodACompany, we believe in promotiong a healthy mining lifestyle – that's why we've got a solution for our senior users, too!
With the use of –revA, you can specify which device should be fed our senior solution. If, for example, GPU 0, 3 and 4 aren't the young studs you thought they were, feed them with the following commands:
Windows: OhGodAnETHlargementPill.exe –revA 0,3,4
Powershell: .\OhGodAnETHlargementPill.exe –revA 0,3,4
Linux: ./OhGodAnETHlargementPill –revA 0,3,4
Be sure to leave ETHlargement running in the background, so your NVIDIA noodle can aldente.
Tablet for 1080Ti up to 55 MH/s on Ethereum
A new utility called 'OhGodAnETHlargementPill' greatly enhances the hashtrack of GTX-1080 and GTX-1080Ti graphics cards. Both types of video cards have very fast GDDR5X memory. All other Nvidia cards that are commonly used for mining – 1050Ti, 1060, 1070, 1070Ti – are built on the basis of GDDR5.
The developers of the utility 'OhGodAnETHlargementPill' were able to use all the features of GDDR5X memory and increase the hashing on the algorithm of Dagger Hashimoto by about 40 percent.
The figures are relevant for the GTX-1080 and GTX-1080Ti cards.
The 2Miners pool creators tested the utility:
Mining Ethereum on Nvidia GTX-1080Ti
At our disposal is the GTX-1080Ti – on it and check out the magic utility. First, we'll run a one-hour
test with a basic overclocking without using a magic utility.
The best settings for 1080Ti are in the screenshot above. We run the Ethering on pool 2Miners.com
We record the hour and get the result – 30 ball in one hour and an average 37 MH / s hash. Yes, you can squeeze almost 39, if you play thin with the settings. But it will be on the verge.
We, as you can see, have no mistakes. It's exactly one hour, so it's time to launch a new magic utility.
How to configure mining with OhGodAnETHlargementPill on Nvidia 1080Ti
Download and unpack the archive OhGodAnETHlargementPill.
Run the .exe file
Leave this window open and proceed to configure the mining for maximum results. We had to raise PL from 55 to 80 from our standard settings, and the memory frequency was increased by 50 MHz.
With such settings and magic utility, we were able to reach 54.5 mh / s
We run the mining and wait another hour. The result surprised. The utility does not just draw beautiful figures in the window of the miner – the amount of the ball has grown from 30 per hour to 44 per hour. And this is an increase of as much as 40 percent, which is almost equivalent to buying
another video card!
There are no mistakes, no rejec- tes-fiction?
The speed on the 2Miners pool grew accordingly. The pool takes into account the balls and considers the hash based on the number of balls sent by the miner per unit time.
What is more profitable to mine on the GTX-1080Ti?
With the miracle-utility purpose video cards 1080Ti is completely changed. Previously, it was always wiser to use them for mining on the Equihash algorithm, and now the application on the algorithm of Dagger Hashimoto became very profitable. Watch Whatomine – 55 MH / s vs 750 Sol / s.
Ethereum (2.76 $ / day) at 1080Ti became more profitable than any Equihash currency: ZCash (2.46 $ / day), Zen (2.67 $ / day), Hush (2.52 $ / day). Wow!
Please note also that when the ether is mined at 1080Ti, the video card will be less heated and will consume less electricity. Consequently, the cost of electricity will fall, and the resource map – will grow.
Be the first to know the news, read more about cryptocurrencies and mining on CRAZY-MINING.ORG. You enjoy reading articles like this and want to support me as an author, then subscribe to our Telegram channel https://t.me/cryptomineg
Recommended Related Articles: