AWESOME MINER v7.8.5 (CPU & GPU): Download for Windows/Linux/ASICs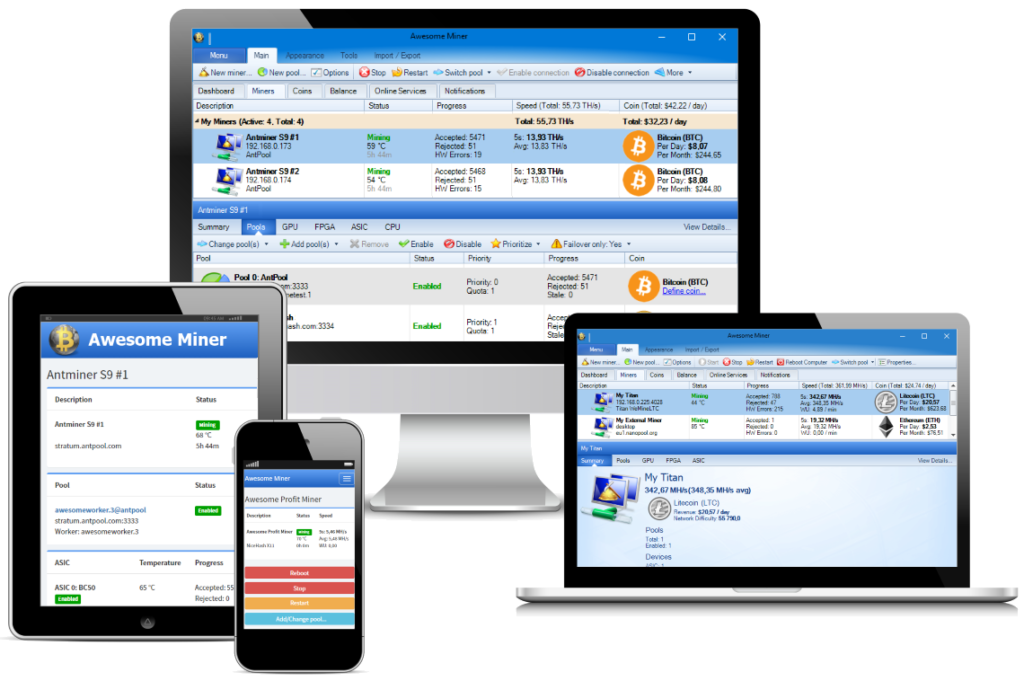 Awesome miner – One of the most versatile miners supporting both AMD and Nvidia graphics cards. in addition, there is the possibility of mining on CPU and ASICs.
DOWNLOAD:
 Important:
   Future versions of Awesome Miner and Remote Agent will require Microsoft .NET Framework 4.7.2 or later.
   - This .NET version is already included in Windows 10 since April 2018. Run 'winver' to check the current Windows 10 version. If the version is 1803 or above, all is fine and no action is required.
   - For Windows 7, Windows 8 and older versions of Windows 10, please download and install:
     https://dotnet.microsoft.com/download/dotnet-framework/thank-you/net48-web-installer

 ASIC mining
  - Managed Hosts used as Remote Proxies will include the number of External Miners using it

 GPU mining
  -  GPU selection improved for systems with a mix of AMD and nVidia GPUs when mining with NbMiner and WildRig Miner

 Rules
  - A rule can be configured to execute the list of actions of another rule
  - A rule can be configured to execute the actions for a fixed list of miners instead of using the triggered miners
  - Adding a new user defined rule will enable it by default

 Integration 
  - Updated block explorer for BTCP for wallet balance
  - Added Nicehash Cuckarooz29 pool

 Mining software
  - Bminer 16.2.12
  - Gminer 2.20
  - XmRig 6.3.1
  - TeamRedMiner 0.7.9
  - Nanominer 1.9.6

 Corrections
  - Correction to display for number of active miners in the group summary
Requirements
64-bit Linux (like Ubuntu)
Microsoft .NET Framework 4.7.2 or later required (already included in Windows 10 from April 2018).
Mining software usually requires a 64-bit version of Windows and the following packages to install on all mining computers:
Antminer Firmware downloads
AwesomeMiner custom firmware for Antminer improves hashing performance, improves energy efficiency and provides more features. Awesome Miner Firemware is completely free to use with all features and for any number of miners.
Supported ASIC miners
Antminer S9, S9i, S9j
Antminer T9+
Antminer L3+, L3++
Antminer S17, S17 Pro
Antminer S17+
Antminer T17
Antminer T17+
Antminer S9 dual mode (two connected miners, 20-23TH/s using 1500W)
Antminer S17e/T17e will soon be supported
Mining devfee
Mining fee [DEV FEE] The firmware has a mining fee of 2% or 3% (on average, slightly lower, about 1.8% and 2.8%)
The mining fee is based on the concept of parallel mining to avoid any interruptions in normal mining
The 3% mining fee firmware includes the Awesome Miner license and does not use any of the licenses available in the Awesome Miner. This allows you to run Awesome Miner and cloud services without any license fees when using firmware with 3% mining fees.
Download and install
To install the firmware via Awesome Miner, go to the toolbar: Tools – ASIC Tools – Upgrade Firmware . The firmware can be selected from the list and Awesome Miner will automatically download and install the firmware on all selected miners.
It is recommended to install the firmware through Awesome Miner. Awesome Miner can install Awesome Miner firmware on compatible Antminers, including Antminers with SSH access disabled and firmware signature verification enabled. The only exceptions are:
Antminer S9 running Bitmain firmware since July 2019 – SD card required for installation
Antminer L3 + running Bitmain firmware since July 2019 – SD card required for installation
Antminer S17 / T17 has been running Bitmain firmware since December 2019 – an SD card is required for installation
Antminer S17 + / T17 + – requires an SD card to install
How to start mining
An easy way to get started and improve your hashing performance is to apply one of the predefined mining profiles. The mining profile can be configured via Awesome Miner or via the Antminer web interface.
Awesome Miner:

go to the toolbar: Tools -> ASIC Tools -> Firmware Mining Profile

Antminer web interface:

go to the "Miner Settings" -> "Mining Profiles" section.
Documentation
SD card images
For Antminers where it is impossible to install the firmware due to Bitmain signature verification, it is possible to flash the firmware on Antminer using an SD card. See the Awesome Miner Antminer firmware installation documentation for detailed instructions: https://support.awesomeminer.com/support/solutions/articles/35000145544-awesome-miner-antminer-firmware-installation
Recommended Related Articles:
This post is also available in:

Русский