AWESOME MINER v8.4.4: Download CPU/GPU/ASIC Mining Software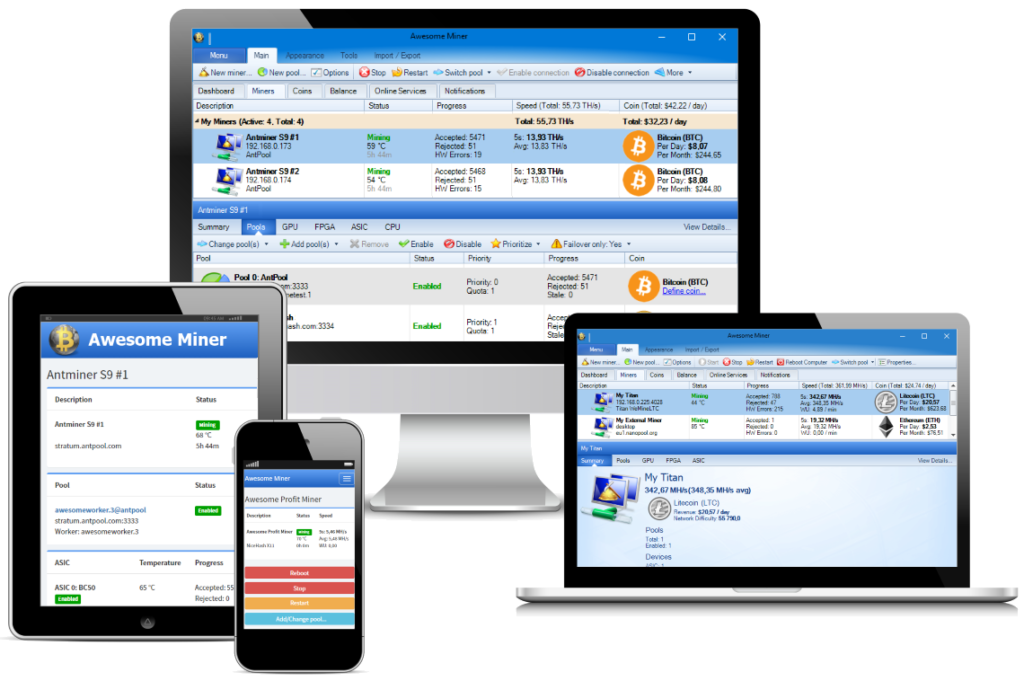 ---
Awesome miner – One of the most versatile miners supporting both AMD and Nvidia graphics cards. in addition, there is the possibility of mining on CPU and ASICs.
Features
  - CSV file export from Mining History
 Changes
  - Save heat map configuration for where to expand the map (top/left or bottom/right)
  - Reduce bandwidth usage for local web server
 Mining software
  - Lolminer 1.26

Version 8.4.3 9(OLD)
 ASIC mining
  - Added support for Goldshell ASIC miners
  - Improve detection of Innosilicon ASICs
  - Improve detection of Whatsminer ASICs
 Features
  - Mining history will keep track of the miner power usage over time
  - Heat maps can be configured for automatic sorting of miners by IP address
  - The trigger for dead device detection has been improved to detect failed Antminer hash boards
 Mining software
  - Gminer 2.51
  - XmRig 6.11.2
  - T-Rex miner 0.20.0
  - SrbMiner-Multi 0.7.2
 Corrections
  - Correction to a scenario where the web proxy feature could cause a crash of Remote Proxy
  - Correction to Nanopool ERG coin balance
Download Links:
Requirements
64-bit Linux (like Ubuntu)
Microsoft .NET Framework 4.7.2 or later required (already included in Windows 10 from April 2018).
Mining software usually requires a 64-bit version of Windows and the following packages to install on all mining computers:
Antminer Firmware downloads
AwesomeMiner custom firmware for Antminer improves hashing performance, improves energy efficiency and provides more features. Awesome Miner Firemware is completely free to use with all features and for any number of miners.
Supported ASIC miners:
Antminer S9, S9i, S9j
Antminer T9+
Antminer L3+, L3++
Antminer S17, S17 Pro
Antminer S17+
Antminer T17
Antminer T17+
Antminer S9 dual mode (two connected miners, 20-23TH/s using 1500W)
Antminer S17e/T17e will soon be supported
Mining devfee:
Mining fee [DEV FEE] The firmware has a mining fee of 2% or 3% (on average, slightly lower, about 1.8% and 2.8%)
The mining fee is based on the concept of parallel mining to avoid any interruptions in normal mining
The 3% mining fee firmware includes the Awesome Miner license and does not use any of the licenses available in the Awesome Miner. This allows you to run Awesome Miner and cloud services without any license fees when using firmware with 3% mining fees.
Download and install:
To install the firmware via Awesome Miner, go to the toolbar: Tools – ASIC Tools – Upgrade Firmware . The firmware can be selected from the list and Awesome Miner will automatically download and install the firmware on all selected miners.
It is recommended to install the firmware through Awesome Miner. Awesome Miner can install Awesome Miner firmware on compatible Antminers, including Antminers with SSH access disabled and firmware signature verification enabled. The only exceptions are:
Antminer S9 running Bitmain firmware since July 2019 – SD card required for installation
Antminer L3 + running Bitmain firmware since July 2019 – SD card required for installation
Antminer S17 / T17 has been running Bitmain firmware since December 2019 – an SD card is required for installation
Antminer S17 + / T17 + – requires an SD card to install
How to start mining:
An easy way to get started and improve your hashing performance is to apply one of the predefined mining profiles. The mining profile can be configured via Awesome Miner or via the Antminer web interface.
Awesome Miner:

go to the toolbar: Tools -> ASIC Tools -> Firmware Mining Profile

Antminer web interface:

go to the "Miner Settings" -> "Mining Profiles" section.
Documentation:
SD card images:
For Antminers where it is impossible to install the firmware due to Bitmain signature verification, it is possible to flash the firmware on Antminer using an SD card. See the Awesome Miner Antminer firmware installation documentation for detailed instructions: https://support.awesomeminer.com/support/solutions/articles/35000145544-awesome-miner-antminer-firmware-installation
Be the first to know the news, read more about cryptocurrencies and mining on CRAZY-MINING.ORG. You enjoy reading articles like this and want to support me as an author, then subscribe to our Telegram channel https://t.me/cryptomineg
Recommended Related Articles:
Are you looking for a new coin with passive income in 2022, doing home cryptocurrency mining? Do you want to get an alternative coin with a low capitalization, but great potential? After the ETH 2.0 merger, are you looking for something to mine? Check out NEOXA, a brand new currency for miners who want to benefit from GPU mining in 2022.

I think everyone has seen wallet.dat files with lost Bitcoin-QT cryptocurrency wallet passwords on sale. Often they even come with variants or password hints. With the necessary knowledge and enough computing power, one can try his or her luck at cracking wallet passwords and gaining access to bitcoins and altcoins. However, most of these files are fake. So how do you determine if a file is authentic? I will tell you about the ways to verify it.

Dual mining or mining two different cryptocurrencies at the same time is a good way to optimize the performance and profitability of your GPU mining equipment, especially in times like now when profitability from mining is low. Zilliqa or ZIL has added a new level of traditional dual mining, where you usually mine a GPU coin and a memory coin on the same GPU because it only mines for a minute every two hours. This way you can double mine ETC + ZIL with almost no processing power loss for the second coin, but you can also add a third coin into the mix, a GPU-intensive coin, and thus try to increase your profitability even more. Double mining is also possible on some ASIC miners, such as the iPollo series ETC/ETH miners.where you can mine Ethash or ETChash cryptocurrency along with ZIL, thus getting an additional 30% higher profit compared to regular mining.
This post is also available in:

Русский