GMiner v2.20: Download GPU miner for Windows/Linux [AMD/Nvidia]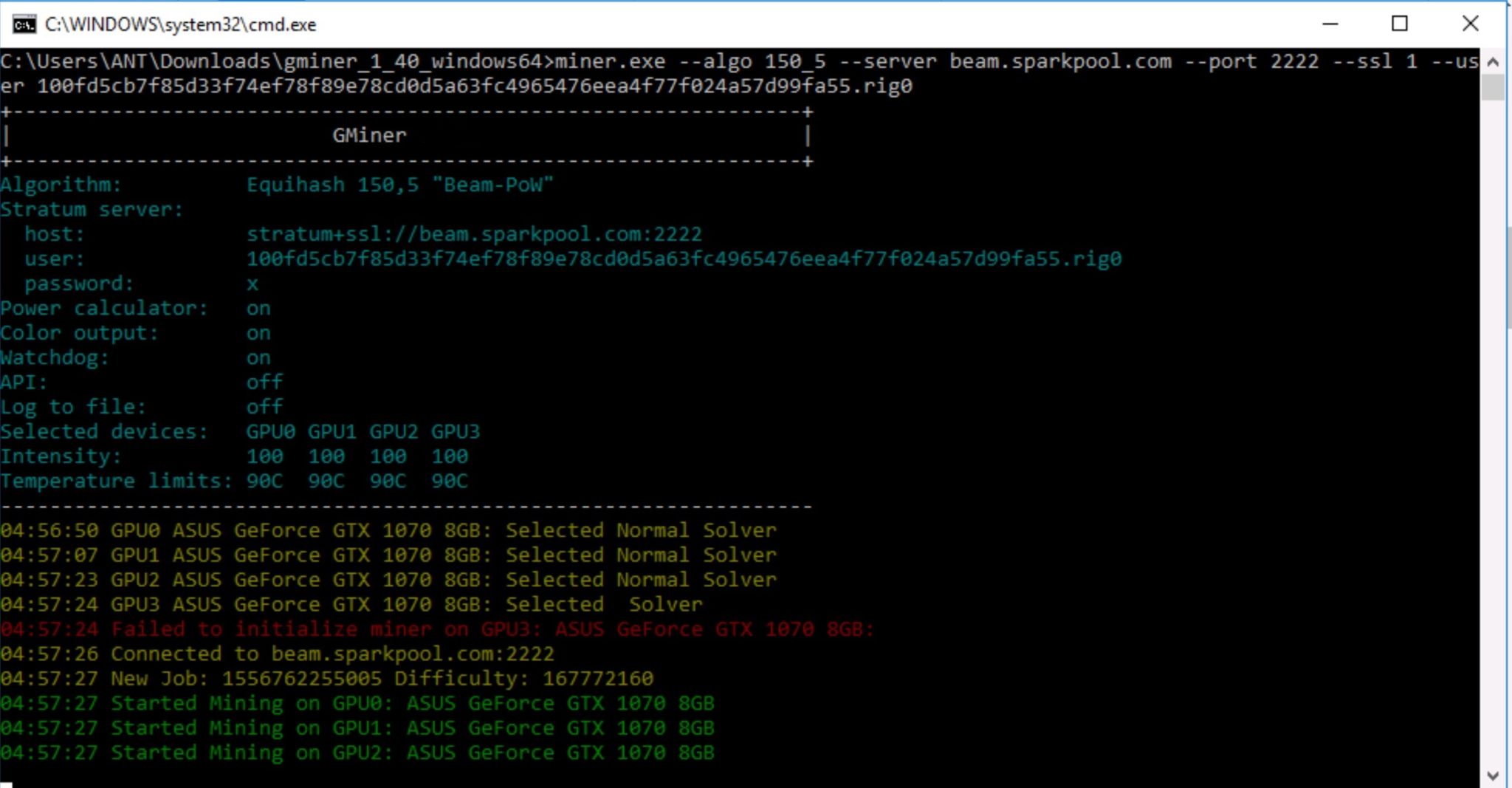 GitHub: DOWNLOAD GMiner v2.20
GMiner is Equihash / CuckooCycle / Ethash / ProgPoW / KAWPOW miner for Nvidia and AMD cards. This program is mainly used for mining coins such as Grin, Beam, Bitcoin Gold.
Fee is 0.65% for Ethash, 5% for BBC, 5% for Cortex, 3% for Cuckaroom29, 3% for BFC, 2% for all other algorithms
What's new in the new version 2.20?
+ improved performance of cuckarooz29 on GTX cards
Features and Benefits GMiner:
Watchdog (automatic restart of the miner when the GPU crashes, the connection to the pool is lost, the miner crashes)
Failover pools (automatically connect to a failover pool when the primary pool is unavailable, support for an unlimited number of failover pools)
Energy Efficiency Calculator ( Show power consumption for each GPU, Sol / W)
SSL strat connection (optional)
API / Telemerty
Supported Algorithms:
– Ethash (Nvidia only)
– ProgPoW (Sero) (Nvidia only)
– KAWPOW (Ravencoin) (Nvidia only)
– Ethash+Eaglesong (Nvidia only)
– Ethash+Blake2s (Nvidia only)
– Eaglesong (Nvidia/Amd)
– Blake2b+Sha3 (Handshake) (Nvidia only)
– Cuckarood29/Cuckaroom29/Cuckarooz29 (Grin) (Nvidia only)
– Cuckatoo31 (Grin) (Nvidia only)
– Cuckatoo32 (Grin) (Nvidia only)
– Cuckoo29 (Aeternity) (Nvidia/Amd)
– CryptoNightBBC (BBC) (Nvidia only)
– BFC (Nvidia/Amd)
– Cortex (Nvidia only)
– Cuckaroo29b (BitTube) (Nvidia only)
– Cuckaroo29s (Swap) (Nvidia/Amd)
– Cuckarood29v (MoneroV) (Nvidia only)
– Blake2s(KDA) (Nvidia/Amd)
– Eaglesong (CKB) (Nvidia/Amd)
– Equihash 96,5 (MinexCoin) (Nvidia only)
– Equihash+Scrypt (Vollar) (Nvidia only)
– Equihash 125,4 (ZelCash) (Nvidia only)
– Equihash 144,5 (Bitcoin Gold, BitcoinZ, SnowGem, ZelCash) (Nvidia/Amd)
– Beam Hash (BEAM) (Nvidia/Amd)
– Equihash 192,7 (Zero, Genesis) (Nvidia/Amd)
– Equihash 210,9 (Aion) (Nvidia only)
Performance on default GPU settings:
ALGO COIN UNIT 1060 1660Ti 1070 1070Ti 1080 1080Ti 2060 2070 2080 RX570 RX580 VEGA56 VEGA64
Equihash 96,5 MNX KSol/s 15.3 24.7 28 39.5
Equihash 125,4 ZEL Sol/s 22.3 26.1 32.9 40.1 42.3 56.9 35.5 45.3 58.9
Equihash 144,5 BTG, BTCZ Sol/s 37.5 55.5 65 69 96 65.6 68 24 27 43
BeamHashII BEAM Sol/s 22.5 26.8 34.7 41.4 39.9 58.9 37.2 50 62.5 16
Equihash 192,7 YEC, ZCL Sol/s 21 30 37 39 54 36 52 14 17 26
Equihash 210,9 AION Sol/s 147 209 227 347
Cuckarood29 GRIN G/s 3.65 5.26 5.26 5.82 5.82 9.17 6.75 8.4 10
Cuckaroo29(s) XWP, XBG G/s 3.2 4.55 4.65 5.25 5.5 8 6 7.6 8.8 1.6 1.8 3.2 3.85
Cuckatoo31 GRIN G/s 0.86 0.96 1.64 1.33
Cuckoo29 AE G/s 3.53 4.75 5.22 5.65 5.75 8.66 6.53 8.12 9.5 1.88 2.07 3.2 4.4
BFC BFC H/s 84.04 133.09 124.28 134.52 136.90 206.19 155.47 193.33 226.19
Equihash+Scrypt VDS KSol/s 14 19.5 19.7 23.1 27 37.3 24 28.5 36.5
Cortex CTXC G/s 1.53 3.13
Ethash ETH MH/s 27.13 27.95 37.22
Eaglesong CKB MH/s 778 755 1150 300
Requirements:
– CUDA compute compability 5.0+
– Cuckaroo29 ~ 3.8GB VRAM
– Cuckatoo31 ~ 7.68GB VRAM
– Cuckoo29 ~ 3.8GB VRAM
– Equihash 96,5 ~0.75GB VRAM
– Equihash 144,5 ~1.75GB VRAM
– Beam Hash ~2.9GB VRAM
– Equihash 192,7 ~2.75GB VRAM
– Equihash 210,9 ~1GB VRAM
– CUDA 9.0+
GMiner setting (.bat config)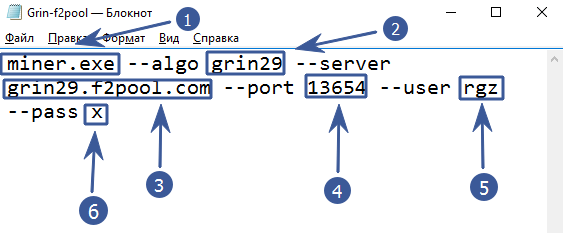 miner.exe – this argument indicates which program will be launched. Leave as is. This file should be in the same folder as the batch file

—algo grin29 — indicate the algorithm of the mined coin.


—server grin29.f2pool.com – after the key —server we indicate the address of the pool.

—port 13654 — show the port of the pool

—user rgz – after -user, depending on the pool, either the login of the pool or the address of the digital wallet are indicated. In our example on f2pool, this is the login

—pass x — specify the pool password. Can be left empty if the pool does not require (x value)
Examples of using GMiner:
miner --algo 144_5 --pers BgoldPoW --server eu.btgpool.pro --port 1445 --user YOUR_BITCOING_GOLD_WALLET.rigName --pass x
miner --algo 192_7 --pers ZERO_PoW --server zer-eu.forgetop.com --port 2052 --user YOUR_ZERO_WALLET.rigName --pass x
miner --algo 144_5 --pers BgoldPoW --server eu.btgpool.pro --port 1445 --user YOUR_BITCOING_GOLD_WALLET.rigName --pass x --server btg.2miners.com --port 4040 --user YOUR_BITCOING_GOLD_WALLET.rigName --pass x
Grin на пуле f2pool у нас получился следующий батник:
miner.exe --algo grin29 --server grin29.f2pool.com --port 13654 --user rgz --pass x
Для Grin и пула sparkpool
miner.exe --algo 150_5 --server beam.sparkpool.com --port 2222 --ssl 1 --user 2d1f865b393afa3ead1e0dd0c0307c0cbcdb8412671c86fbd0b21cfe5328b608ca5.rig0
miner.exe --algo 150_5 --server beam.f2pool.com --port 5000 –ssl 1 --user 2d1f865b393afa3ead1e0dd0c0307c0cbcdb8412671c86fbd0b21cfe5328b608ca5.rgz --ssl 1
Загрузите прямо сейчас готовые .bat фалы:
Recommended Related Articles:
This post is also available in:

Русский