NiceHash Miner 3.0.0.5 CPU/GPU miner for Windows & Linux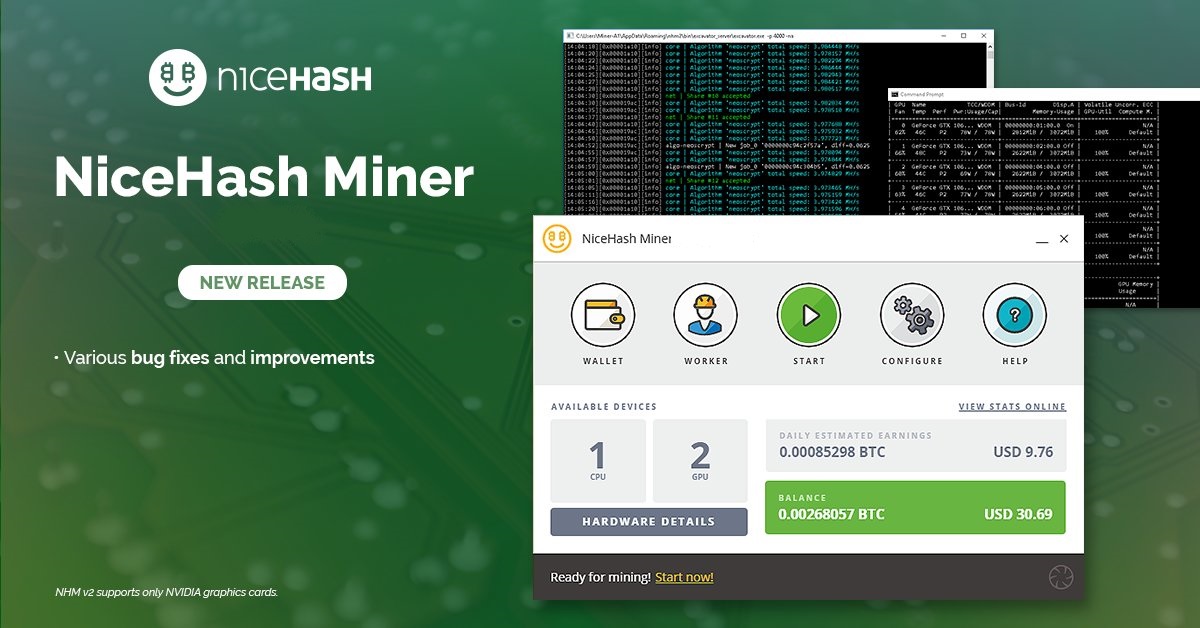 ---
NiceHash Miner 3.0.0.5 is a continuation of NiceHash Miner v1. This version is intended for experienced miners who need the fastest updates and maximum hash speed. NiceHash Miner — An advanced auto miner that supports the latest algorithms and miners. No need to view tons of configuration files, various versions of mining software, configuration settings or cryptocurrency coin market analysis. Auto-tuning for maximum performance and efficiency, automatic selection and automatic transition at runtime to the most profitable cryptocurrency algorithm – all this is integrated into NiceHash Miner and will provide you with a smooth, joyful and profitable mining experience.
NiceHash Miner v3.0.0.5 for Windows 32/64-bit is available for download at the links below:
GitHub:

https://github.com/nicehash/NiceHashMiner/releases
Full list of available NHM versions:
Change .NET Framework from 4.5 to 4.8:

All plugins are updated to major version 8 that target net48 or netstandard2.0

Preinstalled miner plugins:

CCMinerTpruvot
ClaymoreDual14
GMiner
LolMinerBeam
MiniZ
NBMiner
Phoenix
TeamRedMiner
TRex
XMRig
ZEnemy
This version is intended for experienced miners. Some NHM components may be marked with antivirus. Exceptions can be managed through AV / Firewall.
Installing and Configuring NiceHash Miner
Important recommendations for using NHM:
NiceHash Miner is usually tagged with antivirus software. This is normal, since almost all mining software on the market is blacklisted by AV. Just make an exception in your NHML software.
You may need to add an exception in your browser to enable NHM download.
We suggest that you do not use cryptocurrency wallets or have any access to any cryptocurrencies, confidential or important data on the same computer where you use NHM. NiceHash will never request or use your private keys, but we cannot guarantee the same for third-party miners included in the NHM now or at any time in the future.
Add an exception to Windows Defender for the NiceHash Miner folder (after unpacking the package).
Requirements
Windows 7 or newer 64-bit operating system
[Note: Windows 10 is recommended and will provide you with a much better user experience]
For CPU mining, a modern CPU with SSE2 support
For AMD mining any AMD GPU with OpenCL support
For mining NVIDIA any NVIDIA GPU with Computing Capability (SM) 2.1 or later
current patches for OS
modern drivers for all GPUs
Reliable internet connection
For GPU Mining, the page file size is 60% of the total VRAM GPU memory
Personal Bitcoin Wallet.
All you need to do is download, unzip and launch the miner (no installation is required), select the server location closest to your location, run the built-in test and enter the address of your Bitcoin wallet to which you want to receive coins. в – and you are ready to start mining and maximize your profit.
Note. Requires .NET Framework 2.0 or later and Microsoft Visual C ++ Redistributable 2013. No additional installations are required if you are using Windows 7 or later. However, if you have problems starting the application (the application does not start or errors / warnings about missing DLL files are displayed), you should download and install Microsoft .NET Framework 2.0 and Microsoft Visual C ++ Redistributable 2013.
Detailed instructions:
Download NiceHashMiner binaries
Unzip the zip archive with the program
Run NiceHashMiner.exe
After the first launch, run the benchmark test, otherwise multi-algorithm mining will not work properly; for AMD GPUs, we recommend that you run the Precise test
Make sure you select your personal Bitcoin wallet to accept payments, see the instructions and instructions for using the Bitcoin wallet here: https://www.nicehash.com/help/how-to-create-the-bitcoin-addresswallet.
You will receive payments in bitcoins according to our payment schedule: https://www.nicehash.com/help/when-and-how-do-you-get-paid
ATTENTION: Due special requirements of the auxiliary server program "sgminer" you do not can run NiceHash Miner through Windows RDP (remote protocol desktop) if you are using an AMD GPU. If you still want use remote access to your computer while you work NiceHash Miner, we suggest you use TeamViewer: https://www.teamviewer.com.
How to launch NiceHash Miner only with high profitability?
The profitability of mining can increase and decrease, which can be disadvantageous for mining, especially in places with a high cost of electricity. Using the "MinimumProfit" settings, NiceHashMiner will stop mining if the current profit is below the minimum amount (in US dollars). This will help you mine only in "profitable" times.
Additional options
Click the "Settings" button. NiceHash Miner will be restarted with the ability to modify configs. In addition, you can manually modify the \ configs \ General.json file for general settings and the \ configs \ benchmark_XXX.json files (XXX is the UUID of your device) for device test settings (close NiceHash Miner first).
Be the first to know the news, read more about cryptocurrencies and mining on CRAZY-MINING.ORG. You enjoy reading articles like this and want to support me as an author, then subscribe to our Telegram channel https://t.me/cryptomineg
Рекомендуемые статьи по теме: