SRBPolaris V3.5: Download BIOS editing software for AMD RX4XX/RX5XX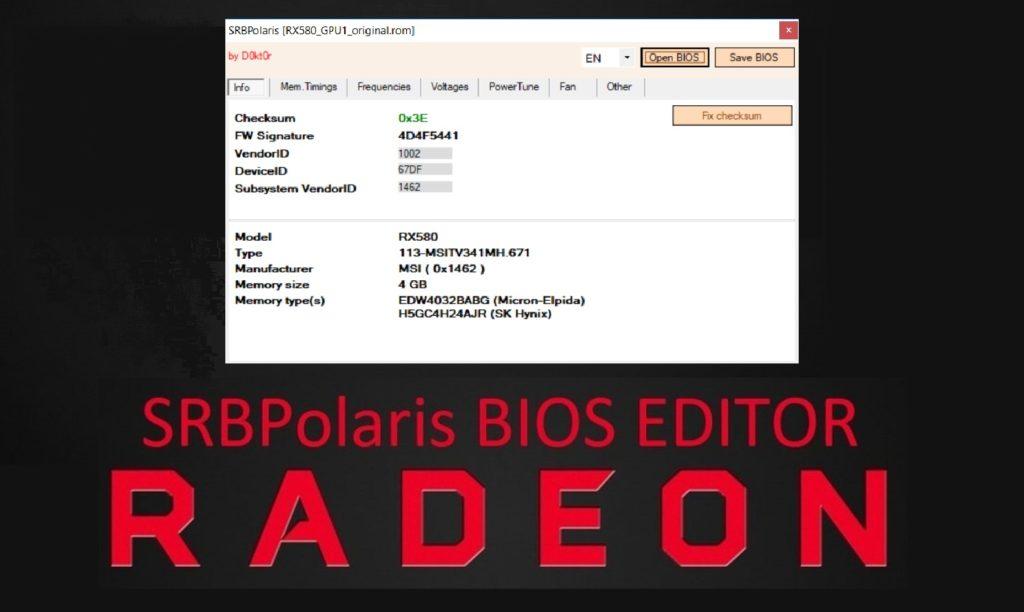 ---
SRBPolaris is a software designed to edit bios on AMD cards. SRBPolaris V3.5 is the latest BIOS editor for RX 460/470/480, RX 550/560/570/580 video cards. Analogue Polaris Bios Editor
Download Link: https://bitcointalk.org/index.php?topic=1882656.0
SRBPolaris Features:
unlock additional shaders on RX460;
copying / changing memory timings;
set factory parameters of cards;
set GPU voltage parameters (Depends on VRM);
cooler speed;
And much more.
Important! After flashing the cards, you need to reinstall the drivers using DDU.
Functionality:
– Built-in timings from the developer
– Quick and easy copying of timings
– Timing editor
– Unlocking additional RX460 shaders
– Default GPU and MEM frequency editor
– Voltage editor GPU
– Other useful features
How to use SRBPolaris
Step 1 – Download the program
Official sources for download only: GitHub and the forum of the author of the program – BitcoinTalk.
Step 2 – Configure the program
Open the BIOS file of your video card.
Step 3 – Start flashing Bios
You have now successfully completely modified your Polaris graphics card and reduced the voltage.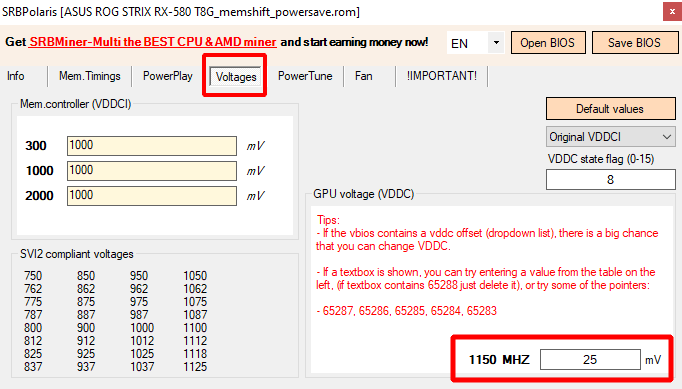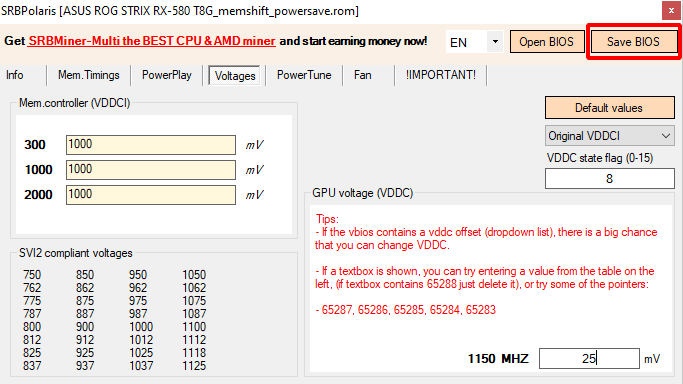 Changes:
V3.5
– Removed donation
– Added support for a few more cards
– This is the latest version, happy use
V3.4
– Added power control limit
– Added mode selection for fan
– Med-High temp and PWM are now editable
– Added fan sensitivity and maximum limit
– Bug fixes
V3.3
– Added support for RX550 maps.
– Minor bug fixes
V3.2
– Added support for bios with 3 types of memory
– Added more options in the VDDCI drop-down list
V3.1
– Added option to set `Vddc state flag` (state pointer), in some cases changing this value can help you change voltage
– Added support for several more cards
V3
– Unlocking additional RX460 shaders
– Added support for Sapphire RX460 2G and 4G cards
– Added support for Sapphire RX560 2G and 4G cards
V2.65
– Added support for PowerColor RX460 2G
– Fixed bug with changing pointer VDDC
V2.64
– Added support for PowerColor RX560 4G
– Added support for Xfx RX560 4G
– Added support for Msi RX560 4G
V2.63
– Added support for a few more cards
– Added some tips for manipulating voltage
v2.62
– More efficient way to find vddc pointer
– Fixed bug when editing vddc
v2.61
– Added support for RX 460/560 Baffin cards
– Added support for NCP81022 VRM
– In addition, added support for multiple 4XX / 5XX cards
V2.6
– Editable parameters: VendorID, DeviceID and VendorID Subsystem
– Added "Low Power" option for Powertune
– Added "Number of Clock Stretchers" option for Powertune
v2.56
– Added support for ASUS Expedition RX570
– Added support for XFX RX580 GTR
– Added more options for VDDC dropdown menu
v2.55
– Fixed some bugs
– Added more VDDCI voltages before voltage modification type
v2.53
– Added support for ASUS RX470 8G
– Added support for XFX RX580 8G
– And also added support for SAPPHIRE PULSE RX580 4G
v2.52
– Now added support for SAPPHIRE PULSE ITX RX 570 4G
– Added support for MSI RX570 ARMOR 4G OC
– Added support for HIS RX570 4G
– Changed manufacturer detection code
v2.51
– Added support for Sapphire RX570 4G Pulse
– Added support for MSI RX570 ARMOR 4G OC
– And also added length (in bits) displayed next to each field in the feed editor
V2.5
– Added memory timing editor (BETA)
– Added support for Asus RX570 4GB cards
V2.41
– Added support for XFX RX570 4GB cards
– Added support for editing unknown BIOS files (except def.frequencies and voltage)
V2.4
– Added two types of modification for voltage change
V2.3
– Added experimental support for RX5XX cards
– Added option to set target temperature
Be the first to know the news, read more about cryptocurrencies and mining on CRAZY-MINING.ORG. You enjoy reading articles like this and want to support me as an author, then subscribe to our Telegram channel https://t.me/cryptomineg
Recommended Related Articles
Red BIOS Editor is a utility that allows you to increase or decrease frequencies, as well as adjust various parameters of video cards. Unlike other programs, Red BIOS Editor directly modifies the video card BIOS. While flashing the BIOS always comes with some risk, there are undeniable advantages to this method.

Atikmdag patcher Version 1.4.9 is compatible with Catalyst 15.12 – Crimson 18.2.3. It can be used in future versions if it finds the constraints you need. AMD / ATI Pixel Clock Patcher modifies AMD / ATI driver to provide high resolutions and refresh rates, removing 165 MHz pixel clock limit for 1-channel DVI and HDMI, 330 MHz limit for 2-channel DVI and 400 MHz for VGA …

NVIDIA Profile Inspector – For the most productive mining, you should overclock your video card, which will improve the characteristics, thereby increasing the speed of the system by several times, in order to achieve this, you should take the following programs …. As you understand, dear friends, video cards hide a lot of secret settings […]
This post is also available in:

Русский