AwesomeMiner v7.7.1 (ASIC/GPU/CPU) Скачать для Windows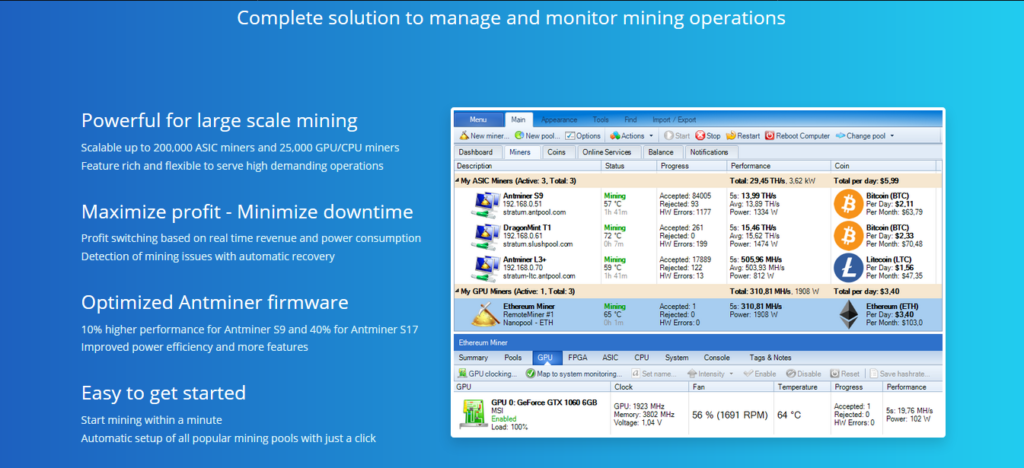 ---
Awesome Miner v7.7.1 — Один из самых многофункциональных майнеров поддерживающих видеокарты как AMD так и Nvidia, кроме того имеется возможность майнинга на CPU.
Требования:
Поддерживает 32-разрядные и 64-разрядные выпуски Windows 7, Windows 8 и Windows 10
Требуется Microsoft .NET Framework 4.5 или более поздняя версия (уже включена в Windows 8 и Windows 10).
Для программного обеспечения майнинга на GPU обычно требуется 64-битная версия Windows и на всех компьютерах майнинга GPU должны быть установлены следующие пакеты: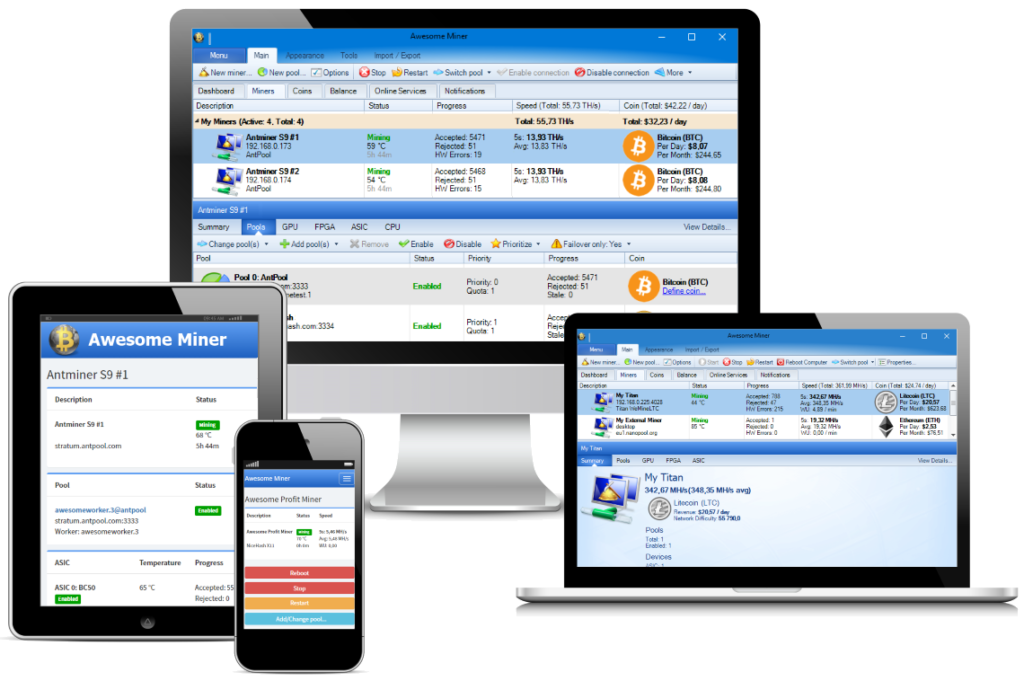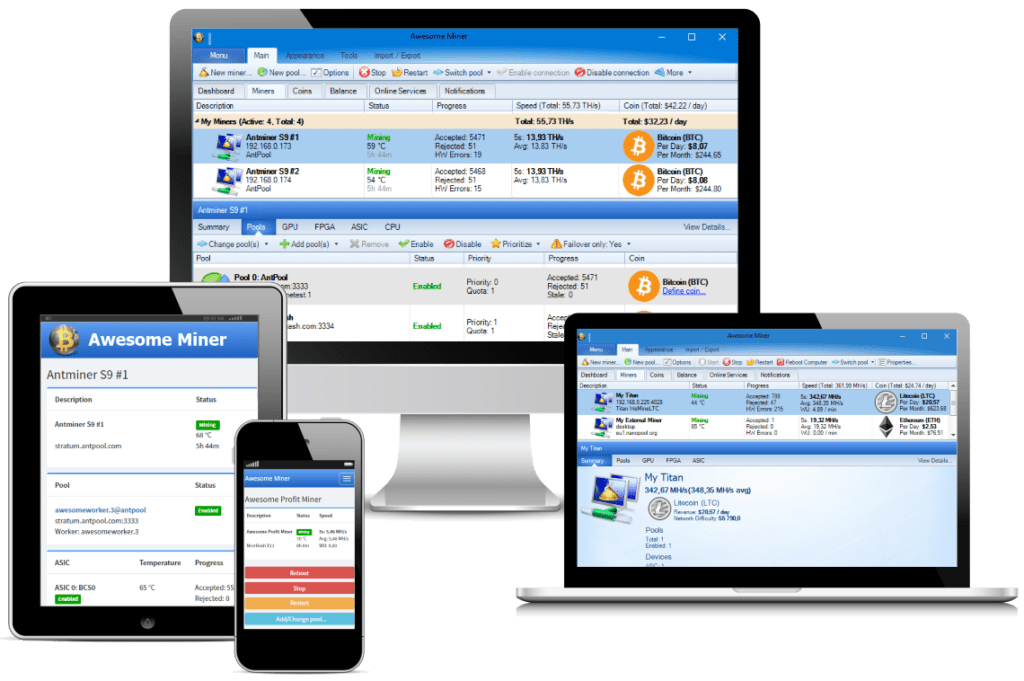 This software is provided by the author "as is" and any express or implied warranties, including, but not limited to, the implied warranties of merchantability and fitness for a particular purpose are disclaimed. In no event shall the author be liable for any direct, indirect, incidental, special, exemplary, or consequential damages (including, but not limited to, procurement of substitute goods or services; loss of use, data, or profits; or business interruption) however caused and on any theory of liability, whether in contract, strict liability, or tort (including negligence or otherwise) arising in any way out of the use of this software, even if advised of the possibility of such damage.

Terms and conditions
Antminer Firmware
Используйте оптимизированную прошивку Awesome Miner Antminer для получения значительных улучшений хэшрейта и дополнительных функций.
GPU MINING
Native overclocking
Use the Native overclocking to control the clock speed, voltage, power and fan properties of your GPU's. Awesome Miner provides the unique feature of performing overclocking operations for both AMD and nVidia GPU's without using any external applications.
The overclocking can automatically be applied at a large scale across an entire mining farm based on the current mining algorithm.
Profit switching
The Profit switching feature will optimize the mining for maximum profitability based on statistics from both standard mining pools and multi-coin pools. Access all popular mining pools with just a click to get started with the profit based mining right away.
Use the benchmark to let Awesome Miner test multiple mining algorithms and mining software and measure the hashrate and power usage for each of them to optimize the profit switching decisions.
Power consumption
The current Power consumption is displayed for both AMD and nVidia GPU's, independent of which mining software being used. The mining profit is calculated and displayed in real time based on the current power consumption, hashrate and the current mining pool.
Any crypto currency, Any software
Includes support for over 40 of the most popular mining software. Several hundred crypto currencies are included with statistics and revenue information. Full flexibility to add and deploy any custom mining software, algorithm, crypto currency and mining pool.
GPU monitoring
Display and monitor GPU properties including clock speed, fan speed, power consumption and temperature. Define actions to take in case a GPU is failing or running too warm.
Windows and Linux
Manage and monitor GPU miners running on either Windows or Linux. Awesome Miner Remote Agent supports both platforms.
ASIC MINING
ASIC support
Manage and monitor all popular ASIC devices without installing any software on the device. Use profit switching on ASIC miners to prioritize mining on the most profitable pool.
Supported ASIC miners includes, but are not limited to: Bitmain Antminer, Baikal, Canaan Avalon, DragonMint, Hyperbit, iBeLink, Innosilicon, Obelisk and Whatsminer.
Optimized Antminer firmware
Use the optimized Antminer firmware to get significant hashrate improvements and more features. The firmware supports display of power usage, LED flash, sleep mode, antivirus scan and multiple predefined hashrate modes. All these features are integrated in Awesome Miner. Supports Antminer S9, S9i, S9j, T9+, L3+, L3++, S17, S17 Pro, S17+, T17, T17+.
A hashrate increase of 10% can be expected for Antminer S9 and 40% for Antminer S17. The power efficiency is improved by tuning of each individual ASIC chip.
For specific editions of the Antminer firmware, Awesome Miner is completely free of charge with all features and for any number of miners.
Bitmain Antminer
Bitmain Antminer is a popular ASIC miner and all Antminer models are fully supported, including features for automatic configuration of Privileged API access, firmware upgrades and configuration of default pools.
Automation and SSH
Automate the mining operations by defining triggers and macros where the ASIC miner can be instructed to perform operations like changing mining pool or rebooting the ASIC miner. Any SSH command can be sent to an ASIC miner, for example to force a reboot or shudown.
FEATURES AwesomeMiner

Notifications and Recovery
Use the predefined rules or define custom rules to take full control of the mining operations. Detection of high temperatures, slow mining progress, hanging miners and disconnected miners. Automatic restart of miners, with fully customizable triggers and actions. Define custom rules to automate tasks and setup schedules.
Notifications are displayed in the user interface and can also be sent by e-mail or web hooks. With a Cloud Services subscription also as Telegram App notifications and SMS messages.
API
Use the HTTP API to interact with Awesome Miner from external applications and get access to monitoring information about the miners. Use the API to provision and control the mining via external applications.
Use the powerful built-in C# script engine to create customized triggers and actions. Develop custom C# scripts for monitoring and performing mining and pool operations.
Dashboard & Mining history
The dashboard gives an overview of all running miners and their total performance, revenue, profit and power consumption.
View long-term mining history, generate charts and export CSV-data to Excel for even more powerful data processing and visualization.
Organize miners
Organize your miners using miner groups to make management of larger number of miners easier. Operations can be performed either on individual miners or on one or many groups of miners.
Define and assign tags to miners to filter and make it easier to identify properties of a miner.
One click pool setup
Easy setup of popular mining pools without having to read page after page with setup instructions.
Get started with 2miners, BlockMasters, Ethashpool, Hash Refinery, IceMining, Luxor Mining Pool, Mining Dutch, Nanopool, Zergpool, Zpool, or any of the other pools.
Secure On-premise solution
Awesome Miner runs on your infrastructure and on your network. Your important mining operations will not depend on any external services.
The software is digitally signed and has built enough trust to automatically be accepted by the Microsoft SmartScreen filter.
Templates
Use templates to apply a predefined configuration to one or many miners in a single operation.
Balance monitoring
Monitor your assests using Coin wallet balance feature and the Pool balance feature for the most popular mining pools.
Changelog
Version 7.7.1

 Features
  - Awesome Miner API endpoint for reading and setting GPU clocking properties
 Integration
  - Luxor Mining Pool Equihash pool profit display
  - Nicehash account balance. Requires to be configured in the Options dialog, Balance section
  - Mining Dutch pool list updated
 Changes
  - When adding multiple External Miners by a list of IP addresses, any duplicates compared to what's already added in Awesome Miner will be ignored
 Mining software
  - Kawpow Miner 1.2.3
  - Miniz Miner 1.5t3
  - CpuMiner-Opt 3.13.2
  - WildRig Miner 0.24.1
  - TeamRedMiner 0.7.1
  - NanoMiner 1.9.4
  - Z-enemy Miner 2.6.2
 Corrections
  - Correction to ASIC chip ideal hashrate calculations for Awesome Miner Antminer S9 Dual mode firmware
  - Correction to GPU selection using Claymore Ethereum Miner in systems with a mix of AMD and nVidia GPUs
  - Correction to Mining Profile selection for rule action and added missing 65 TH mining profile selection for Antminer S17 running latest firmware version

Version 7.7

 ASIC mining
  - Set custom configuration properties adds support for setting pool properties using property name expressions like: pools[0].url
 GPU mining
  - Only show mining software version when known and not when defining a custom software version
  - The feature to automatically map GPUs to system monitoring will always be enabled
 Features
  - Russian language support. The language is configurable in the Options dialog, General section.
 Rules
  - Antminer feature 'Set custom configuration properties' available via rule actions
 User interface
  - Added support for sorting on pool in the miner list
 Mining software
  - Added software: Kawpow Miner 1.2.2
  - T-Rex miner 1.15.6
  - WildRig Miner 0.23.2
  - SrbMiner-Multi 0.4.4
  - NanoMiner 1.9.3
  - CpuMiner-Opt 3.13.1
  - TT-Miner 5.0.1
Рекомендуемые новые статьи: