Polaris Bios Editor v3 PRO (Crack) – Download PBE 3 Pro for Windows (32/64-bit)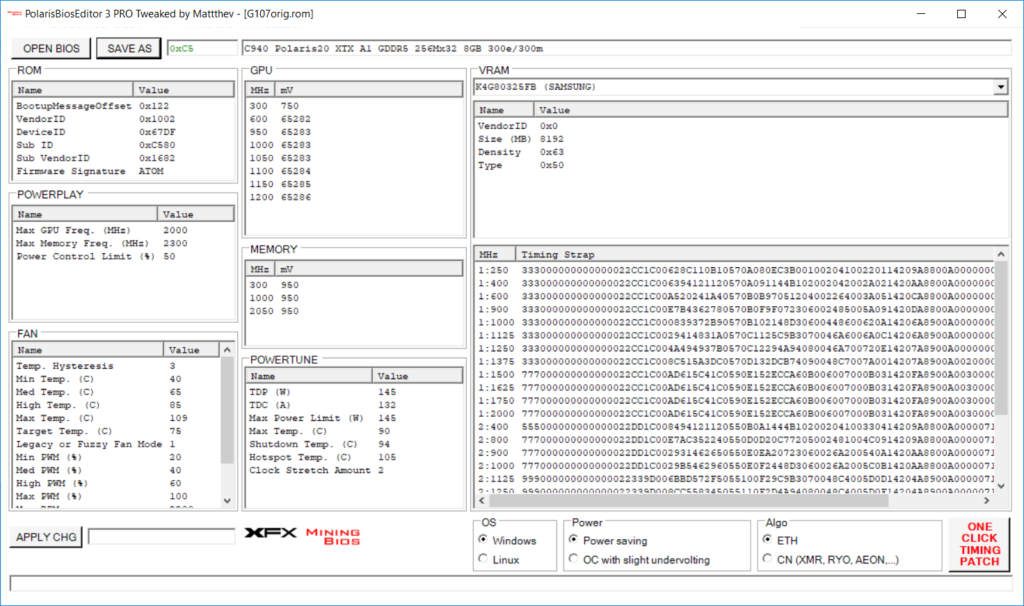 Polaris Bios Editor обновлен до последней версии 3 Pro!
Что нового?
Поддержка RX 590
Новый тип памяти H5GC8H24AJ
Новые тайминги Micron, Hynix, Samsung и Elpida, лучший хешрейт и стабильность
Исправления проверки лицензии
Некоторые исправления и ошибки (включая опечатку в Hynix)
Новый дизайн
Обнаружение RX 560 из-за необходимости различного времени
Определение поставщика графического процессора (теперь отображается логотип)
Всплывающие подсказки
Polaris Bios Editor 3 Pro
Pro Performance Timings
No memory timings shifting. Pro Performance memory timings
One Click Timing Patcher
It recognizes cards, memory types and memory size
All in 1
Timings optimized for ETH and XMR or Universal, you can choose which one you want (available only for some memory types)
Timings for 4GB or 8GB cards auto choosing the best timings for your card memory size (available only for some memory types)
Detect more types of memory and applies suitable timings (compared to PBE 1.6.7 and 1.7.0), new added support for H5GQ4H24AJ
Automatic undervolting, overclocking, underclocking (power saving option)
Gives the biggest hashrate boost compared to stock, for the 100% performance still need to manually tweak memory clocks and core voltages, editor cannot predict card quality so it's impossible to automatically use the top values
Windows and Linux option, note Linux option only does no undervolting
Supports almost all RX cards Polaris and Baffin (RX 460/470/480/560/570/580), (RX550 only few of them, contact me before buy)
In next releases more intuitive timings patcher and undervolting
Power Saving Option
New Power saving option! Automatically undervolt memory and core also underclock core
Auto OC
Automatic memory overclocking for better hashrate
Cryptocurrency Payment
We accept various of cryptocurrency thanks to Shapeshift integration
Digital Copy
After payment you will be able to instant download the latest version of PBE Pro
Support
Do you have problem with your PBE? Contact me via monerobiosedit@gmail.com. I will try to solve your issue.
Free Updates
You can download the latest version when it's released, no need to buy again
It recognizes and applies custom performance timings for more memory types (compared to PBE 1.6.7), for example H5GC8H24MJ and H5GQ4H24AJ, timings for this type are also available for ETH or XMR mining, you just simple choose which one you want.
Auto basic undervolting and memory overclocking via "One Click" button
Рекомендуемые статьи по теме:
This post is also available in:

English (Английский)