RED BIOS EDITOR (RBE): Скачать программу для перепрошивки и разгона карт AMD/ATI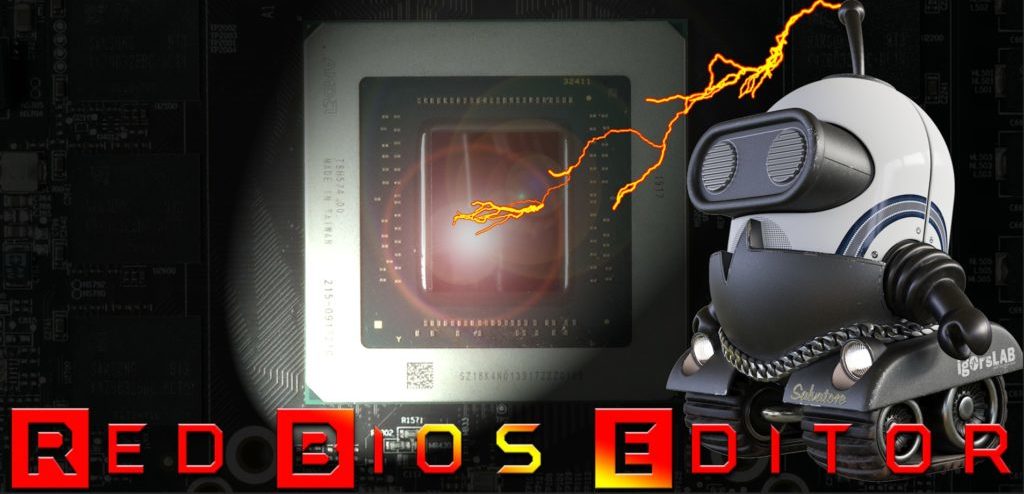 ---
Red BIOS Editor – это утилита, позволяющая увеличивать или уменьшать частоты, а также настраивать различные параметры видеокарт. В отличие от других программ, Red BIOS Editor напрямую изменяет BIOS видеокарты. Хотя перепрошивка BIOS всегда сопряжена с определенным риском, у этого метода есть неоспоримые преимущества. RBE – это инструмент, который помогает вам разгонять / разгонять и настраивать вашу недавнюю видеокарту ATI. В отличие от других программ, таких как Rivatuner, например, RBE предоставит модифицированную версию исходного BIOS вашей видеокарты, которую вы можете установить на свою видеокарту. Установка не требуется. Просто скачайте RBE.exe и запустите его. Есть только один-единственный файл. Для запуска RBE не требуются права администратора, независимо от того, используете ли вы Windows XP или Vista.
Преимущества Red BIOS Editor
Поддерживается большое количество видеокарт.
Нет необходимости запускать различные утилиты для разгона при запуске Windows.
Вы также можете настроить мощность графического процессора, что выходит за рамки возможностей большинства обычных утилит.
Red BIOS Editor позволяет управлять параметрами вентилятора охлаждения видеокарты.
Ключевые особенности
Может отображать и изменять множество информационных строк в файле BIOS, включая идентификатор устройства и идентификатор поставщика.
Относится к каждому состоянию PowerPlay и может изменять тактовую частоту графического процессора, тактовую частоту ОЗУ и напряжение для каждого отдельно.
Отображает структуру PowerPlay в BIOS.
Также отображает напряжения, которые может использовать карта.
Может очень удобно графически отображать и изменять четыре различных контроллера вентиляторов и автоматически определять, какой контроллер используется для определенного BIOS.
RBE изменяет подпись овердрайва BIOS, чтобы обеспечить более высокий предел разгона. Подписи также можно извлечь и сохранить в файл.
Из-за этого с некоторых карт исчезнет надоедливый баг с вращением.
Обеспечивает отличный PowerPlay.
Содержит редактор профиля для доступа к скрытым функциям панели CCC.
Получение и перепрошивка всех BIOS из RBE с помощью встроенного интерфейса WinFlash.
Red BIOS Editor позволяет записывать все модификации MPT непосредственно в BIOS RX 5700, 5700 XT (X) и RX 5600 XT и выводить этот BIOS в виде файла с возможностью записи.
Вкладки Polaris становятся видимыми только после того, как вы загрузили соответствующий BIOS. В разделе «Часы и напряжение» вы найдете наиболее важные настройки, чтобы вдохнуть в карту еще немного жизни. Этикетки говорят сами за себя.
Power Tune предоставляет больше ресурсов, но не спешите увлекаться. Отрегулируйте сколько угодно, иначе можете отключить видеокарту. Управление вентилятором также можно адаптировать, и это действительно интересное поле для ваших собственных экспериментов. Однако вы должны быть очень осторожны с таймингами памяти.
Все другие источники могут содержать неавторизованный или ненадежный контент. старые версии или даже вредоносное ПО. Во избежание этого строго запрещено цифровое распространение доступного здесь программного обеспечения, тем более что это также является нарушением авторских прав. Ссылки можно делать только на этот веб-сайт, а не на сами ссылки для загрузки, URL-адреса которых мы также время от времени меняем.
Скачать Red BIOS Editor
https://www.igorslab.de/en/red-bios-editor-and-morepowertool-adjust-and-optimize-your-vbios-and-even-more-stable-overclocking-navi-unlimited/3/
Журнал изменений:
v 1.28
 Fixed a bug that reported an error message regarding VendorID writing occasionally.
 Fixed rare overdrive bug.
 Added 6950 -> 6970 shader unlocking capability (will most likely only work for reference design cards).
 Added 6990 DeviceID. 

 v 1.27
 Added volt modding capability for CHL8214 voltage controller (reference design 6870 and 6850 cards).
 Added volt modding capability for VT1556M voltage controller (reference design 6970 and 6950 cards).
 Changing DeviceID now changes both locations properly (hopefully) all the time.
 Changing VendorID should work in more cases now.
 Added some new DeviceIDs (6950/6970).
 Updated WinFlash link.
 Updated RBE's internal BIOS extraction method to account for "ATI" labelled "AMD" now.
 Improved Hex editor interface a little.
 Fixed method 1 overdrive hacking signature extraction for 6xx0  cards. Only superficially tested due to no available non-reference  signatures yet. 

 v 1.26
 Added (preliminary) support for Radeon HD 6850 and 6870. Everything _should_ work, except for voltage modding.
 Fixed minor WinFlash version detection bug.
 Improved built-in hex editor search functionality (again).
 Improved flashing procedure for more stability.
 Fixed Dell Subvendor-ID, thanks to Clinton for the tip! 
 
 v 1.25
 Added preliminary fan control for 5970 (EMC2103 fan controller). Big thanks to Diverge for making this possible!
 Added support for Radeon 5830, 5450 and 5570.
 Added signature file based overdrive hacking capability for 5xx0 cards. Thanks to Biker for extensive testing!
 Improved built-in hex editor search capability.
 Fixed another subvendor display issue, hopefully for good this time.
 Improved RAM interface detection.
 Fixed a rarely occurring bug (on mobile Radeon BIOSes only) regarding powerplay table.
 Added qualified error message if pre-2xx0 BIOS is detected.
 Fixed rare file opening issue.
 Updated WinFlash link.
 Fixed minor clock wizard issue.
 Added welcome message for first time users.
 Added feature to enable RivaTuner versions < v2.25 to cooperate with 5xx0 Radeons. 

 v 1.24
 Added 58x0 and 5970 GPU voltage control. I'd like to express my gratitude to VuurVOS who made this possible.
 Added memory voltage control where available (i.e. all cards that  utilize a VT1165 in order to control memory voltage, such as 4890, 5870  and 5970 [as far as I know]).
 Added GPU voltage control for cards utilizing a L6788A chip. Most  4770s and 5770s use them. Hey, better late than never! 🙂  Unfortunately, 5670 and 5750 reference design cards can not be supported  because their UP6201 chip does not support external programming.
 Fixed subvendor-display on 5xx0 cards. 

 v 1.23
 Fixed "GetStringPos" bug that occurred on rare BIOSes.
 Improved RAM and RAM interface detection.
 Improved 5xx0 support. Still no voltage tweaking yet.
 Added 5xx0 device-IDs. Supported cards: HD 5670, HD 5750, HD 5770, HD 5850, HD 5870, HD 5970. 

 v 1.22
 Added clock tuning wizard.
 Changed fan controller bug workaround settings' description to point out what it does a little better.
 Improved program's startup routine.
 Fixed "GetClockPos reported 0"-error that came up on loading several 4xx0-BIOSes.
 Added preliminary support for Radeon 5870. Note that I'm still not  sure about 5850's DeviceID and that signature saving and loading will  most likely not work properly on 5xx0s with this version. Furthermore,  VT1165 programming is not functioning yet. 

 v 1.21
 Fixed minor glitch in BIOS flashing procedure.
 Minor fixes and enhancements for hex editor.
 Updated WinFlash link.
 Fixed another 3650 bug... >:-/ I hate that card!
 Added some DeviceIDs.
 Improved specs string analysis code.
 Added fan support for 4770.
 
  v 1.20
 Added hex editor.
 Added alternative BIOS extraction method.
 (Hopefully) fixed the 3650 Device-ID-bug for good.
 Fixed a bug concerning weird 4670 fan settings. 

 v 1.19
 Fixed a startup bug causing the main window not to show up.
 Added experimental voltage register access. RBE automatically  figures out if the card's equipped with a VT11xx. Just use register 15  for underclocking/undervolting and register 18 for overclocking.  Register tweaking will override the voltage table. Still, you should  adjust your powerplay settings according to the new register values. 

 v 1.18  
 Fixed minor file saving bug for RV730 BIOSes.
 Fixed TSlope calculation bug.
 Enabled (preliminary) support for more RV770 (and derivatives) based cards.
 Fixed "HandleOneClickUpdate" bug that occurred on several BIOSes on saving.
 Updated link to WinFlash to most recent version.
 Added some Device-IDs to now officially support those cards. 

 v 1.17
 Fixed the "Runtime error '7': out of memory" bug at the cost of the  right-aligned combo boxes for the voltages in the clock settings tab. 

 v 1.16
 Minor bug fix concerning voltage settings on 2900 XT and some other cards.
 Minor bug fix concerning method 2 hack. 
 Fixed bug that caused RBE to crash occasionally when cancelling the search for WinFlash.
 Fixed minor Acquire/Flash BIOS bug.
 Replaced EXE-packer because some virus scanners have been reported to raise false alarm for the old one.
 Fixed some minor file opening probs.
 Fixed a bug with checksum calculation. Actually, this was a bug by  ATI again due to PCI standards violation. Damn, what a pain in the ass  to find that glitch...
 Added option to enable the user to decide whether to write fan controller bug workaround settings or not.
 Added some device-IDs (thanks to TheCow).
 Added "recent files" section in the main window's start menu.
 Added system tray icon. God knows who will use it... :-/
 Added "-systray" parameter for RBE startup in systray mode only.
 Added option to make RBE run on windows bootup.
 Added saving the program's window position.
 Did some GUI work to make RBE look a little cooler (hopefully).  Unfortunately, RBE's file size increased significantly because of this  due to embedded libraries. I'm not sure if it is worth it so far but it  enabled more cool looking features to come in the future. Here's what  has been done in particular:
 Enabled themed styles for all supported user controls.
 Added some icons to several buttons.
 Added some more or less matching icons throughout the GUI.
 Replaced voltage combo boxes by boxes that can be right-aligned.
 Replaced some scrollbars by more modern sliders.
 Replaced program icon. 

 v1.15
 Fixed bug causing an error message on loading several BIOSes (small ones like several 3870 X2 BIOSes).
 Added remote control feature for WinFlash to acquire and flash BIOSes from within RBE. Will be included in the tutorial soon.
 Superior PowerPlay should be available for more 4870 BIOSes now.
 Added link to the tutorial in the menu bar. (Info... Tutorial on how to use RBE (websource)...)
 Added display for the card's internal voltage table (it's in the clock settings tab).
 Fixed a bug causing the device ID being written incorrectly if it's  changed in rare cases. Coded this very drunk, there might be bugs... :-/
 Added some nice method one hack signatures (4850, 4870 X2).
 Added a feature for method one overdrive hack signature saving and loading. 

 v1.14
 Fixed bug with method one overdrive hack not working. Should run fine now.
 Added fan control for 4870 X2. Completely new controller chip, was a big pain in the ass to code... :-/
 Made spin up fix, powerplay functionality and voltage decrease in the one-click update for 4xx0 cards seperately selectable.
 Fixed WinFlash check sum correction bug.
 Added and fixed a lot of small things. Too many and too minor to mention all... 🙂 

 v1.13
 Added the checksum calculation method WinFlash uses because for some  files, the checksums differ. See built-in-FAQ for more on this.
 Improved checksum balancing algorithm to capture this. This is a  completely new method, so there might be some minor bugs, but it is  guaranteed to not corrupt any file. Notify me on any strange behaviour.
 Added one-click update functionality for some 48x0 cards which  corrects a well known "spin-up bug" and improves powerplay (power saving  functionality).
 Added method for overdrive limit increasing. Still experimental, read built-in help text before using this. Power users only!
 Fixed bug with not properly displayed overdrive limits. 

 v1.12
 Added display for GDDR5 (for 4870 and future cards).
 Added check for corruption of GDDR5 BIOSes.
 Fixed bug with all voltages being "---".
 The lock for clock info is now unchecked by default.
 Added command line feature for automated BIOS loading.
 Added profile editor to edit CCC settings that can not be modified using the CCC.
 Added support for 4870 X2 (experimental).
 Fixed checked "pre-modified" checkbox on plain 4870 BIOSes.
 Added more clock info modes to meet the needs of Radeon mobility BIOSes.
 Improved some internal things. 

 v1.11
 Fixed values written if look up table is used.
 Improved method of clock rates detection (old method was not working properly with some weired BIOSes).
 Added some FireGL device IDs.
 Added some stuff to the in-program-FAQ.
 Undated link to WinFlash.
 Fixed little bug occuring writing some BIOS infos.
 Fixed some confusion regarding 3650 cards.
 Added support for some exotic mobile card's BIOSes (experimental).
 Added support for HD 4850/4870 (experimental).
 Added fan control for most 3870 X2. 

 v1.10
 Some minor bugfixes concerning file drag & drop and other things.
 Changed scale for graph's grid.
 Fixed a bug causing RBE to not recognizing some proper BIOSes.
 Graphs have been made click- and dragable.
 Added step function graph view mode for those math freaks out there complaining about the continous graph. 🙂
 Added sub vendor - and video card ID detection and also possibility to change them.
 Eased input restrictions: Now you can use CTRL+C, CTRL+V, CTRL+X and CTRL+Z.
 Added update check functionality as requested.
 
 v1.09
 Added complete fan control handling for 3xx0 and several 2xx0 cards. Now you have full access! 🙂
 Added nice graph function displaying what is going on with any settings changed.
 Added screen shot function for graphs.
 Some minor bugfixes.
 Added some annoying hint links throughout RBE's front end. :-/
 Added drag & drop for BIOS files. 

 v1.08
 99 % of code completely rewritten.
 Tab based front end implemented. Finally! 🙂
 You can now enter the fan hysteresis if lookup-table is used.
 No more pre-selection of video card type is required. RBE detects it itself now.
 You can re-open a BIOS saved with RBE now.
 Most of the BIOS information strings can be changed now. However, this is not recommended and thus is a power user feature only.
 Several bug removed, including a crash when trying to load some improper files.
 Added some new bugs 🙂 But seriously: Because most of the code is completely new, there will be some bugs for sure.
 Intelligent bug report system added to the code.
 Changed method to detecting fan settings for 3xx0-cards. Should be  more compatible now. Will reduce incorrect fan setting detection for  most cards also.
 Improved checksum handling for even giant checksum differences.
 Filesize shrinked a litte because of more compact code.
 You can now unlock the states/modes dependencies if you like. This  is a power user feature as well. The default setting is still locked for  dependent states for more comfort. 

 v1.07
 First release for TechPowerUp.com.
 Added fan control setting for 29x0 cards. Oh yeah! 🙂 

 v1.06
 Added some information on the 862 MHz lock in the FAQ section.
 Added a "BIOS image size" info line. 

 v1.05
 No more "fan settings detection error" message with 3450 and 3650 cards.
 Fan values can be entered directly now.
 Some more minor bug fixes. 

 v1.04
 Added some more bytes for checksum balancing.
 Changed checksum display form mode 0F00h to 0x0F00 because that's cooler!
 Changed adapted frame caption displaying dependent on selected video card mode.
 Changed number of displayed states/modes on 2900 XT/2900 pro 512 bit from 5 to 6. 

 v1.03
 Fixed dependencies between clock settings during user input.
 Revised FAQ. 

 v1.02
 Added more modes for 3xx0 cards (experimentally).
 
 v1.01
 Fixed an issue with checksum display. 

 v1.00
 Added checksum display. 

 v0.99
 Revised FAQ.
 Added security request if user set 60 °C threshold for fan fix with 3850/3870 cards. 
---
Читайте больше статей про криптовалюты и майнинг на CRAZY-MINING.ORG

Тебе нравится читать подобные статьи про криптовалюты и майнинг, хочешь поддержать автора или задать вопросы? Будь первым в курсе новостей, подписывайся на наш телеграмм канал: CRYPTO WIKIES | Bitcoin & Altcoins Mining
Atikmdag patcher совместим с Catalyst 15.12 – Crimson 18.2.3. Его можно использовать в будущих версиях, если он найдет нужные вам ограничения. AMD / ATI Pixel Clock Patcher модифицирует драйвер AMD / ATI для обеспечения высоких разрешений и частот обновления, удаляя лимит тактовой частоты пикселя 165 MHz для 1-канальных DVI и HDMI, лимит 330 MHz для 2-канального DVI и 400 MHz для VGA…

ATIFlash & AMD VBFlash используется для прошивки BIOS видеокарты. Версия, выпущенная ATI, называлась ATIFlash или просто WinFlash. Он поддерживает все видеокарты AMD Radeon, такие как RX 5700, RX 5600, RX 5500. Вы также можете прошить BIOS для всех AMD Radeon RX Vega, RX 580, RX 480 и всех старых карт ATI. Программное обеспечение для обновления BIOS VBFlash работает под Windows.

SRBPolaris программа создана для того, чтобы редактировать bios на картах производства AMD. SRBPolaris V3.5 — последняя версия редактора BIOS для AMD RX 460/470/480, RX 550/560/570/580 видеокарт. Аналог Polaris Bios Editor. Важно! После перепрошивки карт требуется переустановить драйвера с помощью DDU. Возможности SRBPolaris: Функционал: — Встроенные тайминги от разработчика— Быстрое и легкое копирование таймингов— Редактор таймингов— Разблокировка […]