AMD Overdrive Utility – program features, advantages, download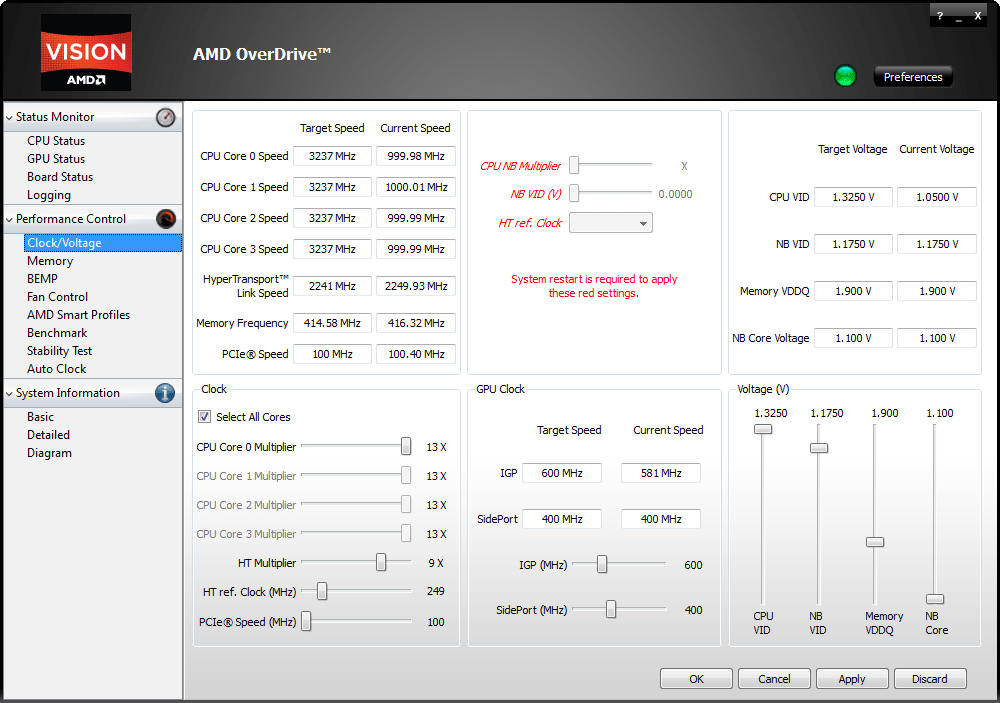 ---
amd overdrive is a utility used to test the hardware of computer devices. It is also used to create optimal settings for AMD processors to perform at their highest level of performance. This program has an accessible and understandable interface that even a beginner can understand.
This utility will allow even without experience in setting up a personal computer to perform the procedure correctly. The application has the ability to activate a mode called "Beginner". A window will appear with a slider, moving which manually you can set the desired settings.
If the amd overdrive program is downloaded for free in Russian, then users will be able to:
Monitor computer processor performance parameters;
Consider the speed of the cooling system;
Monitor CPU temperature readings.
For experienced PC users, the program provides advanced functionality, in which software owners do not need a lot of time and effort to monitor the performance of a computer processor. After installation, it is possible to launch a test mode, which allows you to identify the features of changes in the performance of the chipset, fan, graphics adapter during operation of the device with high loads. The utility has an option to optimize RAM, which makes it possible to configure the interaction between computer resources. All this will become available if you download amd overdrive utility rus.
App highlights
The utility has a large number of advantages that users will be able to notice immediately after downloading the application to their computer device. The first thing that catches your eye is a nice interface that helps even beginners to easily figure out how the program works. Among other important advantages of the utility, the following stand out:
Availability of the possibility of checking the operation of computer processors in test mode;
Full control by the PC user over system properties and parameters;
The presence of an extreme mode that allows you to get the maximum performance of a personal computer;
You can download amd overdrive 64 bit rus for windows 10, 7, 8.1 and Windows XP.
Before downloading the program, you also need to remember that it also has disadvantages. One of them is the lack of support for non-AMD processors. In addition, utility updates are not available on the developer's official website.
This program is able to make the computer run faster with minimal effort on the part of the user. With it, tuning AMD chipsets will become a flexible and delicate process. If you download the amd overdrive utility in Russian, then users will receive an all-in-one application. With it, it will be possible to perform numerous computer operations. To download the program, it is recommended to use proven Internet resources.
After downloading the installation files, all that remains is to install the utility. But this procedure takes about 15 minutes, which for some users may seem like a long period.
By downloading and installing the AMD utility, the owners of computer devices get high system performance with minimal effort. It works stably even on computers with older versions of Windows.
AMD Memory Profiles
Get optimal performance from high-speed DDR3 memory with preconfigured memory profiles. Open up bandwidth and overclock your memory for even more performance.
AMD OverDrive™ Utility is compatible with the following operating systems:

Windows 7 (32 or 64 bits)
Windows Vista (32 or 64 bits)
Windows XP (32 or 64 bits)

Installing and using the AMD OverDrive™ utility requires an AMD processor and a compatible motherboard with an AMD chipset.
The AMD OverDrive™ utility supports the following chipset models:

AMD Hadson-D3
AMD 990FX
AMD 990X
AMD 970
AMD 890FX
AMD 890GX
AMD 890G
AMD 790FX
AMD 790GX
AMD 790X
AMD 785G
AMD 780G
AMD 770

AMD OverDrive™ Utility is not compatible with the following chipset models:

АМД 780В
AMD 760G
AMD 740G
Previous AMD chipsets (such as 690G or 580X) or non-AMD chipsets

Some AMD OverDrive™ utility features require a motherboard with a compatible BIOS version and may not be available on all supported hardware configurations.
AMD Black Edition Memory Profile – Feature available with the following verified memory modules
In addition, to enable the Black Edition Memory Profile feature, the system must meet the following requirements:

790FX, 790GX, or 790X AM3 Motherboard with BEMP Compatible BIOS Version
AMD Phenom™ II AM3 Black Edition Processor
Read more articles about cryptocurrencies and mining at CRAZY-MINING.ORG

Do you like to read similar articles about cryptocurrencies and mining, do you want to support me as an author or ask questions? Be the first to know the news, subscribe to my telegram channel CRYPTO WIKIES