MorePowerTool 1.3.8 – fine-tuning AMD graphics cards for mining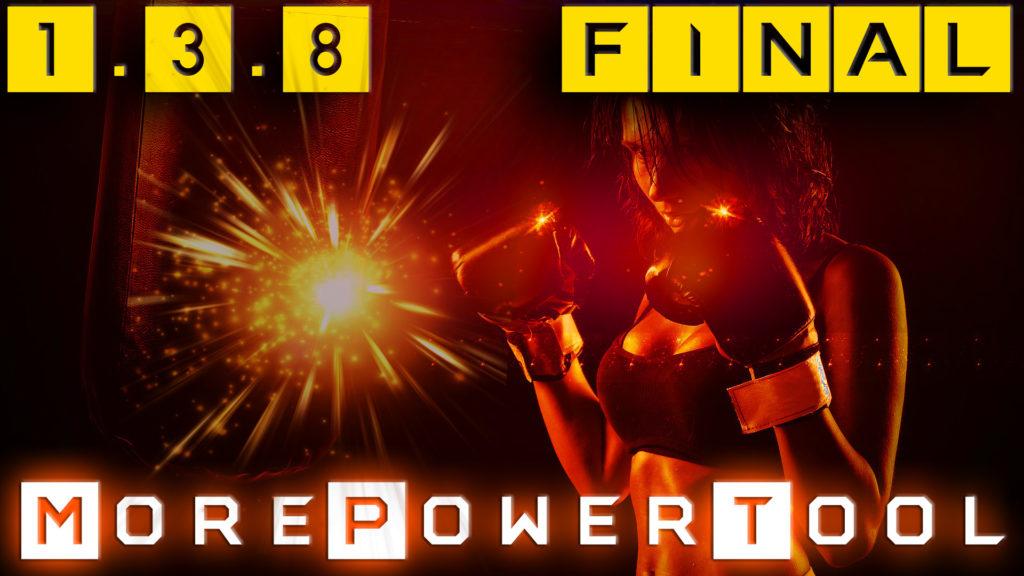 ---
New final version 1.3.8. MorePowerTool offers, in addition to new features, of course, a carefully redesigned engine that greatly simplifies the use of the tool. Although the file size has slightly increased as a result, direct implementation of various libraries directly in the tool also offers many advantages, which in general far outweigh the increased space requirements. Thus, some files that could also cause version conflicts or even be missing from the user's system are now simply ignored. Later, we also added the Radeon RX6500 without bumping the version number again because of this (update 02/23/2022).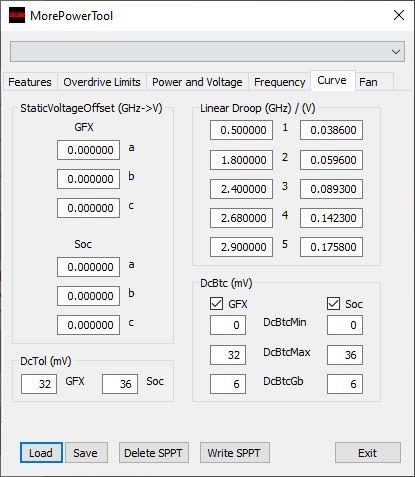 We have also summarized the changelog of the latest final releases. (build 1.3.x):
1.3.0 – Support for RX 6800 (XT), minor bug fixes
1.3.1 – TGP, TDC fixed
1.3.2 – Support for RX 6900 XT, RX 6700 (XT), Radeon VII bug fix, some minor fixes
1.3.3 – Navi1X Soc Powersave Freq fixed, minor bugfixes
1.3.4 – support for Navi21 XTXH "Ultimate"
1.3.5 – Minor bugfixes
1.3.7 – Temperature Dependent Vmin, more curve options
1.3.8 – Ability to save registry file, Debug Overrides and Throttler Control
What is the More Power Tool?
In mining, every percentage in video card speed matters, as well as even 1 watt consumed. That's why there are more and more programs for fine-tuning the GPU that allow you to reduce power consumption, increase CPU and memory frequency, and do many other things. One such program is called More Power Tool and now we will look at its basic features and configuration.
This is a PC program that helps you fine-tune your AMD graphics card on the Navi architecture. Right now it can be used to adjust only such GPU models, e.g:
RX 5600;
RX 5600XT;
RX 5700;
RX 5700XT.
It is also possible to work with the latest RX 6*** series with and without XT. Please note that More Power Tool doesn't work with RX 5500XT yet, as it's written on the official website. When planning to download More Power Tool, you should understand that it is an unofficial program which is not supported by AMD. It is a third-party software, from individual developers who do not bear any responsibility in case your hardware fails. At the same time, if you apply the application competently, you can significantly increase the efficiency of your video adapter.
Where can I download More Power Tool for AMD?
The program has an official website and a branch on the forum where all the existing versions of the program are located. At the moment it is recommended to download More Power Tool 1.3.2 as it is the stable version where most bugs are fixed. There are newer versions 1.3.7 and 1.3.8 but they are still in beta mode so there may be bugs.
We do not recommend trying to find the program by any other means, like typing "More Power Tool download torrent" into a search engine, because the official site has a free and precisely working version. Programs downloaded from other resources can damage your hardware or infect your computer with Trojans/viruses/maynets. Note that on the official site More Power Tool you can find such, which can be useful for configuring and flashing the GPU.
More Power Tool Installation
The program weighs very little, so it only takes a couple of seconds to download. The installation is quite simple – click "Next" everywhere, check the box to agree to the terms of use, specify the installation directory, click "Install". After installation, the main application window will open.
How to use the More Power Tool
The program helps to configure the BIOS of the video card, but does not know how to extract it itself. Therefore, the free TechPowerUp GPU- Z, which will easily get the BIOS out of the GPU by pressing just 1 button: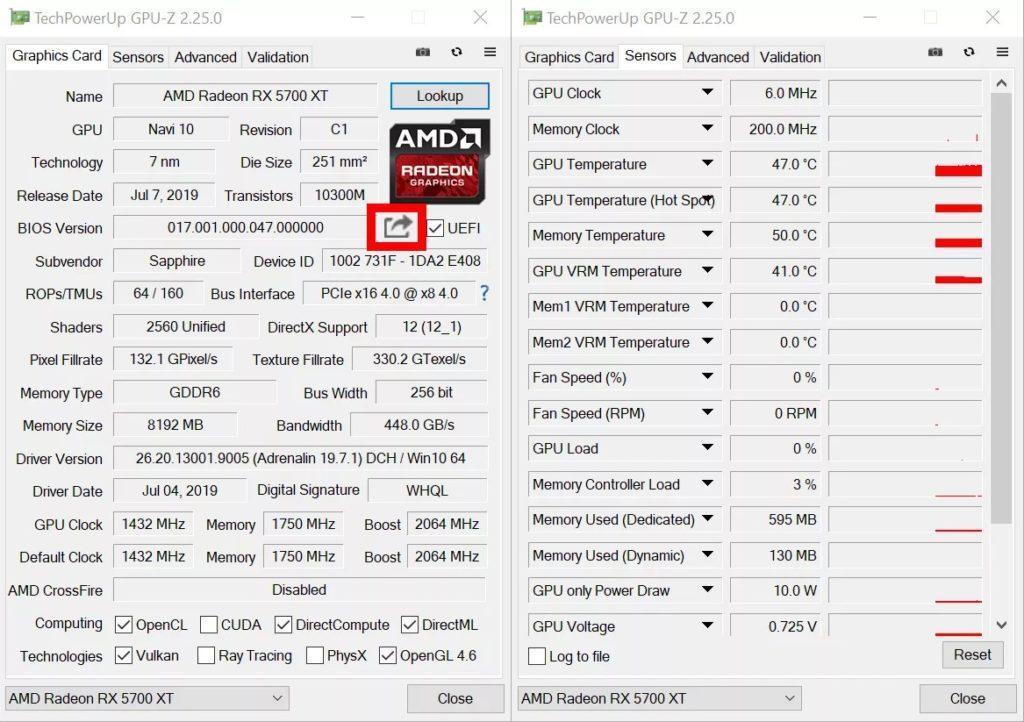 The resulting BIOS file will have a .rom extension.
Some recommend other programs for this purpose:
But they have a more complicated process, or not everyone knows how to work with the latest graphics adapters. After getting the ROM, you have to go to More Power Tool, downloaded from the official site, and download it there.
You can also find ROMs for any GPU by typing "More Power Tool 6700XT download .rom" in the search engine, or by going to the GPU-Z website, where there are variants for models from different vendors. In the upper panel you need to select your video card, otherwise you won't be able to make any settings:

Next, let's proceed to the direct configuration of the video adapter. In our case it will be AMD Radeon RX 5700 XT, but other models are set in the same way. Let's look at all tabs separately:
Overdrive Limits
Here you set the overload limits for frequencies and power consumption. This allows you to protect yourself against destroying your graphics card if you set it incorrectly.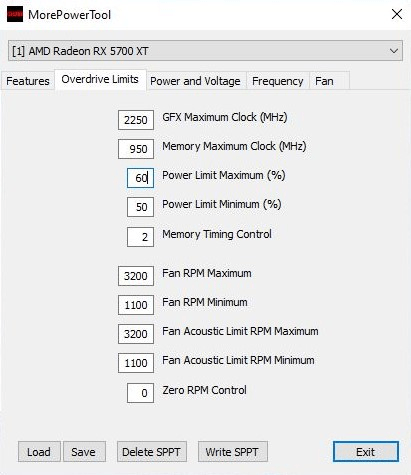 Power and Voltage
Here you set the power and voltage of the GPU. It is already possible to change these values in More Power Tool RX to 6700 XT and even 6900 XT, which is not found in other programs, even Wattman.
Frequency
Set the frequencies of the GPU and memory directly. Don't forget that values suitable for 6700XT in More Power Tool will not always suit other GPUs. To be sure you can search through internet forums describing settings of other users specifically for your video card. This will protect you from the long search for the right numbers and will not turn your adapter into a brick with too high frequencies.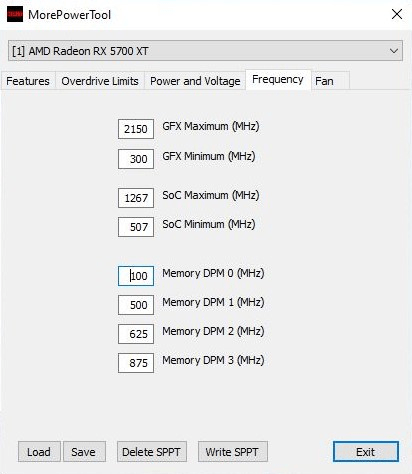 Fan
A hot chip needs to be cooled, and this tab is just the way to set the fan operation.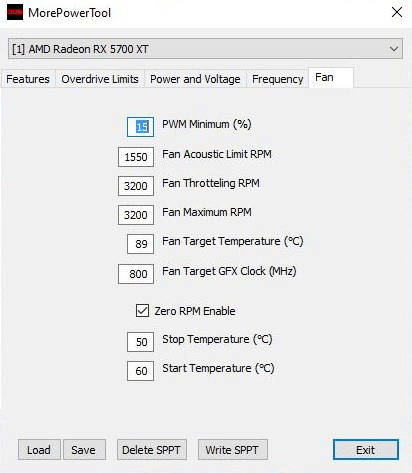 After you have set all the necessary settings, you need to create a new settings file. In More Power Tool for 6800XT and any other AMD Navi adapter this is done with only 1 button: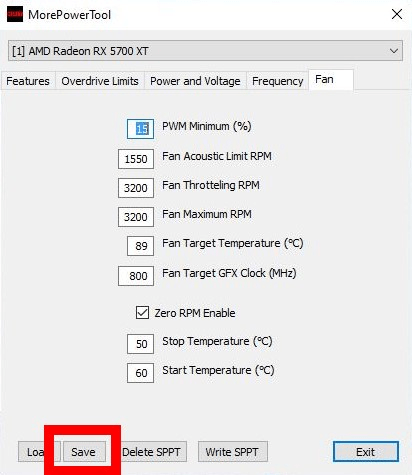 That's the end of the More Power Tool MPTool for 6700XT or any other video card, as all the following steps are done in other programs. Please note that you don't get a finished BIOS file, but only a set of specific settings that you have to combine with the firmware later on.
Read more articles about cryptocurrencies and mining at CRAZY-MINING.ORG

Do you like to read similar articles about cryptocurrencies and mining, do you want to support me as an author or ask questions? Be the first to know the news, subscribe to my telegram channel CRYPTO WIKIES