MSI Afterburner 4.5.0: Download graphics card utility for Windows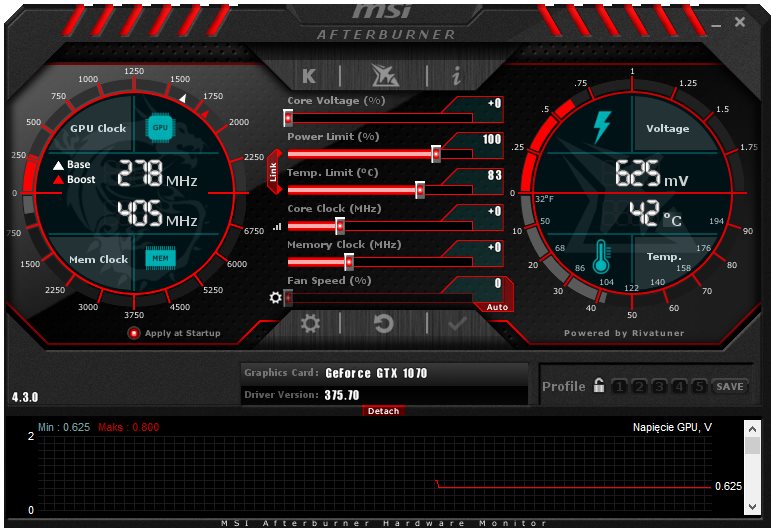 ---
MSI Afterburner — This is a graphics card utility developed by the Guru3D RivaTuner team. Beta versions sometimes have a validity period; stable and final releases do not. We recommend using the final assembly. Over the past few weeks, we have made great efforts to get many features for this build. All recently released graphics cards are supported, this entails the entire Nvidia GeForce GTX Series 10, including the 1050, 1060, 1070, 1080, 1080 Ti and Titan X (Pascal). AMD includes support for the 400 and 500 Radeon RX. Not only that, we also updated RTSS, our statistics server that allows MSI AfterBurner overlay to offer overlay support on DirectX 12. New in this release is overlay support for SLI and Crossfire in DirectX 12. Please read the full release note for everyone changes (since there are quite a lot of them). You may have noticed a new look – if you like the white / black design that you see below. In the Afterburner / user interface skin settings, you can select this new Cyborg White skin to activate it. Have fun with customization. Has your overlay changed after the upgrade? Complete the uninstall of RTSS and AfterBurner (with the removal of profiles), and then install CLEAN.
Version 4.5.0
Minimum, medium, maximum, 1% low and 0.1% low frame rates are now displayed on the screen display with special text formatting tags introduced by the new RivaTuner statistics server. These tags allow on-screen display clients to simultaneously display independent test statistics for multiple running 3D applications instead of displaying only the statistics of the front-end 3D applications.
Improved MSI Cyborg skin by default. The monochrome on / off states of the automatic fan speed button were hardly identified before, now they are more contrasting
A user-oriented recovery point system has been added. Experienced users can use the new / backup and / restore command line switches to create several named recovery points that contain full backups of MSI Afterburner settings (including hardware profiles and custom configurations for user equipment plug-ins) and restore settings from any previously created recovery point if necessary
Improved hardware monitoring module:
Improved built-in performance profiler. Now you can enable the option "Show the profiler panel" – this is the context menu of the equipment control window to see an additional panel with detailed polling statistics for each sensor in the status area of ​​the equipment monitoring window. Survey statistics visualize information about the slowest polled sensors with the maximum polling time, so users can easily identify problem sensors that consume most of the processor time during each polling period (for example, the abnormally slow GPU power sensor in some versions of NVIDIA drivers)
Improved support for correction formulas. Now, in addition to the "x" variable representing the current data source, formulas can also use sibling data sources. For example, you can use the "x -" RAM Usage "formula for the" commit charge "data source to subtract RAM usage from the displayed value
Fixed incorrect rendering of tracking markers on graphs dynamically added to the equipment monitoring module
Fixed incorrect rendering of tracking markers when the call data buffer is full
Added experimental support for Intel i7 and i9 7XXXX LGA2066 processors
Added processor power monitoring for Intel processors
The minimum sampling interval for calculating CPU usage has been reduced from 1000 ms to 100 ms.
The initial selection of a fragment of the RivaTuner monitoring history and the selected fragment processing function are back! Now you can hold down the key and click the left mouse button at the initial desired position in the hardware control window to start selecting a fragment, then drag the mouse cursor to the desired end position and release the left mouse button to select a fragment. The following functions are available for individual fragments:
When a fragment is selected, the minimum and maximum displayed values are evaluated only within the selected fragment. This function can be used if you do not need global minimum and maximum values estimated during the entire monitoring session, and you want to see local minimum and maximum values estimated over a shorter period of time (for example, only during the execution of the control application) .
When a fragment is selected, you can use the context menu of any chart to set the tracking marker to a local minimum or maximum position within the selection. This function can be used to automate the process of identifying and visualizing the moments of reaching peak values (for example, the maximum temperature of the GPU) on the desired fragments
Improved monitoring plugin architecture:
Added plugin descriptions in the plugin selection window
Added a new API function SetupSource, which allows you to configure plugins. This function allows you to configure plugins either globally from the plugin selection window (for example, to configure the entire list of data sources exported by each plugin), or to configure the desired data source only directly from the corresponding chart properties window (for example, change the network load speed units from MB / s to KB / s). The use of the SetupSource function is demonstrated in the SDK in the updated AIDA64 and PerfCounter plugins
A new GetHostAppProperty API function has been added that allows plugins to retrieve various properties from the main application (i.e., MSI Afterburner), for example. Get a graphical diagram of the graphical interface specific to the currently selected skin. The use of the GetHostAppProperty guru function is demonstrated in the SDK in the updated AIDA64 and PerfCounter plugins
Improved monitoring modules:
Plugins now store user custom and built-in default configurations in separate files, so your custom plug-in settings will not be lost when installing a new version
Plugins now store user custom and built-in default configurations in separate files, so your custom plug-in settings will not be lost when installing a new version
Improved PerfCounter Plugin:
Added support for performance counters with non-localized names (for example, "GPU Engine" under Windows Fall Creators Update)
Added support
MSI Afterburner – Designed for overclocking NVIDIA and AMD graphics cards. Using the program you can adjust the voltage of the GPU and video memory, frequency …
Be the first to know the news, read more about cryptocurrencies and mining on CRAZY-MINING.ORG. You enjoy reading articles like this and want to support me as an author, then subscribe to our Telegram channel https://t.me/cryptomineg
Recommended New Articles:
ATI Tray Tools for Windows 10 is a popular utility that allows you to manage video cards from a well-known manufacturer. ATI Tray Tools has a wide range of additional working tools that help distribute the load of the device. It controls the work of drivers from the internal system, supports profiles, configures hidden functions. The program improves anisotropic filtering, stabilizes three-line elements, creates mini-labels, configures the latest plugins. It offers a user-friendly interface, flexible configuration of components, and is available in many languages.

MoreClockTool (MCT) we want to logically combine MorePowerTool (MPT) and Red BIOS Editor (RBE) and replace Wattman from AMD driver packages for easier overclocking. It also becomes clear that MCT can only be used for new AMD graphics cards. Even if at first glance our software seems quite manageable: all necessary features are still on board, but you can do without all the overhead if you really don't need them.

New final version 1.3.8. MorePowerTool offers, in addition to new features, of course, a thoroughly redesigned engine that greatly simplifies the use of the tool. Although the file size has slightly increased as a result, direct implementation of various libraries directly in the tool also offers many advantages, which in general far outweigh the increased space requirements. Thus, some files that could also cause version conflicts or even be missing from the user's system are now simply ignored. Later, we also added the Radeon RX6500 without bumping the version number again because of this (update 02/23/2022).