Download T-Rex 0.11.0 (Nvidia GPU Miner)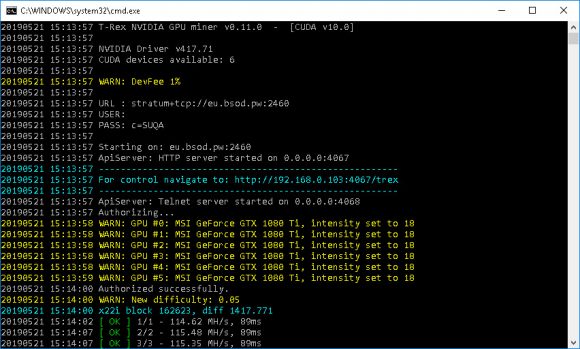 GitHub: Download T-Rex 0.11.0
T-Rex 0.11.0 Nvidia GPU Miner (With Significant X25x Performance Boost). Download for Linux and Windows. T-Rex is a closed source miner with a built-in development fee of 1%(DEV-FEE). Also make sure that you have the latest video driver installed (the latter to support CUDA 10), since the binaries for Linux and Windows are compiled for CUDA 9.1 / 9.2 / 10.0.
The T-Rex miner version 0.11.0 Nvidia GPU Miner adds support for the new X25x algorithm, which will be used by the SUQA / SIN project in the upcoming hard fork, scheduled for block 165,000 or around May 24-25. So far, this is the first and only miner for the new X25x algorithm, which will be ready before the fork. Therefore, if you plan to mine SUQA / SIN after the fork, make sure that you are ready.
In addition to supporting the new algorithm, the newest T-Rex contains some bug fixes. Fixes that help improve miner stability. The previous release of T-Rex 0.10.2, released a couple of days ago, also brought support for the MTP (Zcoin) algorithm. So this is something new if you missed the previous update and are still using the fairly old version 0.9.2.
Supported Algorithms:
x16r
x16rt
mtp
x16s
x17
x22i
x25x
x21s
geek
dedal
bcd
hmq1725
honeycomb
sha256t
sha256q
timetravel
lyra2z
bitcore
sonoa
renesis
balloon
polytimos
skunk
c11
phi
tribus
GLT algos: astralhash, jeonghash, padihash, pawelhash
Other versions miner:
Full list of available versions: