T-Rex 0.15.3: Download with KAWPOW support for mining RavenCoin (RVN)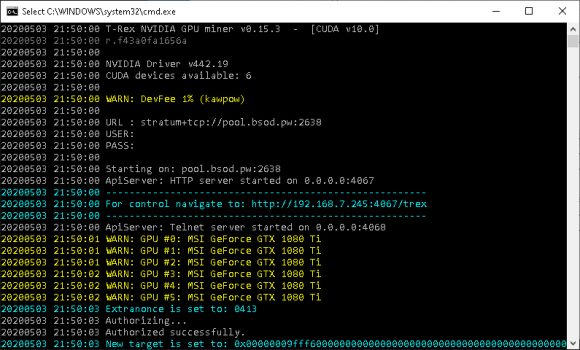 GitHub: Download T-Rex v0.15.3 (Nvidia GPU Miner)
Bitcointalk.org: T-Rex Miner
The latest version of the T-Rex miner Nvidia 0.15.3 introduced support for the new KAWPOW algorithm, as expected during the fork of RavenCoin (RVN), which will appear in a few days – May 6, 2020 at 18:00: 00 UTC. In addition to the new Kawpow support for the upcoming RVN branch, the latest T-Rex miner also adds support for the ProgPow and MTP-tcr algorithms. In addition to T-Rex, which adds support for KAWPOW in the latest version, there are already several other alternatives – the official open-source kawpowminer, the latest TT-Miner, the latest NBMiner and the latest GMiner. The only one who still lacks KAWPOW support is Z-Enemy, however Enemy has already announced that there should be an update to the RVN fork, and it will also support the new Ravencoin algorithm.
T-Rex is a closed source miner for the Nvidia GPU, available for both Linux and Windows operating systems. The miner comes in several versions supporting CUDA 9.1, CUDA 9.2 and CUDA 10.0.
Dev-Fee: The T-Rex miner has a developer board of 1% for all supported algorithms, only tensority has a higher developer board of 3%.
Other versions of T-Rex:
Recommended New Articles: