T-Rex 0.10.2 – MTP and support for Tesla p100 (Download for Windows)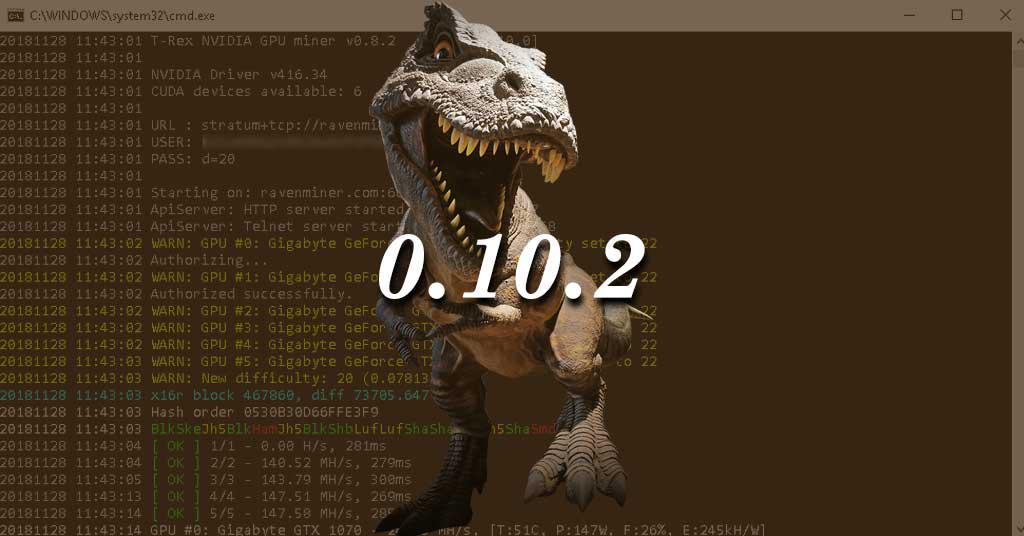 GitHub: Download T-Rex 0.10.2
T-Rex 0.10.2 Nvidia GPU Miner (With Significant X25x Performance Boost). Download for Linux and Windows. T-Rex is a closed source miner with a built-in development fee of 1%. Also make sure that you have the latest video driver installed (the latter to support CUDA 10), since the binaries for Linux and Windows are compiled for CUDA 9.1 / 9.2 / 10.0.
For some reason, T-Rex and Z-Enemy; For several months now, two popular miners of the NVIDIA GPU have not released updates. This applies not only to these two miners, but most developers have not recently updated their programs.
Although both Enemy and T-Rex have not been updated for some time, they seem to show better results. Moreover, most Raven miners still use the previous release without any problems.
In any case, now that the market has grown, Enemy has begun work on a new version, and they said that it will be released soon. T-Rex, on the other hand, has just released a new release. If you are using T-Rex 0.9.2, then here is the new version 0.10.2. He introduces a new algorithm, received support for a new GPU, as well as some minor changes and bug fixes.
Supported Algorithms:
x16r;
x16rt;
mtp;
x16s;
x17;
x22i;
x25x;
x21s;
geek;
dedal;
bcd;
hmq1725;
honeycomb;
sha256t;
sha256q;
timetravel;
lyra2z;
bitcore;
sonoa;
renesis;
balloon;
polytimos;
skunk;
c11;
phi;
tribus;
GLT algos: astralhash, jeonghash, padihash, pawelhash.
Other versions miner:
Full list of available versions: