Download T-Rex 0.11.1 (Nvidia GPU Miner)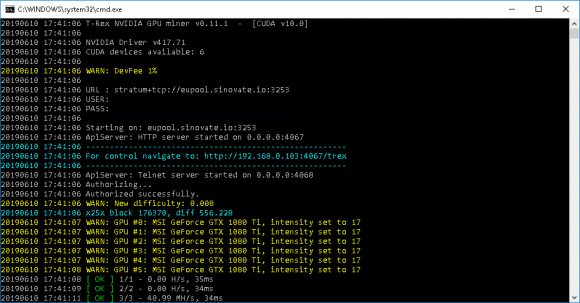 T-Rex 0.11.1 – Nvidia GPU Miner (With Significant X25x Performance Boost) [Download]. Download for Linux and Windows. T-Rex is a closed source miner with a built-in development fee of 1%. Also make sure that you have the latest video driver installed (the latter to support CUDA 10), since the binaries for Linux and Windows are compiled for CUDA 9.1 / 9.2 / 10.0.
The latest version of the T-Rex Nvidia miner 0.11.1 miner significantly increases the hashrate that you get for the X25x algorithm. X25x, which was recently added as a supported … up to 3x speed.
DONWLOAD T-Rex
GitHub: Download T-Rex 0.11.1
MEGA: Download T-Rex 0.11.1
Full list of available versions:
Supported Algorithms:
x16r
x16rt
mtp
x16s
x17
x22i
x25x
x21s
geek
dedal
bcd
hmq1725
honeycomb
sha256t
sha256q
timetravel
lyra2z
bitcore
sonoa
renesis
balloon
polytimos
skunk
c11
phi
tribus
GLT algos: astralhash, jeonghash, padihash, pawelhash
Recommended Related Articles: