lolMiner 0.9.2 – Significant GRIN Performance Improvement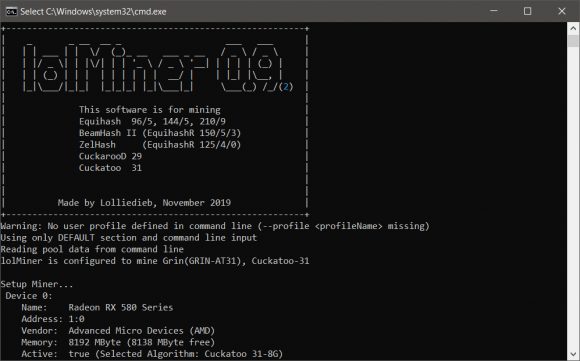 GitHub: DOWNLOAD lolMiner 0.9.2
lolMiner 0.9.2 – is an Equihash / Cuckatoo miner with a focus on AMD GPUs (based on OpenCL).
Changes v0.9.2:
Significant improvement in GRIN-AT31 performance on 8 / 16G cards (+ 5% on Polaris & Vega, +10 on Navi)
Experimental support for GRIN-AT31 and Polaris, Vega and VII using AMD ROCm drivers
Range checks added to GRIN-AT31 code (stability improved)
A function has been added to call external watchdog scripts in the event of a GPU failure during mining (see the Release Notes)
Using Watchdog Script
If the miner does not detect any GPU actions for at least a minute, it will call the included scripts "reboot.sh" (Linux) or "reboot.bat" (Windows) and display a warning message in red. After that, the counters are reset. Scripts can be used to start a reboot of the installation or to invoke any other watchdog actions. The miner himself will not take further action and will continue to work with the remaining cards.
Expected Performance:
Radeon VII (сток): 1,79 г / с
Radeon VII (1340/1000 / 0,825 В, 130 Вт): 1,37 г / с
Vega FE (сток): ~ 1,3 г / с
Vega 56 (1220/900 / 0,825 В, 130 Вт): 1,0 г / с
RX 5700 (Red Dragon, сток): 0,91 г / с
RX 580 8G: 0,56 г / с
Other versions of lolMiner miner:
Full list of available versions:
Recommended Related Articles: