lolMiner v1.12: AMD & NVIDIA Miner (Download and Configure)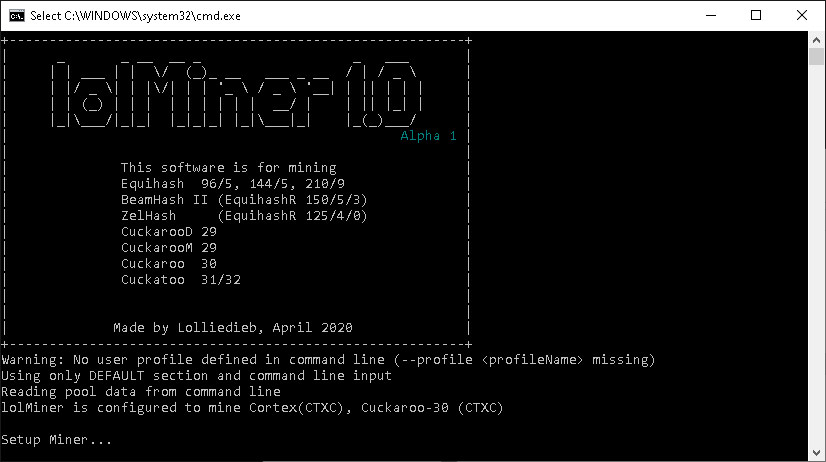 GitHub: Download lolMiner v1.12
Changes 1.12
Added support for ETCHash (Ethereum Classic dag size reduction planned for end November). Use –algo ETCHASH to activate it. (See note below).
Reworked Ethash codes for late epochs on Windows. See note below / 4G_Windows_Readme.txt for configuring it.
Slightly improved Ethash efficiency for GCN 3 (R9 Fury, 470 – 590) & Navi cards
Added experimental support for Ethash on Nvidia GPUs (See note below)
Added new parameter: –4g-alloc-size to define the memory allowed for Ethash on 4G cards. Maxing out will give more epochs of mining & better Zombie mode performance, lower values may improve compatibility. Suggested values: Linux: 4076, Windows 4008 – 4024
Added new parameter: –worker to set the worker in ETHPROXY stratum mode (improves pool compatibility)
Overall new Ethash host size back end – hopefully improving stability of mining
Fixed bug: Zombie mode generates defect shares in Windows
Fixed bug: Logs were not written when "LOG" : 1 was set in json style config file
Note about ETC Mining
Ethereum Classic is going to reduce their DAG file size by end of November. To make the miner compatible either use –algo ETCHASH, –coin ETC or –algo ETHASH –enable-ecip1099. Also it can be activated by the pool when mining Ethash, if the pools sends "algo" : "etchash" with a new work message (this is planned by some pools, e.g. 2Miners).
Note that up to epoch 389 ETCHash and Ethash is identical. If you mine ETC on a 4G card it will have entered Zombie Mode on epoch 382 (in Linux) and will stay in there until epoch 389. When epoch 390 starts it will jump back to normal speed.
If you want to mine the ETC mordor testnet, add special parameter "–ecip1099-activation 82" to configure the miner that it switches on testnet epoch 82 (default is mainnet epoch 390)
Note about Nvidia Mining
lolMiner will use OpenCL also for Nvidia mining. That said if your cards are not shown on miner startup you may need to install cuda-toolkit which includes the OpenCl drivers. Note that Nvidia OpenCl execution only knows busy waits for the GPUs to check if they have completed work. Thus using it give high load one core of your CPUs cores independently of the CPU speed. This is considered normal!
Configuration Guide for Windows 4G Mining
Mining with 4G cards in Windows can require some amount of configuration effort.
Sadly not all the drivers available respond the same and it is not even guarantied that
multiple identical cards will behave identical when assembled into the same rig.
That said, in case the suggested 4G settings are not working, try following this steps
Change the parameter –4g-alloc-size to 4000 in mine_eth_4G.bat
2)If the cards all start running:
2a) increase the value of –4g-alloc-size by a small value (e.g. 2) and retest.
2b) Stop when a card stops starting up – in this case go one step back and you are done.
If there are cards that do not start up (at a reasonable hash rate):
3a) Add parameter –keepfree 16 and decrease –4g-alloc-size by 8. So e.g.
–keepfree 16 –4g-alloc-size 3992
3b) If the cards start up now (maybe in Zombie mode): keep the –keepfree value and
continue with 2a)
3c) If the cards still do not start up, increade –keepfree by 8 and decrease
–4g-alloc-size by 8. Until the cards start.
Suggested values:
–keepfree 16 –4g-alloc-size 3992
–keepfree 24 –4g-alloc-size 3984
–keepfree 32 –4g-alloc-size 3976
–keepfree 40 –4g-alloc-size 3968
…
Once the miner starts up you can try increasing –4g-alloc-size again (see step 2a)
If nothing works: Test an other driver… Or install Linux.
Setting up and Starting lolMiner
For the fastest launch, it will be enough:
Download archive with the program
Unzip to any convenient location
Change wallet to your own in a file with the .bat extension

Quick Launch Examples
The easiest way to start using lolMiner is to configure the program from the command line. Just open a terminal (Linux) or create / edit a finished .bat file (Windows)
lolMiner.exe --coin (название монеты) --pool (адрес пула) --port (порт пула) --user (кошелек или логин пула) --pass (пароль пула)
How to set up a batch file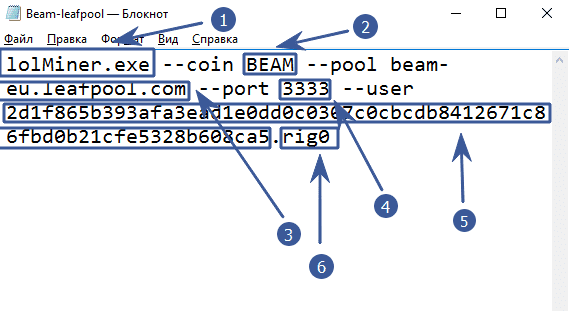 lolMiner.exe — indicate the name of the program that will be launched
—coin BEAM — the –coin parameter determines which coin to mine. lolMiner will select the internal settings as the desired algorithm.
—pool beam-eu.leafpool.com — after the –pool key, specify the pool address.
—port 3333 — specify the port of the pool. You need to find it on the page with the pool, or use the example of ready-made settings at the end of the article
—user 2d1f865b393afa3ea … d0b21cfe5328b608ca5 – after the --user key, specify the wallet address or login on the pool. The wallet can be opened at any safe and convenient exchange, or put an official wallet from a coin.
.rig0 — put a point and specify the farm identifier. It is only needed to track statistics on the pool.
As a result, we got in the batch file:
lolMiner.exe --coin BEAM --pool beam-eu.sparkpool.com --port 2222 --user 2d1f865b393afa3ead1e0dd0c0307c0cbcdb8412671c86fbd0b21cfe5328b608ca5.rig1
Start mining
You can start mining by double clicking on the .bat file with the desired coin. Run it on a farm with Windows and AMD cards and see what the program console writes to us: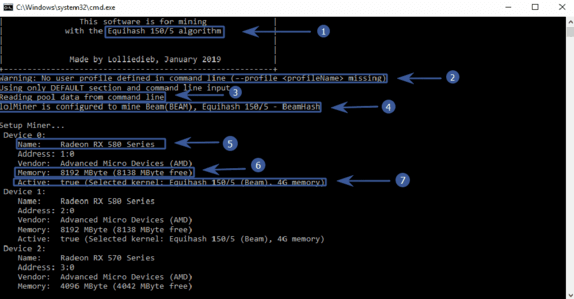 Equihash 150/5 algorithm — the algorithm that we selected when setting up the batch file
Warning: No user profile defined in command line (—profile (profileName & gt missing) – the program warns that we did not set the profile through the configuration. But we configured through the .bat file, therefore the profile settings (config file) can be ignored
Reading pool data from command line — the program prepares information about connecting to the pool, which we specified in the batch file
lolMiner is configured to mine Beam(BEAM), Equihash 150/5 — BeamHash — the miner realized that we want to mine a Beam coin!
Radeon RX 580 Series — Cards for mining cryptocurrency are determined. In our case, it is RX 580
Memory: 8192 MByte (8138 MByte free) — 8138 MB of video memory available
Active: true (Selected kernel: Equihash 150/5 (Beam), 4G memory) — the program chose the core for mining
We are waiting for some time until all devices are detected and we see the following: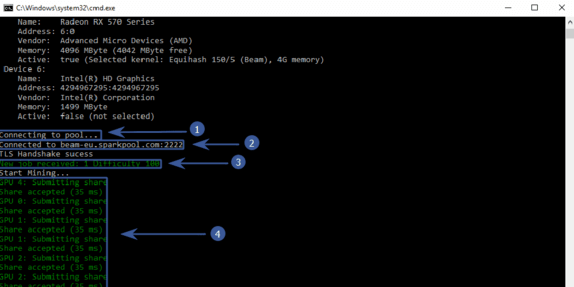 Connecting to pool… — connect to the pool
Connected to beam-eu.sparkpool.com:2222 — successfully connected
New job received: 1 Difficulty 100 — pool sent a job for video cards
GPU 4: Submitting to share Share accepted (35 ms) – the first ball is accepted (share of work). It must be understood that the miner receives the reward precisely for the sent balls.
Download ready-made .bat files for lolMiner right now:
Recommended Related Articles:
This post is also available in:

Русский