Atikmdag Patcher v1.4.7: Download AMD/ATI Pixel Clock Tool for Windows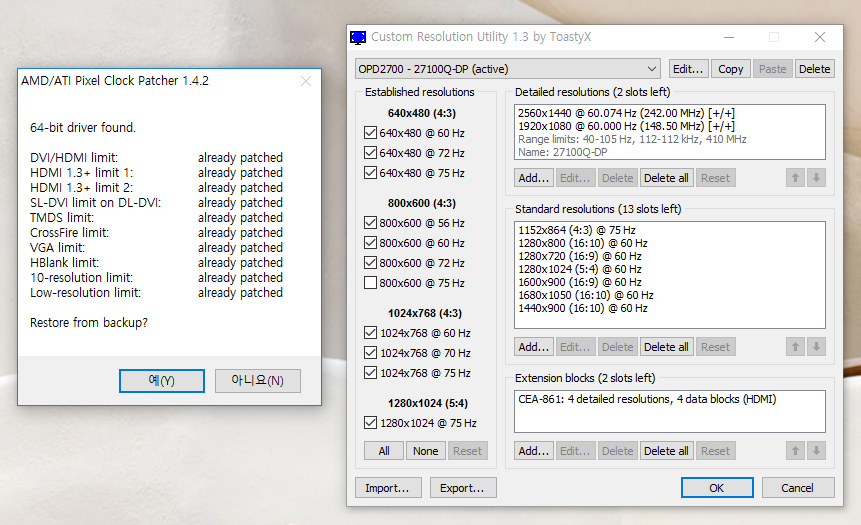 ---
ToastyX's AMD / ATI Pixel Clock Atikmdag Patcher has long been used to modify AMD / ATI video drivers to provide higher performance by removing the 165 MHz clock limit for single-channel DVI and HDMI, the 330 MHz limit for dual-channel DVI, and the 400 MHz limit for VGA Which is useful for everyone who is mining with ATI / AMD GPUs. this tool also has the ability to fix video drivers and remove BIOS signature verification. There are other solutions that allow you to override the BIOS signature verification, but using the AMD / ATI Pixel Clock Patcher tool is by far the easiest. The current latest version 1.4.7 is compatible with Catalyst 11.9 to Adrenalin 19.9.2, although it can be used with future versions. All you have to do after installing the AMD video driver is to download the tool and run "atikmdag-patcher.exe", then just reboot.
Download: https://www.monitortests.com/forum/Thread-AMD-ATI-Pixel-Clock-Patcher
Instruction:
Unzip the archive with the program and open the file atikmdag-patcher.exe.
The program will find all the restrictions, select "Yes" to fix and re-sign the driver.
Reboot
Then you can select a higher refresh rate using programs for fine-tuning video cards.
Changelog:
1.4.7: New SL-DVI / HDMI limit found.
1.4.6: New HDMI-DVI limit found.
1.4.5: Updated for 17.4.1. New DP-DVI / HDMI limit found.
1.4.4: BIOS signature verification found.
1.4.3: The fixed limit of HBlank for 16.12.1.
1.4.2: Found 56 horizontal blanking limits (HBlank).
1.4.1: Fixed a bug due to which the driver did not load correctly in earlier versions of Windows 10.
1.4.0: Updated for 16.9.1. Changed the way the driver is located and fixed. Replaced the limitation of 640 × 480 with the restriction of low resolution. Fixed VGA limit for 32-bit.
1.3.6: Found a limit of 10 permissions for Radeon settings.
1.3.5: Updated for 15.11 Crimson. A limit of 640 × 480 was found for the Radeon settings.
1.3.4: We tried to improve the DVI / HDMI limit for new drivers. Removed blue screen workaround for 14,6 / 14,7.
1.3.3: Updated for 15.3. Fixed limit DVI / HDMI for 32-bit.
1.3.2: Updated for 15.2. Fixed limit DVI / HDMI for 64-bit.
1.3.1: Find the HDMI 1.3+ limit at 297 MHz. Perform 3 times to correctly upgrade an existing installation.
1.3: removed the blue screen workaround for 14.9. Return to self-signing if the signature failed.
1.2.7. Trying to get around some antivirus false positives. Reprint is not needed. 1.2.6: fixed AMD APP encoding for 14.6.
1.2.5: Updated for 14.6. Fixed limitations of TMDS and VGA. Implemented a workaround for the blue SYSTEM_SERVICE_EXCEPTION screens.
1.2.4: Updated for 14.4. Fixed SL limit on DL-DVI.
1.2.3: Updated for 13.30 and subsequent releases of 14.x.
1.2.2: Found a new HDMI limit for 12,9+.
1.2.1: Found a VGA limit of 400 MHz.
1.2: Test mode is no longer required.
Be the first to know the news, read more about cryptocurrencies and mining on CRAZY-MINING.ORG. You enjoy reading articles like this and want to support me as an author, then subscribe to our Telegram channel https://t.me/cryptomineg
Recommended Related Articles:
ATI Tray Tools for Windows 10 is a popular utility that allows you to manage video cards from a well-known manufacturer. ATI Tray Tools has a wide range of additional working tools that help distribute the load of the device. It controls the work of drivers from the internal system, supports profiles, configures hidden functions. The program improves anisotropic filtering, stabilizes three-line elements, creates mini-labels, configures the latest plugins. It offers a user-friendly interface, flexible configuration of components, and is available in many languages.

MoreClockTool (MCT) we want to logically combine MorePowerTool (MPT) and Red BIOS Editor (RBE) and replace Wattman from AMD driver packages for easier overclocking. It also becomes clear that MCT can only be used for new AMD graphics cards. Even if at first glance our software seems quite manageable: all necessary features are still on board, but you can do without all the overhead if you really don't need them.

New final version 1.3.8. MorePowerTool offers, in addition to new features, of course, a thoroughly redesigned engine that greatly simplifies the use of the tool. Although the file size has slightly increased as a result, direct implementation of various libraries directly in the tool also offers many advantages, which in general far outweigh the increased space requirements. Thus, some files that could also cause version conflicts or even be missing from the user's system are now simply ignored. Later, we also added the Radeon RX6500 without bumping the version number again because of this (update 02/23/2022).