Prosper-Miner: How to Start Mining PegNet (PEG)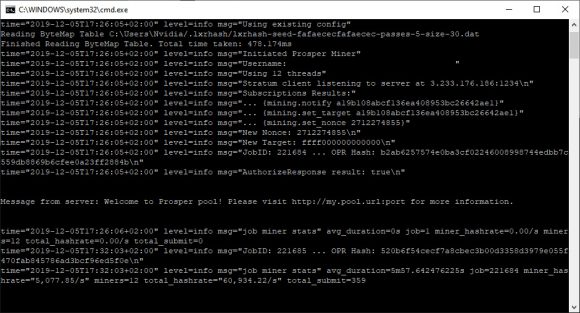 GitHub: DOWNLOAD PROSPER-MINER
We have already examined how to mine PEG in the ORAX pool, but this is not the only pool available for mining PegNet (PEG). Prosper Pool is another public PegNet mining pool where you can specify your free CPU resources to get a little PEG, it is smaller than ORAX, and you need to first request an invitation code for their Discord (http://chat.prosperpool.io/) to complete the registration.
Prosper Pool has a very simple text backend with some basic functions, and although all the important information is, unfortunately, some functions are missing, such as, for example, there is no way to change your billing address or set a minimum payment threshold. Another important thing to note with this pool is that payments occur once a week, so it's probably more suitable for people with less computing power.
How to run CPU Mining PegNet (PEG) in Prosper Pool
First you need to start by downloading the prosper-miner client pool for Windows (only for the 64-bit version), which we will use here, there are also versions for Darwin, FreeBSD and Linux.
After installing the miner, the first time you run the miner, you will complete the registration in the pool, and you will need to provide the invitation code that you need to request first, as well as the initial generation of a 1-gigabyte LXR hash card (hash function PegNet). The following is an example of the command line for the first run, the miner will ask for a password, just make sure that you run the prosper-miner executable from the command line console, do not try to run the executable directly by double-clicking it in Windows:
prosper-miner.exe -s controlpanel.prosperpool.io:1234 -u 
YOUR_EMAIL_ADDRESS -p -a YOUR_WALLET_ADDRSS_HERE -i  YOUR_INVITE_CODE_HERE -m MINER_ID
Next time, and if / when you start the miner (including on another system), you will no longer need to enter a password or invitation code, you will have to register in the pool, so you only need a username – email address, which you used to register:
prosper-miner.exe -s controlpanel.prosperpool.io:1234 -u
YOUR_EMAIL_ADDRESS -a YOUR_WALLET_ADDRSS_HERE -i -m MINER_ID
MINER_ID – is the place where you enter different identifiers for different mining installations, so that you know which one is active and which is not, although it is obvious that the functionality is still not fully functional in the backend.
YOUR_WALLET_ADDRSS_HERE – The easiest way to get a wallet address is to use one of the exchanges that support PEG trading – Citex, VineX or ViteX DEX, which should work if you only deal with mining and trading.
What is PegNet?
Recommended Related Articles: