TT-Miner 4.0.0: Download Nvidia GPU Miner With KAWPOW Support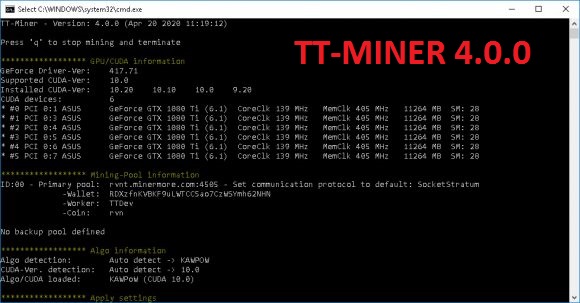 DOWNLOAD: TT-MINER v4.0.0
The latest TT-Miner 4.0.0 comes with additional support for the new algorithm that Ravencoin will use starting May 6 – KAWPOW, a variant of ProgPoW, as well as ProgPoW, which will be used in the Veil project for GPU mining, both are available for testing in testnet. The latest version of TT-Miner also supports Tecra (MTP), EtherCore (ERE) and Hanacoin (HANA), which is a more important release. And although it is not in beta now, as in the early beta versions we tried, we still have problems with the miner with the new Nvidia drivers, although there seems to be no problem with mining installations using old drivers, obviously, therefore, if you have a similar problem, downgrading drivers can help you launch the miner.
Please note that if you get a DLL error when trying to run the miner on Windows, you may need to download the latest version Microsoft Visual C ++ Redistributable для Visual Studio 2015, 2017 и 2019.
TT-Miner supports the algorithms ProgPOW, Ethash, UBQhash, MTP, Lyra2REv3, Epic, EagleSong and Kadena (Blake2S) on Nvidia GPUs and is available for Windows and Linux in the form of pre-compiled binary files, a miner with closed source code and development fee 1 % for all supported algorithms.
TT-Miner Version 4.0.0 is available for Download (Windows & Linux release)
Full list of available versions TT-Miner:
Recommended New Articles: