Best mobile wallets for Bitcoin and Altcoins for iOS and Android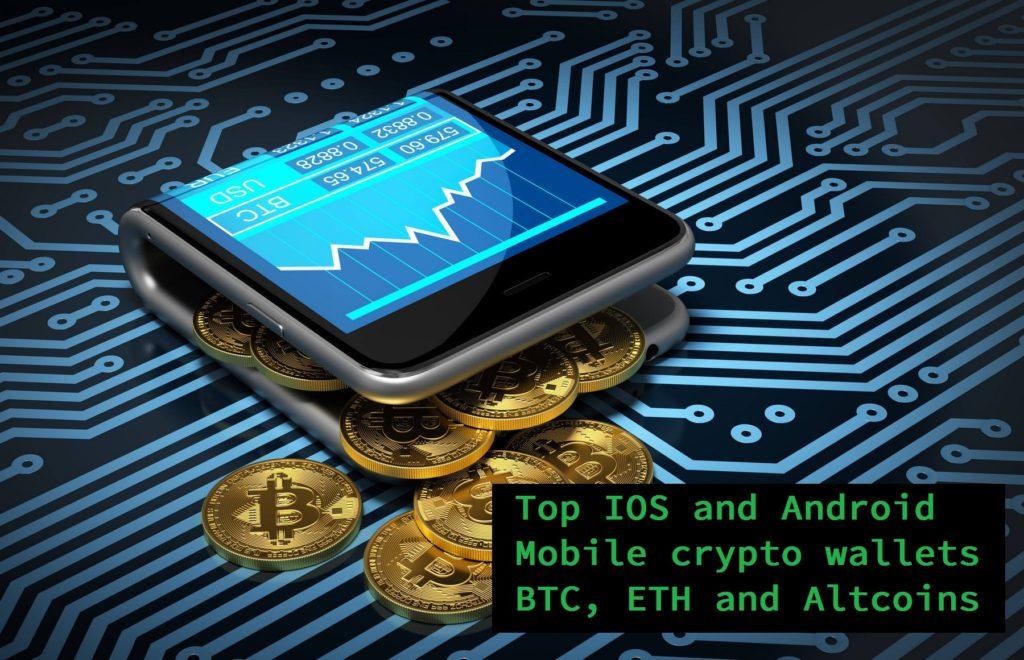 Top 8 best mobile wallets for storing Bitcoin (cryptocurrency): iOS, Android. In this article, we will tell you about the best mobile wallets (IOS, Android) for storing cryptocurrencies (Bitcoin). This article looked at options for just about every need a mobile wallet user might have, including multiple coin or BTC-only wallets, wallets that use convenience instead of security and vice versa, and provided the best options for different categories of users.
We hope this article has served as a good starting point and helped point you in the right direction by highlighting some of the features users value in a mobile wallet. Keep your wallets safe, download apps only from official sources, keep your private keys and seed phrases secret, back them up, and of course, happy storage!
---
Exodus – the best security solution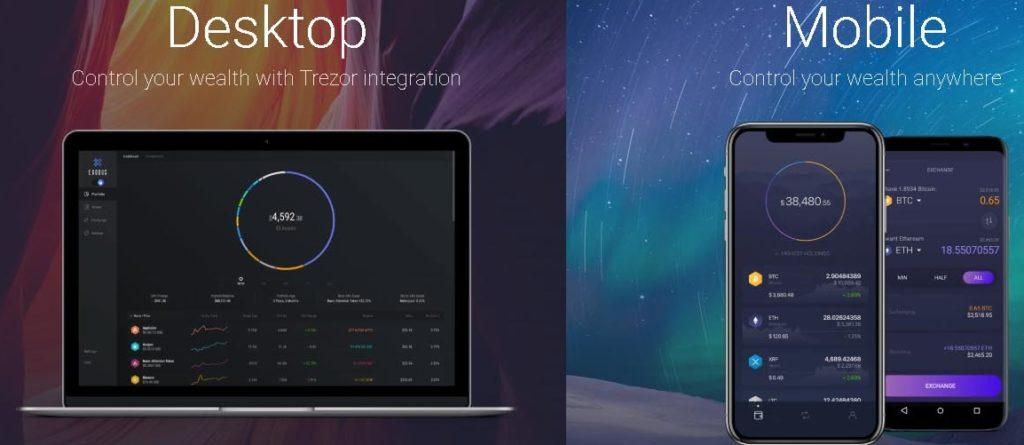 The number one choice fell on Exodus for a very simple reason, namely that it has first-class security features. The Exodus team really takes security seriously and respects the privacy of their users, which is why their product is one of the most popular and widely used wallets, and the company is highly respected in the cryptocurrency community.
It doesn't matter if the wallet looks amazing (which Exodus does) or has a billion useful features, gimmicks (which Exodus also has), if security is lacking.
Aside from the high level of security and multiple features, there is no more beautiful wallet in the crypto industry. The Exodus team has really taken functionality, design, and beauty to a new level, and their design team deserves huge, well-deserved praise.
Exodus wallet comes with a beginner-friendly user interface that makes it easy to keep track of your portfolio, and navigating and using the apps is easy. Exodus mobile encrypts your private keys and stores them locally on your device, which means that your data remains private and on your personal property.
You do not need to register KYC or set up an account to use the wallet. Exodus has a large selection of supported coins – over 145 assets, and comes with two different options that allow users to exchange withвои активы непосредственно в кошельке. Пользователи могут обменивать свои любимые активы в кошельке через сторонних провайдеров обмена API без необходимости KYC, и Exodus также сотрудничает с чрезвычайно популярным FTX.exchange, чтобы предоставить пользователям, имеющим учетную запись FTX, возможность обменивать активы непосредственно из Exodus, чтобы ваша криптовалюта никогда не покидала безопасность вашего кошелька.
The wallet also supports QR code scanning for cryptocurrency purchases and makes it easy to send and receive transactions. Exodus wallet users can also stack some of their assets directly in the wallet to earn rewards for passive income.
Another thing that makes this wallet top-notch is customer support. Anyone who has been in the crypto space long enough knows that this industry is not known for very good support, so crypto users often wait days, weeks, or even months for a response from support.
The Exodus team breaks this stereotype by providing customers with world-class 24/7 support, often with a response time of ten minutes or less. The people at Exodus are also very passionate about the crypto industry, spreading the word and supporting cryptocurrency adoption.
The reason Exodus is a great choice, aside from incredible customer support, beautiful design, and many features, convenient in-app exchange options, is that Exodus has taken security to the next level by creating a partnership and integration with the Trezor hardware wallet, making Exodus wallet suitable for even the most security-conscious people.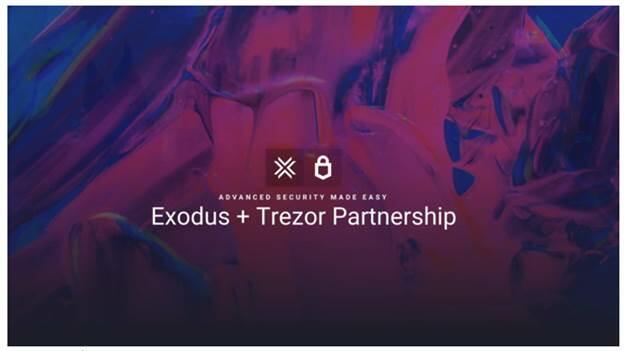 In addition, the Exodus wallet can also be secured with a face ID or fingerprint and a password. The only thing Exodus lacks is that the wallet does not support NFT storage as of this writing. The wallet also does not support a browser, which makes integration with many decentralized financial platforms impossible, making the wallet not the best choice for DeFi enthusiasts.
---
Coinomi is the best choice to support rare altcoins and NFTs.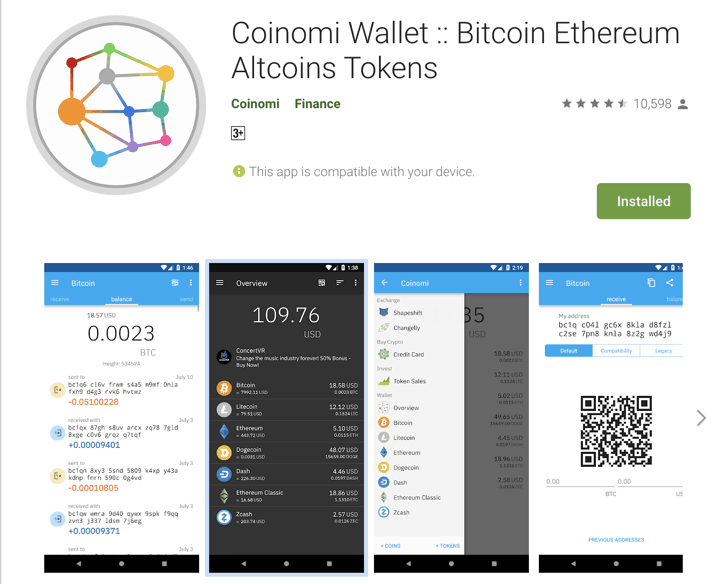 Coinomi is a fantastic wallet choice for rare gem hunters as it supports more 125 blockchains and 1770 assets, making Coinomi eligible to support more networks than any other mobile wallet. Coinomi was the first multi-coin wallet ever to go public, having been on the scene since 2014. In all this time, there have been no known hacks or wallet compromises. Thanks to such a good reputation, users can be sure that the wallet is safe. Coinomi also has one of the largest user bases trusted by millions of people around the world who enjoy using this wallet on both IOS and Android.
Coinomi does not require a KYC or account verification to get started, even so, the creators take privacy seriously with advanced privacy and anonymity features, and the app is designed with no IP address tethering, no identity tethering.
The wallet's private keys are encrypted and stored locally on the user's device, never disclosed or transferred between servers or networks. The Coinomi Wallet also has the convenience of a built-in exchange that allows users to exchange their favorite assets and also allows them to benefit from cold-stacking, which is a more secure way for users to generate passive income from their assets. The wallet has built-in support for the Web3 DApp browser, which allows users to interact with some of DeFi's best services without compromising security.
For digital collectibles enthusiasts, Coinomi supports ERC721 tokens, so users can store and manage their Ethereum and NFT-based collectibles. This wallet is also ideal for any cryptocurrency users who own blockchain domains, and unlike many wallets that do not offer customer support, they have 24/7 chat support.
Coinomi has an incredibly easy-to-use interface and is perfect for DeFi and wallet users who want a great all-in-one wallet with all the trimmings. Coinomi also simplifies tax reporting and accounting as users can export their cryptocurrency transaction history. The wallet supports QR code scanning to facilitate cryptocurrency transactions as well as in-store purchases.
---
Atomic wallet – the best for steaking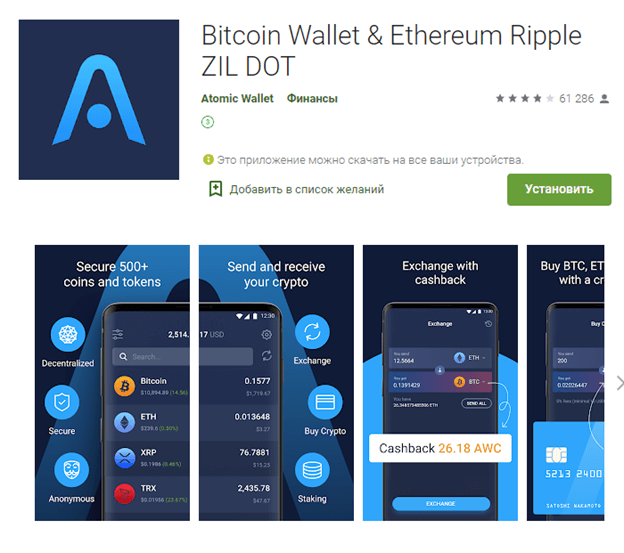 Wallet Atomic is a beautifully designed and easy to use wallet available for iPhone and Android. This wallet is fantastic, intuitive and easy to use, packed with great features and offering the best possible support for staking assets. While most of the wallets on this list offer staking for several different cryptocurrencies, the Atomic Wallet currently supports staking for 12 different assets and more will be added soon.
Atomic Wallet also supports buying cryptocurrency directly with a bank card in the wallet, but sending funds back to your bank (withdrawal) is not yet supported. The Atomic wallet supports over 300 cryptocurrencies and users can download and use the wallet without the need for KYC, creating account and verification process. The Atomic Wallet is 100% open source so users can verify the code and the user's private keys are encrypted and stored on their device for security purposes.
Atomic Wallet is also great for adding custom tokens and participating in airdrops, and features a QR code scanner for making purchases on the go. Users can exchange cryptocurrency in the wallet through integration with Changelly and ChangeNow, and provides one feature that sets Atomic Wallet apart in terms of the decentralized exchange feature in the app that uses so-called "atomic swaps."
An atomic swap is a crypto-enabled smart contract that allows two parties to exchange different cryptocurrencies or tokens without the risk of one party defaulting on the transaction. The great thing about this is that trading between the two parties can take place without reliance on a third party. Many of the assets backed by the Atomic wallet are available for Atomic swaps, which can be done with very low fees, which is great because traditional exchange fees can really add up to large amounts.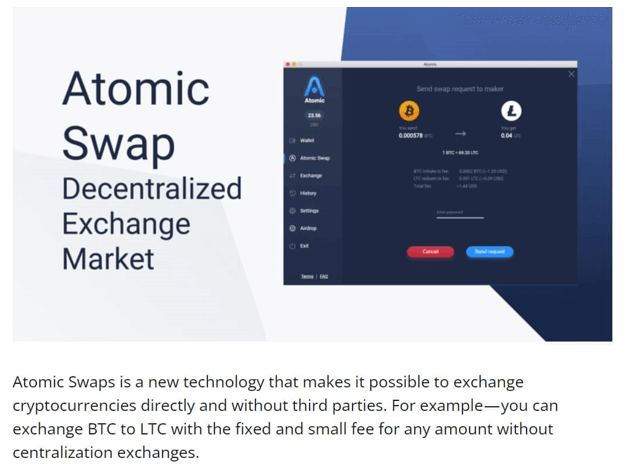 You can read more about atomic swaps and how they work here . Even more amazing than the Atomic Swap feature and comprehensive staking options is that users can even earn 1% cashback on over 60 different currency pairs when performing swaps. The Atomic Wallet is also one of the few wallets that provides 24/7 support and is used by over a million users worldwide.
---
Trust Wallet – the best for Binance Smart Chain users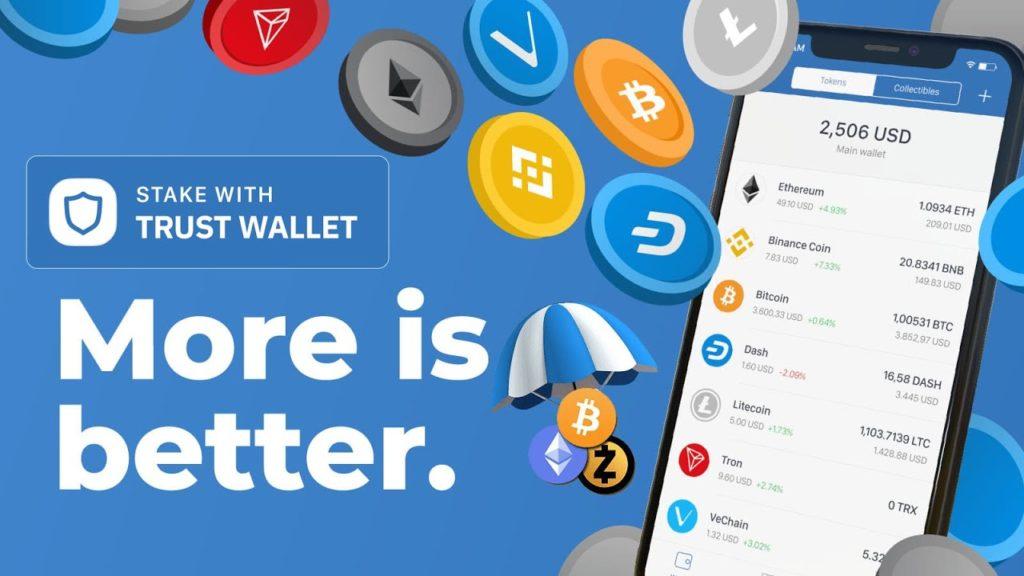 Next we have Trust Wallet. The Trust Wallet was bought by Binance in 2018, making it their official wallet in response to Coinbase creating its own wallet. Backed by one of the largest cryptographic companies, Trust Wallet has gained massive adoption and is confidently used by more than ten million users worldwide. Cryptocurrency users can trust a wallet much more when they know it is backed by a powerful company like Binance.
Trust Wallet is a secure wallet with private keys stored locally and encrypted on the device, never broadcast to any networks, which means that private keys are kept away from potential prying eyes. The wallet can additionally be protected with a pin code and biometrics. Trust Wallet can be used completely independent of Binance, and more than ten million users use this elegant and easy-to-use interface on both Android and iOS.
Trust Wallet supports over 1 million assets…. Yes, you read that right, 1 million assets and 53 different blockchains, so it will be hard for you find a coin that is not supported here. Trust Wallet features a fully featured Web3 DApp browser built into the app, unlocking the utility of DeFi as the wallet can be used to interact with decentralized applications like Uniswap, Aave, Compound Finance, PancakeSwap, i.e. pretty much any DApp that exists on the Ethereum or Binance Smart networks Chain. Trust Wallet also has excellent support for NFTs and digital collectibles supporting ERC721 and ERC1155 tokens.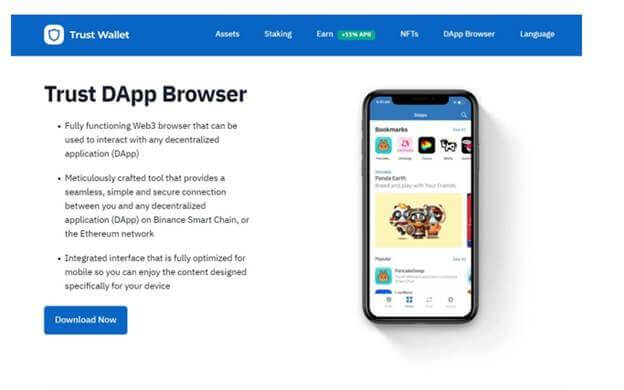 Trust Wallet – the best for Binance Smart Chain users
Trust Wallet is fully open source and users can benefit from staking 11 assets directly in application. Users can purchase cryptocurrencies directly in the wallet and there is a built-in crypto exchange in addition to being able to access the DEX where users can instantly and seamlessly exchange coins and tokens without KYC or identification verification required.
Trust Wallet is also equipped with a QR code scanner, which makes the wallet a good choice for users who want to use their cryptocurrency on the go and make sending and receiving transactions easier. Trust Wallet provides extensive support and a knowledge base FAQ section, users can also send a support request if they need help, but there are numerous complaints online about long support response times.
---
Coinbase is the best for DeFi users and Tier 2 scaling solutions.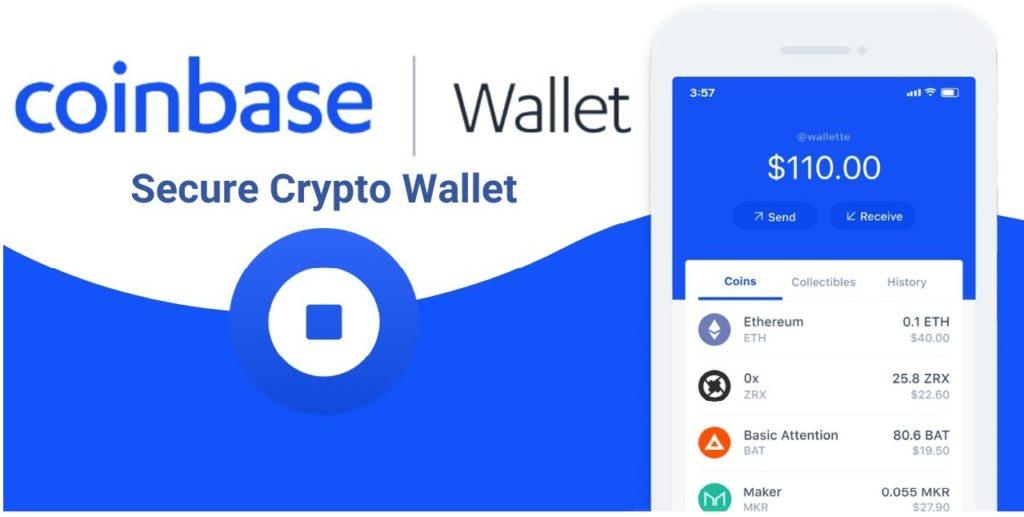 Next on the list is the classic Coinbase wallet.. This wallet is very popular with both new and experienced cryptocurrency users as Coinbase is a well-established and trusted brand. Cryptocurrency users feel confident using a wallet offered and supported by a company with an impeccable reputation and an authoritative history, such as Coinbase.
This level of trust and confidence in this wallet is justified because it is a fantastic wallet that gives users everything you want and expect from a wallet offered by one of the world's leading exchanges. It is important to note that Coinbase Wallet and Coinbase Exchange are two separate applications and platforms. While Coinbase itself is a centralized exchange platform, Coinbase Wallet is not a custodial wallet like the other wallets mentioned in this list, and is available for both iOS and Android.
Coinbase Wallet supports Layer 2 scaling solutions for Ethereum, including the Polygon network and Optimism. This is important for users who like to use DeFi platforms such as Aave, Compound Finance, Uniswap, or who want to create NFT on platforms such as Opensea as Coinbase wallet users can bypass many of the high Ethereum gas fees and lengthy confirmation times by using these second-tier solutions built into the wallet.
It's a little surprising that Coinbase, a centralized exchange, has provided a wallet that gives users incredibly convenient and easy access to decentralized exchanges (DEX) and DeFi protocol applications through their wallet, but we think it just goes to show that centralized and decentralized platforms can exist in harmony, and it's nice to see that users can benefit from both systems in one place. Coinbase wallet users can also link the wallet to their Coinbase exchange account for easy storage and transfer of cryptocurrency between the two.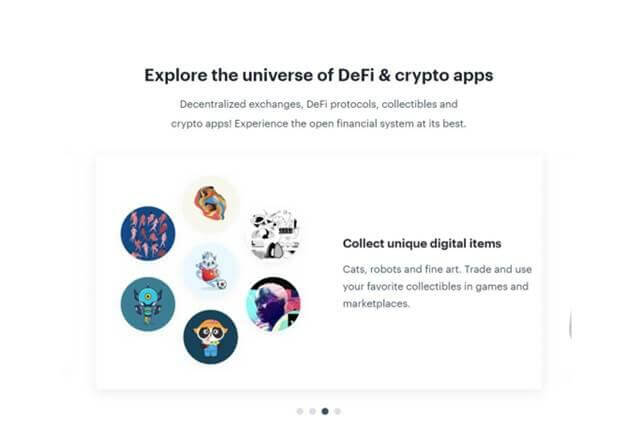 cccCoinbase is the best for DeFi users and Tier 2 scaling solutions.
The Coinbase Wallet is also one of the best wallets available for users who want to be able to participate in airdrop and ICOs. The wallet supports the storage of digital art, gaming NFTs and other collectibles, which makes it even more attractive because it covers all DeFi Bases. Coinbase Wallet is useful for making local cryptocurrency payments and supports over 500 assets. The wallet's private keys are encrypted and stored locally on the user's device, and the app can also be secured with biometrics and an access code.
The only thing that Coinbase wallet lacks, in our opinion, is the absence of a built-in exchange function. We assume that the creators thought that giving users the ability to link the wallet to their Coinbase exchange account and providing easy access to decentralized exchanges through Dapps was enough to meet any exchange needs.
---
Mycelium is a simple and convenient bitcoin wallet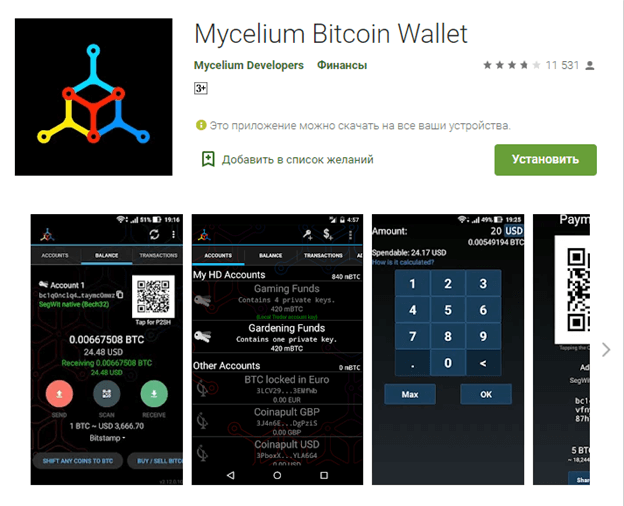 Bitcoin maximalists should check out the premium bitcoin wallet Mycelium. Although it is difficult to understand why they chose the name Mycelium, as well as what mushrooms have to do with Bitcoin. Mycelium is a wallet that is packed full of features, making it perfect for the simple or the most advanced BTC user. Mycelium comes with the ability to set custom transaction fees, has hardware wallet support which is a huge benefit for added security, and is open source so you know you can trust the code.
While Mycelium has only supported Bitcoin for years, they recently added support for Ethereum and some major ERC20 tokens, so no obscure altcoins here. Mycelium comes with a very easy to use and basic built-in exchange, but no DApp support.
The idea for one of the first and best bitcoin wallets was started by a team of hardware engineers in 2008, and the company was officially established in 2012, making Mycelium one of the first bitcoin wallets.
Mycelium has a very positive track record and a long history of users who have never reported the wallet's security being hacked or compromised. Knowing that the wallet has withstood such a test of time should give any user looking for a secure software wallet confidence in the product.
While the wallet does not have the nicest interface, nor is it the most intuitive or user-friendly, Mycelium does put functionality over design with support for multiple account types such as Hierarchical Determined (HD), Single Address Accounts, View-only Accounts, Bit Identification Accounts and Hardware Wallet Accounts, as well as providing secure escrow transactions and creating crypto-assets.
Mycelium added the FIO protocol to work between wallets in 2018 and supports the BIP-70 protocol. The really interesting feature of Mycelium is that it offers offline cold storage with a wallet available for both Android and iOS. The wallet also supports QR code for peer-to-peer transactions. Mycelium allows users to buy cryptocurrency directly in the wallet with a credit card or bank account.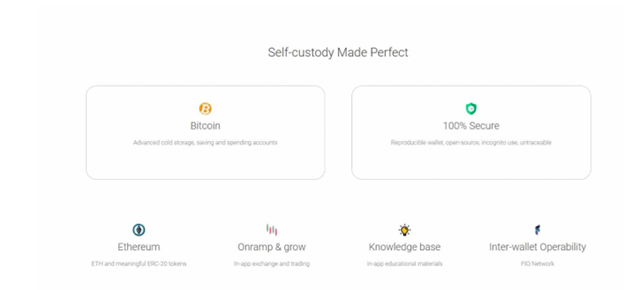 This is a resource about cryptocurrency, mining and blockchains technologes
One unique and interesting feature is the Mycelium marketplace, where users can find other Mycelium users in their area who want to buy or sell BTC for peer-to-peer transactions, allowing users to chat through the app, meet up and seamlessly make bitcoin transactions from one wallet to another.
Mycelium has the ability to route transactions through the Tor network, masking users' IP addresses for maximum privacy, and the security features are great with multiple levels of contact protection, pattern hijacking protection and a variable keyboard layout.
Mycelium supports multiple fiat currencies, making cryptocurrency purchases widely available and giving users the ability to export transaction history, simplifying taxes and accounting. Mycelium offers customer support on Reddit, where users can ask questions.
---
Electrum – the best choice for advanced Bitcoin users
Electrum — another OG in the bitcoin wallet space, in existence since 2011. Having established itself as one of the first and most respected bitcoin wallets, Electrum is open source, which is often seen as a vote of confidence for cryptocurrency users, as anyone can check the software code and make sure it meets standards and contains no questionable hidden agendas or outright errors.
Although the user interface seems a bit dated, and the GUI hasn't changed much since the wallet was introduced more than a decade ago, the layout is quite simple, and the wallet performs incredibly well all the functions it was designed and intended for.
While the layout may not be considered the most user-friendly or intuitive for novice crypto-investors, Electrum is considered one of the leading wallets due to its stability and reliability, making it the preferred choice for experienced Bitcoin users.
Electrum is not ideal for new users, as there are no special guides, knowledge base articles, or FAQs to help newcomers get accustomed to using the wallet.
Electrum also has no customer support, but there is an active community on Reddit where Electrum users are happy to help, just make sure you do not give out private keys or seed phrases to recover, as anyone asking for this information will most likely try to steal your BTC coins. Electrum also does not offer an exchange function as it only specializes in the king of cryptocurrencies, the almighty Bitcoin.
Electrum runs on decentralized, redundant servers that can be managed by anyone, ensuring that wallets are never idle. In terms of security, private keys are encrypted and stored securely on the user's device, and the dextop version is compatible with hardware wallets.
The wallet can be additionally protected by passwords, PIN protection and two-factor authentication. All transactions through Electrum wallets are verified by SPV and users can set custom transaction fees and choose between SegWit and legacy bitcoin addresses.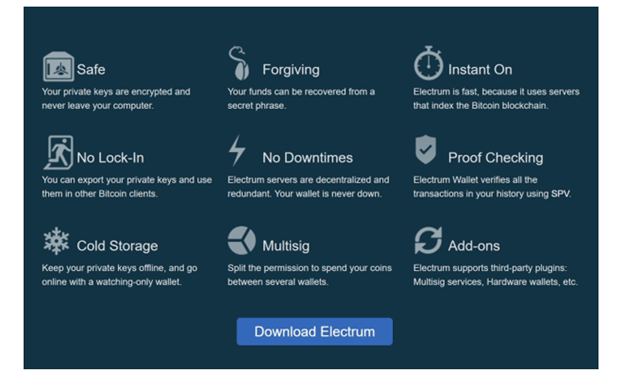 The Transactions tab will allow users to choose to use one or more addresses, spend only validated coins, enable output value rounding and support substitution for commissions and child payments for parent transactions. Electrum gives users access to private key exports and offers a great feature called "pay to many," where users can send cryptocurrency to more than one address per transaction, saving on transaction fees, making batch transactions easy and cheap. Users can create standard wallets with two-factor authentication or multi-signature wallets, with the unique ability to customize source phrases by selecting words from Electrum's source phrase dictionary.
---
Samourai – the best bitcoin wallet for privacy and anonymity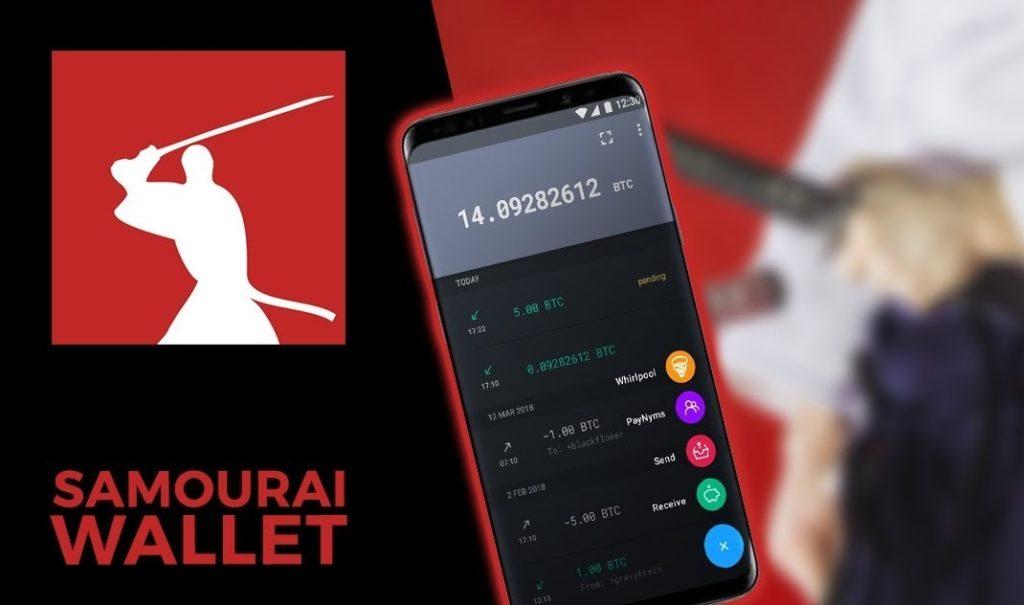 The last wallet on the list certainly fits the phrase "last but not least" because it is a very cool wallet with the most advanced and incredible features. Once you learned about this wallet and its features, you were amazed, and the only reason the Samourai wallet is mentioned last on the list is because they misspelled the word Samurai. It's a schtick, we have no idea why they chose to spell it that way, but this wallet is the last mention on the list because it's not ideal for the average cryptocurrency user.
Samourai Wallet is best suited for a certain set of crypto users, as it only supports Bitcoin and is suitable for more advanced users. The developers of the wallet set themselves the goal of creating the most private and anonymous bitcoin wallet, and they definitely succeeded. This wallet is known by leading security experts for its robust privacy features such as TOR and VPN support, no address reuse, AES-256 encryption, offline transaction support and much more.
Samourai Wallet was created to ensure transaction privacy, mask the user's identity and protect their Bitcoin. The wallet developers also created additional dextop wallets in addition to the Samourai mobile wallet, creating a complete privacy-focused ecosystem. This Fort Knox-like security ecosystem includes DOJO, a proprietary full-node server that syncs with Samourai's wallet for uptime and wallet decentralization, and Whirlpool, a feature in the wallet that allows users to break the link between wallet balances via links to their previous transaction history.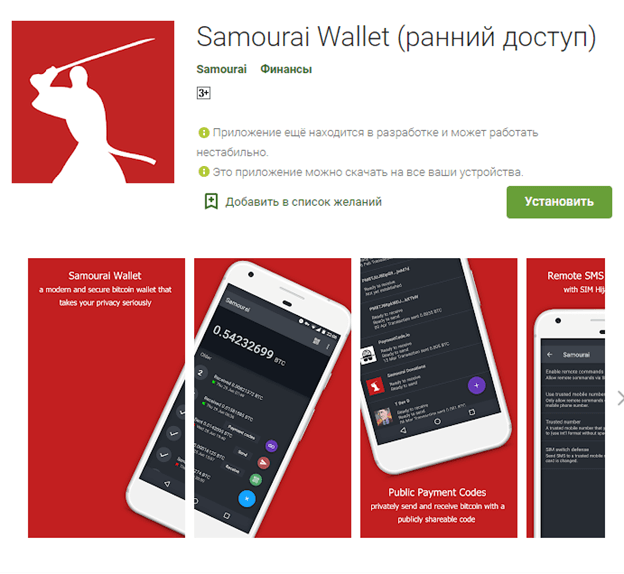 Samourai Mobile Wallet is only available for Android and is unlikely to be released for iOS due to Apple's nature of limiting some of the wallet's features. Samourai Wallet uses alternating addresses to prevent transaction tracking and increase security. The wallet uses Stonewall technology, which hides metadata that can be used by third parties to identify associated wallet addresses.
Samourai Mobile Wallet is only available for Android and is unlikely to be released for iOS due to Apple's nature of limiting some of the wallet's features. Samourai Wallet uses alternating addresses to prevent transaction tracking and increase security. The wallet uses Stonewall technology, which hides metadata that can be used by third parties to identify associated wallet addresses.
During setup, the wallet prompts users to create a PayNym ID, which is a special alias that allows users to have an attainable identity that they can share online and cannot be traced back to a BTC address. This is an incredible and powerful feature that prevents first-touch attacks when your wallet can be identified and selected for tracking.
The Samourai Dojo download offers a complete node startup tool, giving users direct access to BTC transactions. Dojo is a simple full node server that seamlessly and privately manages Samourai Wallet for individual users, further enhancing privacy and helping to support a more secure network of users. The wallet can also be used offline for additional security or in combination with hardware wallets, greatly increasing the security of this wallet.
Samourai Wallet supports additional security features such as the ability to mask the app on the mobile device screen, and the PIN entry screen is encrypted so users don't try to guess the PIN by watching the user's finger movements on the PIN screen. The Samourai team has even integrated a very interesting and unique remote SMS command feature that allows the user to disable the wallet – a "self-destruct" option available in case the phone is lost or stolen.
As with every wallet on this list, the wallet can be fully recovered using a secret seed recovery phrase unique to that wallet, which the user must write down and store in a safe place. Samourai wallet is open source and supports dynamic transfer fees and SegWit supported addresses, which reduces transaction costs and speeds up transactions.
The wallet can also use the BIP 47 protocol feature, which provides privacy with publicly available payment addresses. This works by creating a payment channel between the two wallets by scanning a publicly available payment code, which creates a special transaction in the blockchain that allows users to send bitcoins to the other wallet anonymously.
The Samourai wallet also supports Ricochet transactions, which improve privacy by misleading anyone trying to spy on blockchain transactions. The wallet is encrypted with military-grade encryption using AES-256 advanced encryption, protecting the wallet from malware and server attacks, while the private keys are fully encrypted and stored on the user's device.
If we haven't covered the security of this wallet enough yet, Samourai also has another trick up its sleeve, providing a very unique and rather brilliant feature called "stealth mode" that hides the shortcut icon and any traces of the app on the mobile device, and the only way to recover it is to type the pin code on the phone keypad.
This is the next generation security for mobile wallets, and we congratulate the Samourai team for implementing all these mind-blowing features, separating themselves from the competition with so much innovation.