Electrum XVG v2.5.0: fixed network Verge connection error (Windows & Linux)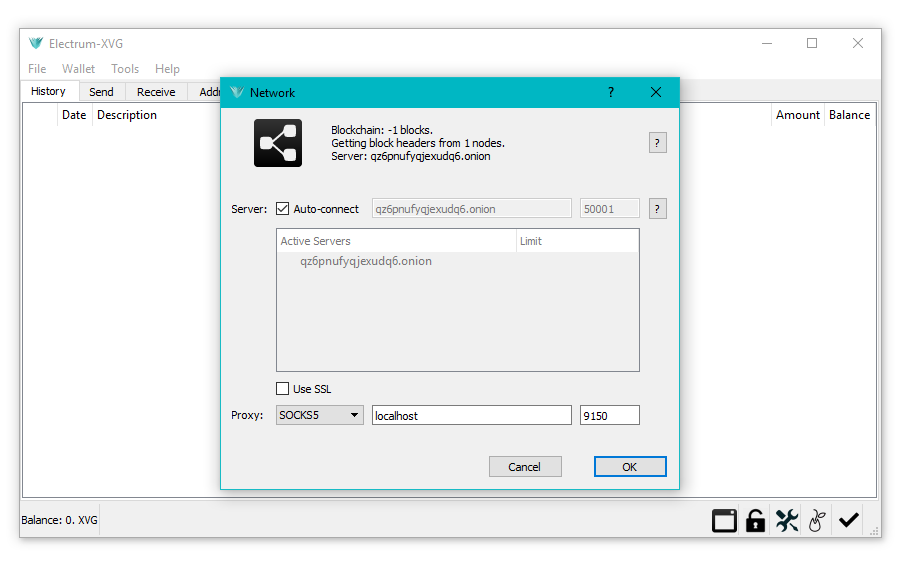 ---
Electrum XVG v2.5.0 provides payment security based on the VERGE (XVG) blockchain for ordinary users using easy-to-use software adapted to real needs and applications without requiring downloading the Verge blockchain. The new version of Electrum XVG v2.5.0 fixes a connection error to the Verge network.
GitHub: https://github.com/vergecurrency/electrum-xvg
We strive to make blockchain payments easy and convenient, therefore we released an update for Electrum XVG.

VERGE Developers
Changes v2.5.0:
Fixed error "no connecting network"

VERGE Benefits
EVERYDAY USE: Electrum XVG (Verge) provides an easy-to-use platform that allows ordinary users to quickly and efficiently carry out transactions on a blockchain-based network without downloading the entire blockchain.
COMMUNITY DRIVEN: Verge is an open source project with an active development team from around the world. The development team is always in close contact with the community. Verge is not a private company funded through an ICO or pre-screening.
MASS ADOPTION: Low commissions, fast transactions, high volume of circulation and multi-platform support – these are the components that make Verge ideal for mass deployment.
SECURITY : Our network provides world-class features so that our users can send and receive payments quickly, safely and reliably.
Resources
Community
Changelog Electrum XVG:
v2.5.0
Fixed error "no connecting network"
v2.4.1
New Electrum Server added
Fixed wallet crashing during new wallet creation
v2.3.0
majorly overhauls the way we handle TorV3 addresses (partially implements BIP0155)

Fix torV3 transmission network
Fix TorV3 prefix for netaddresses
Add seed peer with proper V3 tor support
Add full IP specifications to remove the risk of collisions
Add rest of the IP fields to GetHash functions
Update IP access vectors
Rebase AddrManager to bitcoin's one (0655c7a94cc9bf54d43eceed805e83f1b59e2409)
Add more checks for the invalidation of old tor addresses
Add new chainparam seeds
Fix desirable flags for verge
Remove useless debug logs

Re-Adding One-Shot of seeds again to not overwhelm there capabilities
raises MIN_PEER_PROTO_VERSION to 90008
change void(void) parameters to void()

makes more readable
remove cs_main lock on block description/header to JSON

Updated compatibility list in SECURTIY.md
Clean up more logging
Be the first to know the news, read more about cryptocurrencies and mining on CRAZY-MINING.ORG. You enjoy reading articles like this and want to support me as an author, then subscribe to our Telegram channel https://t.me/cryptomineg
Recommended New Articles:
Top 8 best mobile wallets for storing Bitcoin (cryptocurrency): iOS, Android. In this article, we will tell you about the best mobile wallets (IOS, Android) for storing cryptocurrencies (Bitcoin). This article looked at options for just about every need a mobile wallet user might have, including multiple coin or BTC-only wallets, wallets that use convenience instead of security and vice versa, and provided the best options for different categories of users.

Vertcoin is a fork of bitcoin designed to counter the monopolization of mining. According to the company's website, "Vertcoin is a decentralized currency owned by its users," the cryptocurrency Vertcoin is a fork of bitcoin designed to counter the monopolization of mining.

Raptoreum crypto project (RTM) has been in development for quite some time and just recently officially launched its mainnet. The goal of Raptoreum is to create a fast and secure cryptocurrency that anyone can easily use, but even more important is to create an easy-to-use asset platform that allows anyone to tokenize anything (tokens that are not fungible) in just a few clicks. RTM supports POW mining using a custom algorithm called Ghostrider, currently only on processors as well as smartnodes. The Ghostrider algorithm is a combination of algorithms from the X16R and CryptoNight families, cycling in random and not-so-random patterns used to achieve consensus on the coin generation and transaction chain. Although the Ghostride algorithm currently runs only on CPUs, a transition to GPU mining is very likely in the not-too-distant future.
This post is also available in:

Русский