Dual Mining ETC, ETHW, ETHF, ZIL for maximum profit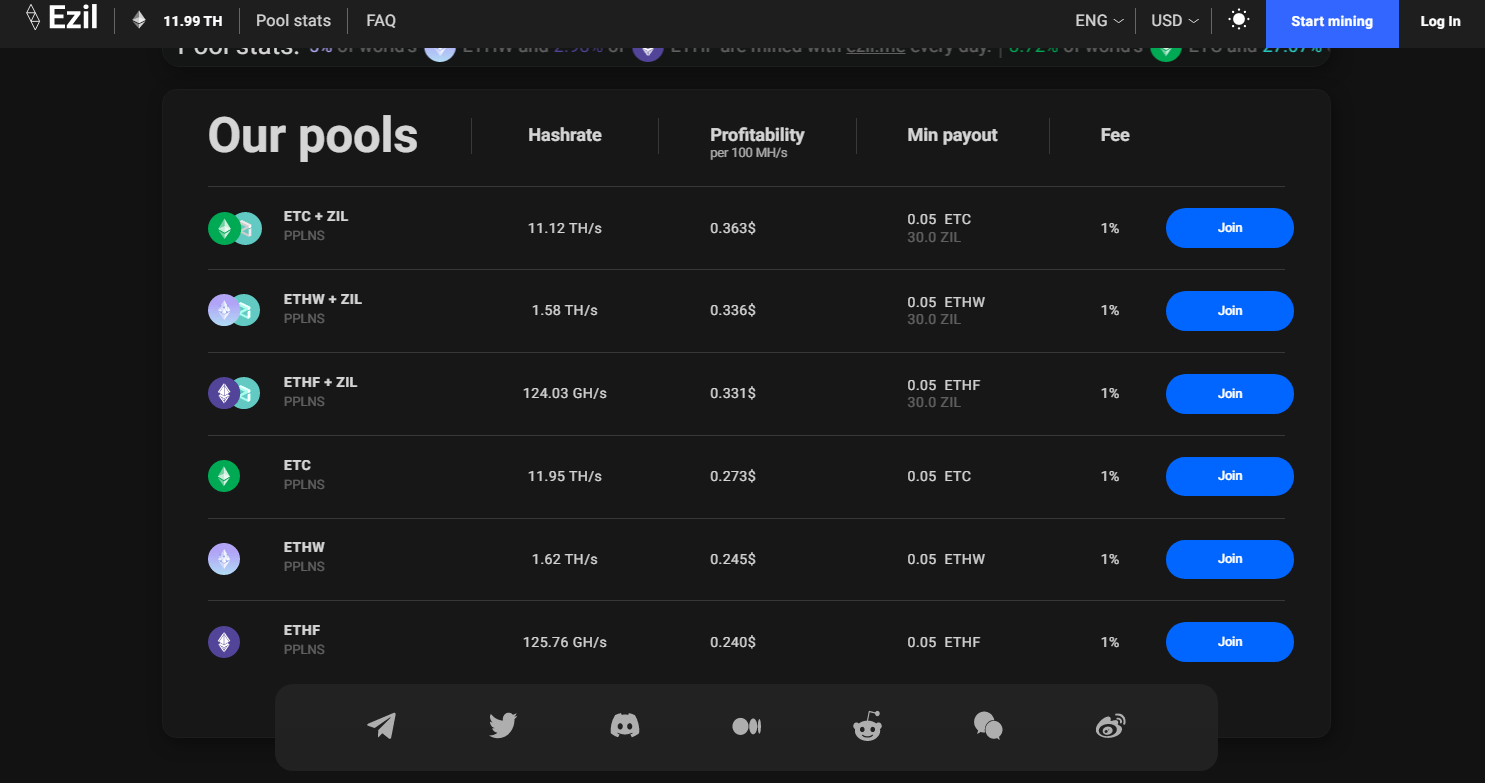 You now have more opportunities to increase your mining profits by dual mining not only Ethereum Classic (ETC) and Zilliqa (ZIL) in the Ezil.me mining pool, thanks to the addition of EthereumPoW (ETHW) and EthereumFair (ETHF) pools that allow mining together with ZIL. EthereumPoW (ETHW) and EthereumFair (ETHF) are forks of Ethereum (ETH) that separated after the merger and continued to exist as Proof of Work blockchains. Thus, unlike Ethereum (ETH), which is now Proof of Stake (PoS), you can only mine them using GPUs or ASICs to mine Ethash.
These two newcomers are much smaller in terms of networks, with ETHW being larger and more talked about compared to pre-fork ETH, but they do provide some opportunities for miners. The profits from mining them solo are currently not much different from what you get from mining Ethereum Classic (ETC), but if you combine any of them with ZIL for dual mining, you can earn an additional 30-40% more. than just mining any of the coins alone, as you might do with ETC after a fork. The pool has a 1% default fee for miners, if you use the promo code 509cd. you will receive an additional 0.10% cashback for two weeks, substantially reducing the initial pool mining fee from 1 % to 0.9% for a while. So, why not give them a try and try to earn a little more with your mining hardware.
On the other hand, due to the higher profitability of dual mining and more people seeming to notice this option, it also seems that the profitability of Etchash on NiceHash has also increased recently compared to mining ETC alone. However, please note that fluctuations in profitability on NiceHash can lead to large and sudden fluctuations compared to dual mining with ZIL, which seems to provide a more stable and predictable profit calculation.
Since we were dual mining ETC and ZIL after the merger on the Ethereum network, we saw a slight dip in ETC hashrate after the initial peak, but the USD/EUR price of Ethereum Classic also declined slightly. So, in general, while you can currently mine a few more ETC coins, their total fiat supply may be slightly lower than at the beginning of this month. This is if you immediately mine and sell for fiat.
– To start dual mining ETC, ETHW or ETHF and ZIL in Ezil.me mining pool…
Read more articles about cryptocurrencies and mining at CRAZY-MINING.ORG

Do you like to read similar articles about cryptocurrencies and mining, do you want to support me as an author or ask questions? Be the first to know the news, subscribe to my telegram channel CRYPTO WIKIES