GMiner 2.04 – With Support KAWPOW Algorithm (AMD/Nvidia GPU miner)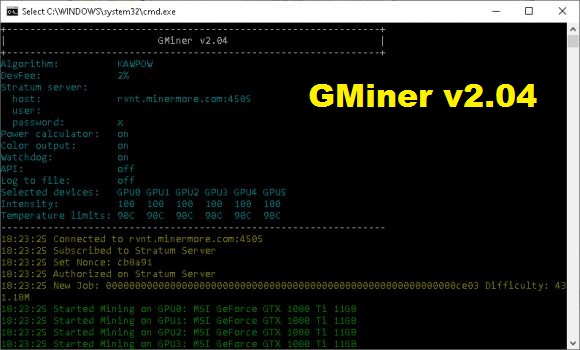 GitHub: DOWNLOAD GMiner v2.04
It did not take much time, and now the newest GPU miner GMiner 2.04 has added support for the new KAWPOW mining algorithm, which RavenCoin (RVN) could / could / should / should have woken up around April. The KAWPOW algorithm is derived from ProgPOW with parameters specific to RavenCoin, so another miner with ProgPoW support will not work unless specific RVN support is added, as is the case with GMiner, which already has ProgPoW support, but needs to be updated for KAWPOW support. Please note that KAWPOW support is currently only available for Nvidia GPUs, and this also applies to ProgPoW. You can already test KAWPOW support on the RavenCoin test network to prepare your miner, but there the token of the RVNt testnet miner does not matter.
V2.04
added KAWPOW(Ravencoin) algorithm
added "–trim" parameter to contol additional trim round count for cuckoo24(qitmeer) algorithm, this options will help reduce cpu load
Full version list GMiner: GMiner Realase
Step by step setup GMiner: Configure GMiner
How to disable commission (DevFee) in the miner: [NoDevFee] How to disable DevFee (commission) in the miner
In addition to adding a new algorithm, the latest version of GMiner solves the problem that we noted in connection with high CPU utilization in Qitmeer support (PMEER). A new "–trim" parameter has been introduced to control an additional trim cycle counter for the Cuckoo24 (Qitmeer) algorithm, which should help reduce CPU load, so you can try and see if it helps if you have any settings for GPU mining. with lower processors that have a high processor load.
GMiner miner software was originally only an Nvidia GPU miner, although some algorithms are already supported on AMD GPUs. Please note that GMiner is a closed source miner for Nvidia and AMD GPUs with binary files available for both Windows and Linux, with the firmware paying developers 2%.
Specifications:
Watchdog timer (automatic restart of the miner when the GPU crashes, the connection to the pool is lost, the miner fails);
Fault tolerant pools (automatic connection to a failover pool when primary pool unavailable, unlimited support fault tolerant pools);
Energy Efficiency Calculator (Show power consumption for each GPU, Sol / W);
SSL level connection (optional);
API / Telemerty.
Supported Algorithms:
Cuckaroo29 (Grin) (Nvidia/Amd);
Cuckatoo31 (Grin) (Nvidia only);
Cuckoo29 (Aeternity) (Nvidia/Amd);
Cuckaroo29s (Swap) (Nvidia/Amd);
Equihash 96,5 (MinexCoin) (Nvidia only);
Equihash+Scrypt (Vollar) (Nvidia only);
Equihash 125,4 (ZelCash) (Nvidia only);
Equihash 144,5 (Bitcoin Gold, BitcoinZ, SnowGem, ZelCash) (Nvidia/Amd)
Beam Hash (BEAM) (Nvidia/Amd);
Equihash 192,7 (Zero, Genesis) (Nvidia/Amd);
Equihash 210,9 (Aion) (Nvidia only).
Requirements:
CUDA compute compability 5.0+
Cuckaroo29 ~ 3.8GB VRAM
Cuckatoo31 ~ 7.4GB VRAM
Cuckoo29 ~ 3.8GB VRAM
Equihash 96,5 ~0.75GB VRAM
Equihash 144,5 ~1.75GB VRAM
Beam Hash ~2.9GB VRAM
Equihash 192,7 ~2.75GB VRAM
Equihash 210,9 ~1GB VRAM
CUDA 9.0+
Recommendations
To achieve the maximum performance of the GMiner miner, we recommend that you pay attention to the following utilities and software:
This post is also available in:

Русский