GMiner 2.06: Download miner with improved stability on Qitmeer (PMEER)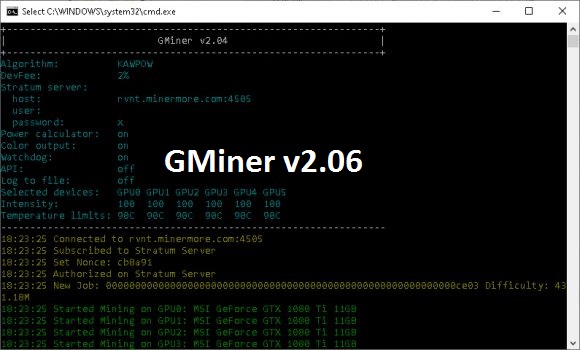 GitHub: DOWNLOAD GMiner v2.06
GMiner 2.06 — It is a high-performance miner for AMD / Nvidia GPUs. Closed miner.
Mining coins: BEAM, VDS, BTG, YCASH, AE, SWAP, GRIN, PMEER, Raven and many others
DevFee: The miner's developer commission is 2%.
Supported OS: Windows, Linux.
Bit: 32 bit, 64 bit, x32, x64.
v2.06
improved miner stability on qitmeer
GMiner
Features:
Watchdog timer (automatic restart of the miner when the GPU crashes, the connection to the pool is lost, the miner fails);
Failover pools (automatic connection to a failover pool when the main pool is unavailable, support for an unlimited number of failover pools);
Energy Efficiency Calculator (Show power consumption for each GPU, Sol / W);
SSL level connection (optional);
API / Telemerty.
Supported algoritms:
Cuckaroo29 (Grin) (Nvidia/Amd);
Cuckatoo31 (Grin) (Nvidia only);
Cuckoo29 (Aeternity) (Nvidia/Amd);
Cuckaroo29s (Swap) (Nvidia/Amd);
Equihash 96,5 (MinexCoin) (Nvidia only);
Equihash+Scrypt (Vollar) (Nvidia only);
Equihash 125,4 (ZelCash) (Nvidia only);
Equihash 144,5 (Bitcoin Gold, BitcoinZ, SnowGem, ZelCash) (Nvidia/Amd)
Beam Hash (BEAM) (Nvidia/Amd);
Equihash 192,7 (Zero, Genesis) (Nvidia/Amd);
Equihash 210,9 (Aion) (Nvidia only).
Qitmeer (PMEER)
KAWPOW
Requirements:
CUDA compute compability 5.0+
Cuckaroo29 ~ 3.8GB VRAM
Cuckatoo31 ~ 7.4GB VRAM
Cuckoo29 ~ 3.8GB VRAM
Equihash 96,5 ~0.75GB VRAM
Equihash 144,5 ~1.75GB VRAM
Beam Hash ~2.9GB VRAM
Equihash 192,7 ~2.75GB VRAM
Equihash 210,9 ~1GB VRAM
CUDA 9.0+
Recommendations
To achieve the maximum performance of the GMiner miner, we recommend that you pay attention to the following utilities and software:
Recommended New Articles: