T-Rex v0.15.6: Download NVIDIA GPU miner for Windows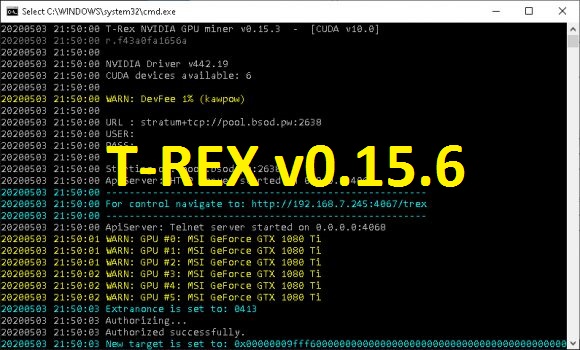 GitHub: DOWNLOAD T-REX MINER 0.15.6
T-Rex (v0.15.6) is a closed source miner for the Nvidia GPU, available for both Linux and Windows operating systems. The miner comes in several versions supporting CUDA 9.1, CUDA 9.2, and CUDA 10.0.
Dev-Fee: The T-Rex miner has a developer board of 1% for all supported algorithms, only tensority has a higher developer board of 3%.
Other version of T-Rex miner:
https://crazy-mining.org/tags/t-rex-miner/
Please note miners are often marked as malware by antivirus programs. This is not so, they are marked simply because they are cryptocurrency miners. If you do not trust the software, do not use it!
Changelog v0.15.x:
0.15.6
Bug fixes:
DAG regeneration on epoch change.
Benchmark for kawpow.
0.15.5
Bug fixes:
Less memory consumption. Possible crash fix for "out of memory" error for GPUs with 3GB memory onboard.
Unblock feature of intensity setting.
0.15.4
Bug fixes:
Fix showing miner version info for mining pool
0.15.3
Add algorithms: kawpow (upcoming RVN fork), progpow, mtp-tcr
Add SNI support for SSL
Improve stat table (now showing percentage of rejected shares)
NOTE (RVN fork)
: In order for the miner to automatically switch to mining kawpow at the time of RVN fork, please make sure
T-Rex is launched in watchdog mode (--no-watchdog parameter should NOT be set in your bat file)
Your system clock is synchronised with a time server (The miner uses your system clock to check if it's time to switch)
Add --fork-at kawpow=2020-05-06T18:00:00 parameter to the miner start cmd line. If your pool changes ports for the new algo, make it --fork-at kawpow:3637=2020-05-06T18:00:00 where 3637 is the new port the miner should switch to (replace it with the actual port number)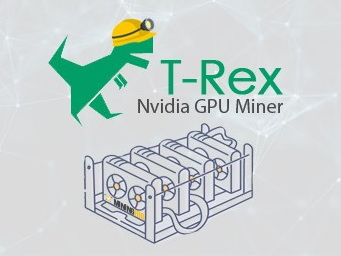 Recommended New Articles: