New lolMiner 1.70 and BzMiner v13.4.0 improve NEXA performance

lolMiner and BzMiner have been updated with support from Nexapow, resulting in various bug fixes, performance and efficiency improvements. This recent update will be useful for those who have AMD graphics cards.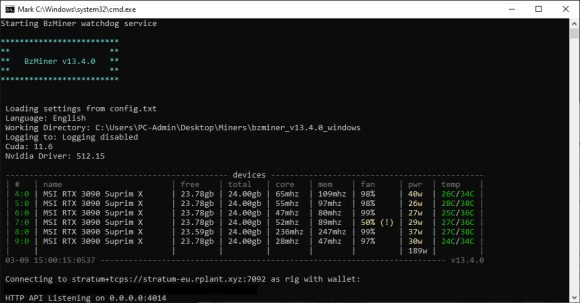 You can expect a 6-8% improvement in NEXA mining performance on all supported Nvidia and AMD GPUs (except AMD Vega / VII), as well as improved energy efficiency with the latest version of lolMiner 1.70 (nexapow algorithm improvements are the focus of this release).
Using BzMiner v13.4.0, you should get similar results in terms of improved performance and efficiency of your GPUs for mining, although BzMiner also comes with a number of fixes for NEXA, ZIL, Radiant and Ergo fixes.
The new NEXA implementation may require new overclocks for stability and performance, so older settings may require some adjustment to achieve optimal results.
Note that lately lolMiner releases for Windows appear a bit later than Linux versions, so check back a bit later if you don't already see the binary release of lolMiner 1.70 for Windows with improved NEXA performance and efficiency on GitHub. BzMiner has already posted both Windows and Linux versions, so Windows miners can give it a try while they wait for the Windows version of lolMiner to download.
lolMiner:
BzMiner:
Read more articles about cryptocurrencies and mining at CRAZY-MINING.ORG

Do you like to read similar articles about cryptocurrencies and mining, do you want to support me as an author or ask questions? Be the first to know the news, subscribe to my telegram channel CRYPTO WIKIES