NVIDIA Profile Inspector v1.9.7.8: Overview, Instruction, Download for Windows.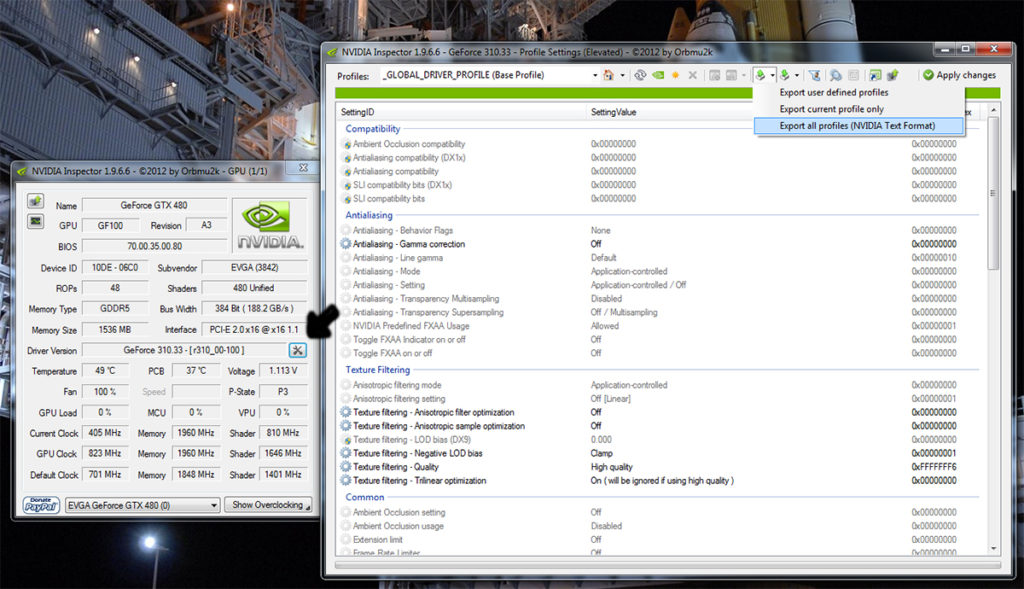 ---
NVIDIA Profile Inspector – For the most productive mining, you should overclock your video card, which will improve the characteristics, thereby increasing the speed of the system by several times, in order to achieve this, you should take the following programs …. As you understand, dear friends, video cards hide a lot of secret settings that you can't see without special software, and nvidia inspector 1.9.7.8, as well as another program NPI 2.1.3.10, is considered one of such programs.
Download Link: https://www.guru3d.com/files-details/nvidia-profile-inspector-download.html
The nvidia inspector 1.9.7.8 and NPI 2.1.3.10 programs allow users to reveal the secret and inaccessible to the average user stealth capabilities of the video card, which will make the mining process much more productive than ever before. With the help of this software, you can get more stable work of your entire computer, as well as help to restore, as well as improve the speed of your PC several times.
What can this software do?
As we said, there are two programs that can make your PC work better and better. The first of them is the Nvidia inspector – a program that allows you to professionally overclock a video card, as well as bring it to a completely new level. And the second program, Nvidia's profile inspector, aims to reveal stunning settings after overclocking, which also aims to take your PC to a whole new level.
Configuring the Nvidia profile inspector
Before configuring, download the program, then unpack the file called nvidiaprofileinspector.exe and actually observe the following picture:
After that, we look at what you need and change the parameters, for example, on the next screen you can see how I changed the parameter in order to increase the hash rate. More precisely, I turned off this parameter, so that later using another program to do this action.
Nvidia inspector how to use
As with the previous program, first download this program, then from the official website, then unpack the archive and open the file nvidiaInspector.exe.
The red arrow in the screenshot above indicates that these are the overclocking settings for your entire video card. Actually, you need to press this button, after which we overclock to the parameters you need, and the blue arrow indicates the additional settings of the nvidia profile inspector program, thus, both programs have direct interaction. But it is better to carry out the settings in that program, as there are more settings and the program itself works much better that way.
There is a frequent mistake when the program does not start. This is because the framework program is outdated and needs to be updated to the latest version.
Be the first to know the news, read more about cryptocurrencies and mining on CRAZY-MINING.ORG. You enjoy reading articles like this and want to support me as an author, then subscribe to our Telegram channel https://t.me/cryptomineg
Recommended Related Articles:
Red BIOS Editor is a utility that allows you to increase or decrease frequencies, as well as adjust various parameters of video cards. Unlike other programs, Red BIOS Editor directly modifies the video card BIOS. While flashing the BIOS always comes with some risk, there are undeniable advantages to this method.

Atikmdag patcher Version 1.4.9 is compatible with Catalyst 15.12 – Crimson 18.2.3. It can be used in future versions if it finds the constraints you need. AMD / ATI Pixel Clock Patcher modifies AMD / ATI driver to provide high resolutions and refresh rates, removing 165 MHz pixel clock limit for 1-channel DVI and HDMI, 330 MHz limit for 2-channel DVI and 400 MHz for VGA …

NVIDIA Profile Inspector – For the most productive mining, you should overclock your video card, which will improve the characteristics, thereby increasing the speed of the system by several times, in order to achieve this, you should take the following programs …. As you understand, dear friends, video cards hide a lot of secret settings […]
This post is also available in:

Русский